I've mentioned it before, November is definitely the time when we buckle down around here and get ready for winter.  Living in Northern Ontario, it's not unusual for us to get a bit of snow in October even (it's awful, don't remind me!) and it's always better to be prepared early.  Today I'm going to explain how we changeover our front entryway to accommodate the colder season and I'll be showing our newly organized entry closet.
A year ago I was talking about this very same thing, so I was happy when Wayfair approached me and asked if I could share some entryway organizing tips for their Enter: Organization campaign.  I definitely needed to update this space, and I even came up with some tips that I believe anyone can use when organizing their entry.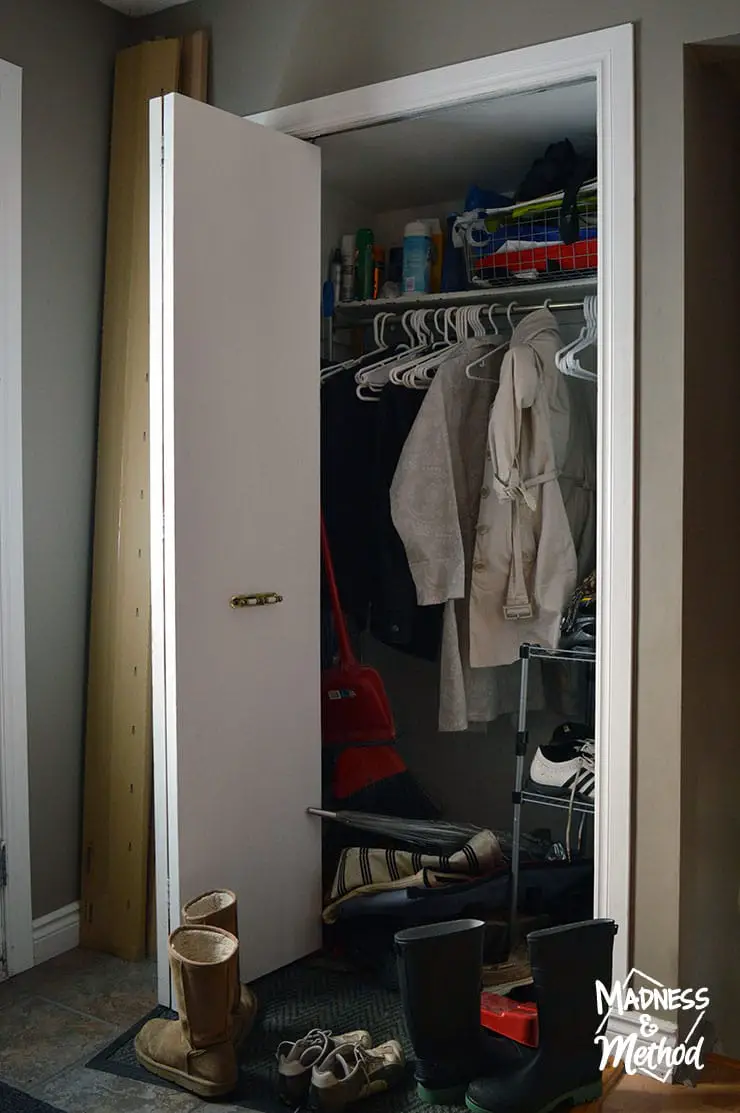 However, that would mean that I would have to show an awfully messy "before" picture, and I'm embarrassed to admit that yes, we did live like this the last couple of weeks!  Because we actually have all four proper seasons here (and sometimes the weather likes to throw us for a loop too), you never know what kind of outerwear and shoes you'll need in the transition months.
I'm hoping that this will be the last major time I need to address the entry closet, so I am going to focus on some problem areas (that maybe you have too?).  Hopefully I can create a good system that we can use all year, rather than having to change the layout every few months.
But first, let me share 3 things that I think ANY entryway should have, regardless of size/design/layout, etc.
Entryway Must-Haves
Horizontal Surfaces

Low/Ground for footwear
A mid-height surface to place items as you are coming in, or to leave by the door (ie: grab-and-go items)

Hooks or Hangers for coats
Space for guests!
Our entryway isn't too large (just shy of 6′ x 5′) but I want to maximize these three must-haves as much as possible.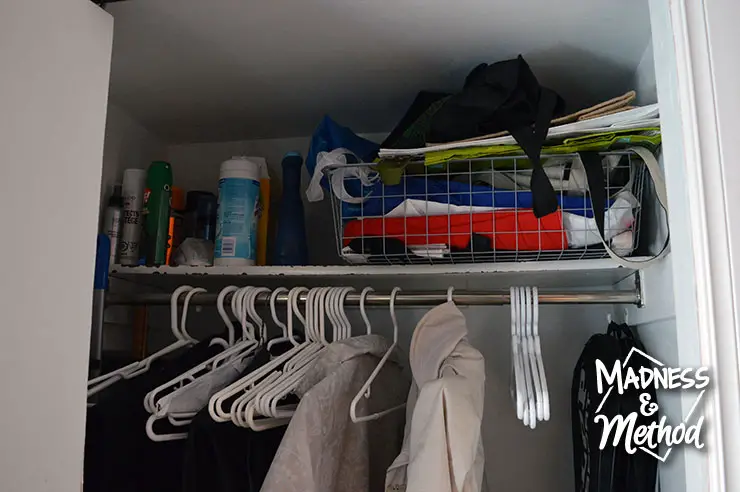 We are fortunate to have an average sized closet in our entry, but this was definitely the thing that was most out of control!  We have a few horizontal surfaces, the first being at the top of the closet where we keep our reusable bags, shoe polishes and some cleaning supplies.  I actually am trying to get rid of these supplies once and for all, so I think I can store them somewhere else for now.  Oh and shoe polishes?  Ya I think the shoe salespeople must get crazy commissions for those, because we have WAY too many (and yes, I actually do spray my shoes each season).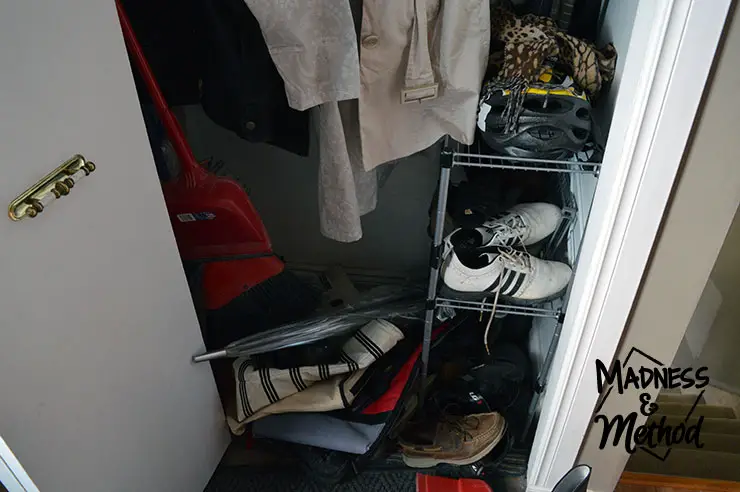 We also have a metal shelving unit that holds our extra shoes; wherein I like to keep the top shelf clear for our "grab-and-go" items.  The floor of our closet was starting to get a little ridiculous, and I knew that I wanted to clear as much space as possible down there.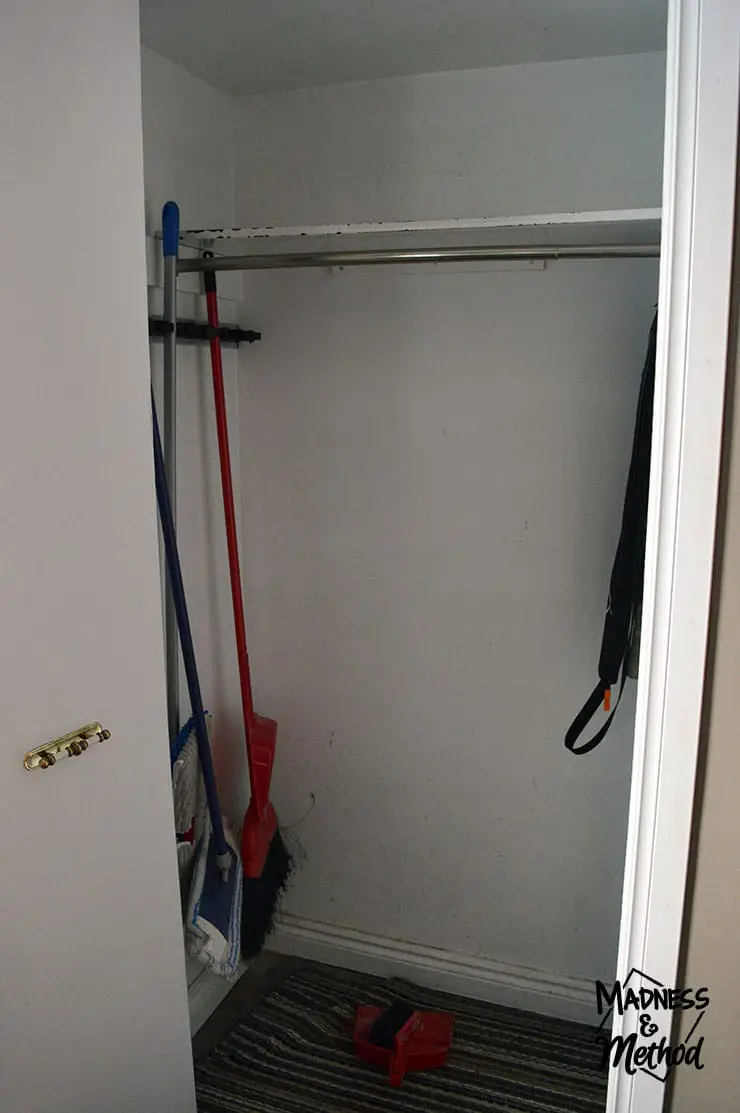 When organizing any space, the first thing you always need to do is clear everything out.  I was then able to go in and give everything a good cleaning, which is always a bonus.  Oh, and in case you couldn't see in the messy pictures before, we have a wall-mounted broom hanger unit to the left (and a small hook on the right where we keep the sports rackets).
Taking everything out also lets you do an inventory of all the items you have in the space.  I knew that I could move some items to new permanent homes (ie: the helmets moved to the garage), and grouped each item into different categories.  Then, it was time to evaluate which things needed to stay for the upcoming winter season, and which needed to be stored elsewhere.
If you don't take these first steps to plan out the space, then you may end up buying things you don't necessarily need.  I mean, I really wanted to make a pretty closet with some new paint, new fun accessories and décor items… but I had to be practical and focus on what we needed, rather than what I wanted.
This was really hard to remember when I was browsing the Wayfair.ca website!  Thankfully, they have a super awesome feature where you can create "idea boards" and save all the items you like (into whatever categories/boards you want).  I created an Entry Organization board, and I started saving all the things I was thinking about including in our soon-to-be organized entry closet.
For example, we have a lot of umbrellas and there are SO many cool looking umbrella stands.  But since clearing everything out, I realized that we had some free space on our broom holder, so I was able to stick some umbrellas on there and free up the floor space.  I also thought about putting in a bench, and again, there are lots of options on the Wayfair website in the entry and mudroom furniture section.  (I'm one of those weird people that needs to sit when they put on shoes!).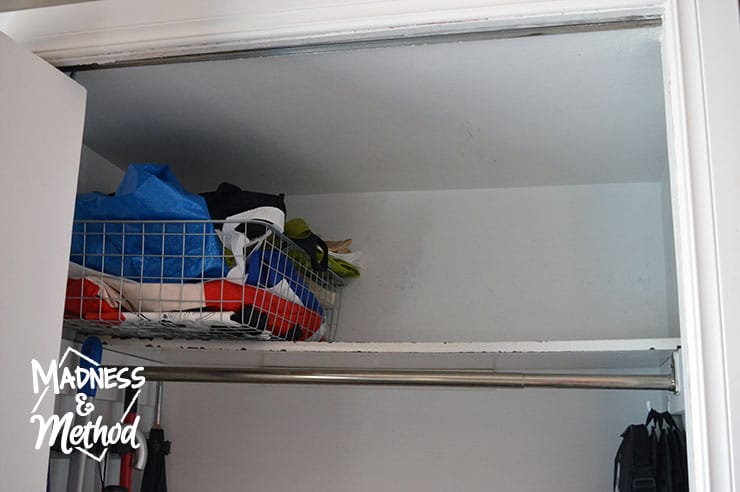 I really like our basket with the reusable bags, but it didn't need to be placed widthwise right in the first section.  Since I took out all the cleaning supplies and shoe polish, I was able to shimmy the basket over and rotate it so it took up less shelf space.  What I actually need in this space are some more bins so we can put our "grab-and-go" winter items we use every day.  (And since it gets pretty cold here, that means at least a hat, scarf, mittens, gloves, etc. per person!).
Coat-wise, I could now take out the light jackets that won't cut it anymore.  And, did you notice how many hangers we had before?  This entry closet became my go-to place to store all the extra hangers when I started minimizing my clothing closet.  To accommodate guests, I did keep a few empty hangers, but I can probably donate at least 20 that we don't need anymore.  (Oh, and the Husband has more jackets too, he was just out with them at the time… he has a tendency to forget them in his truck).
And now we have to discuss another shameful secret of mine.  But, it has to be done in order to talk about our new organized entry closet, and I'm hoping someone can relate?
We stored all the off-season shoes in our guest bedroom closet (along with some other seasonal things).  By the end of the summer, it had become so dysfunctional, you literally could not take anything out unless you wanted thing to fall on top of you, or you were willing to spend some time digging.  How the Husband got our rolling A/C unit in there, I have no idea (oh wait, that's probably what caused the chaos in the first place!).
My ultimate plan is to no longer use this closet as our seasonal holding place (we have the basement closet that works great for that).
So I need to find a location to put all the off-season shoes so they don't take up floor space in the entryway.  (Mine go at the bottom of our closet, but it's really the Husband's shoes that are starting to take over!).
Considering there were some shoes that he didn't even use this summer, I figured he could get rid of them.  I placed them all neatly in front of our console table (that's what I call the storage area just in front of the entryway) and all he did was move the ones he needed for winter.  Umm thanks…
Speaking of the console table, our white labelled boxes work really well for holding our things and keeping everything organized.  But I'm thinking of getting rid of the small red ones and replacing them with other bins or boxes.  And let me tell you, labelling works wonders for keeping your other house members accountable (wink wink).
Now the bottom of the closet is ready for winter, and as soon as snow hits I'll be taking my shoes out of here!  I also added the other shelf to our metal shelving unit (there were only three setup before) so now we can store a few more pairs here.
What's really important is that we can now CLOSE the closet doors and not have to wrestle with a bunch of stuff!  I also FINALLY moved those tall boxes to our crawlspace, and I'm thinking that the tiny corner would be a great space to include a tall shelving unit to store the Husband's shoes all year round.
In my Wayfair.ca Entry Organization Idea Board, I've added all the products I think would work in our space, and linked to some that are similar to what we have already (in case you wanted to buy something you've seen here).
I'll be following up when we make changes, and let you know how everything's been holding up as we get into the winter season.
With some careful planning, we now have an organized entry closet and I know you can tackle your entryway space too!  Just remember my three entryway must-haves: 1) horizontal space for shoes and grab-and-go items, 2) hooks/hangers for coats, and 3) space for guests!
I didn't really mention the mirror shelf we have on the wall opposite the closet, but I like to keep that completely empty for our guests.  It's definitely a good example of the tips since it includes all three! 
Thanks again to Wayfair.ca for inviting me to participate in Enter: Organization!  This post was not sponsored, however I am one of the Wayfair.ca Homemakers (and now I have a handy purple badge on my site too!).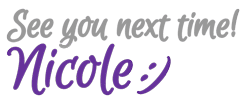 (OH and in case you think all our closets are just horribly messy around here – all the other ones are just as neat and organized as the last time I shared pictures of them!  Just goes to show you that if you plan out your space properly and put an organizational system in place, it's super easy to stick with it and have everything neat and tidy!).