Last weekend my lovely friends (and family members) came down to celebrate our soon-to-be bundle of joy.  They completely organized and arranged the pink and blue baby shower themselves, and all the party details were kept secret until the event.  Here are a bunch of pictures that I managed to take (and then some); and maybe it will inspire some ideas for another pink and blue baby shower!
We had the baby shower in a local community hall, so there was a large space that needed to be filled.  The friends managed to convince the Husband to rent a helium tank so they could fill up a BUNCH of balloons.  There were balloons all over the ceiling, and concentrated in a few different areas too.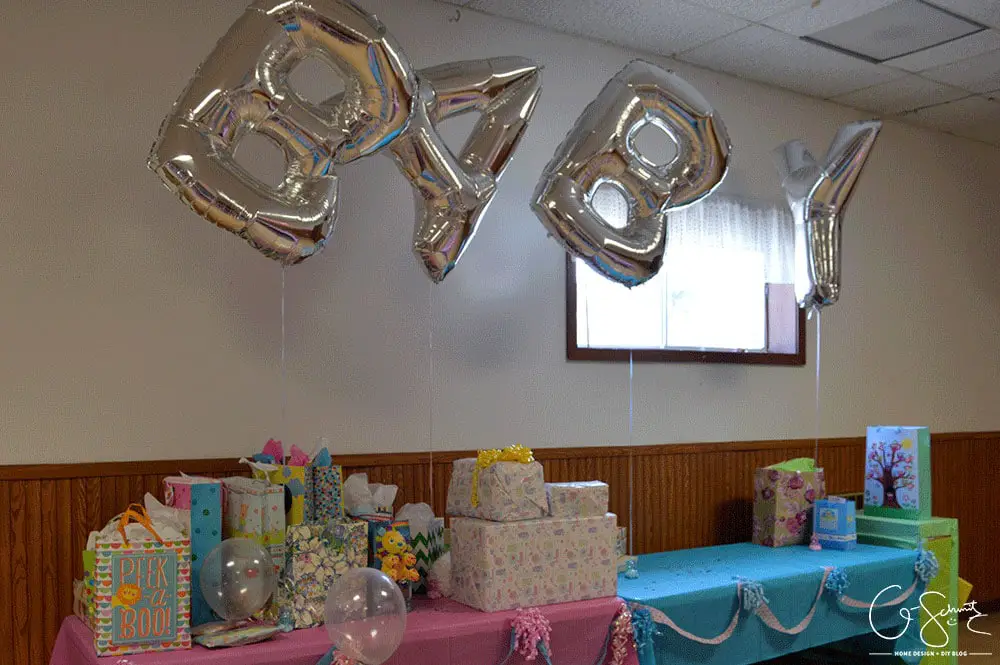 Those silver "B-A-B-Y" balloons were too cool!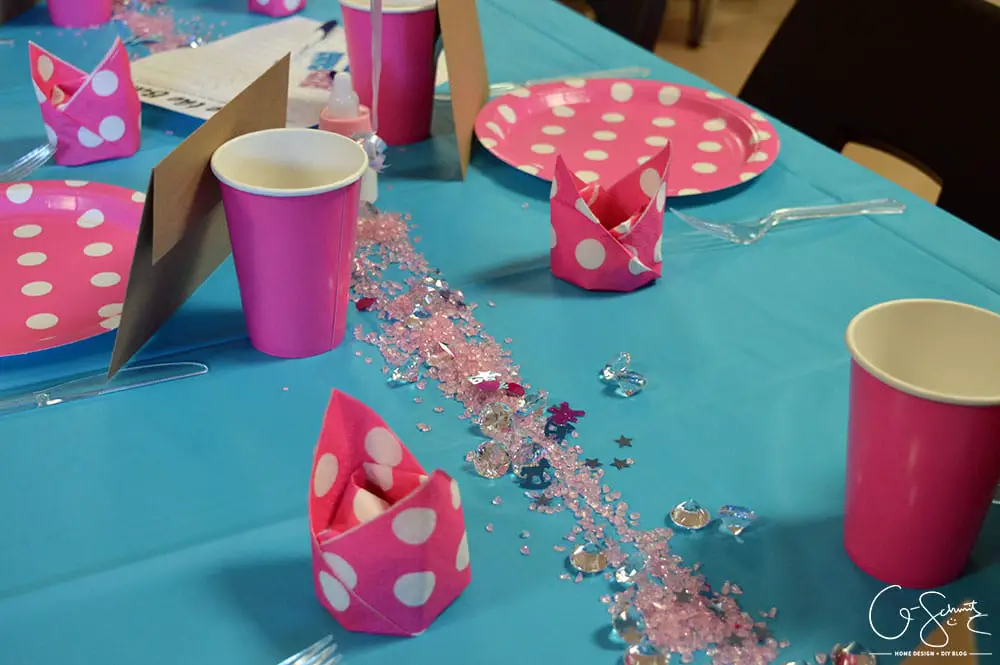 The main tables were either blue with pink accessories, or pink with blue accessories.  Each guest also had an envelope to fill out with their address details (so I can easily send the thank-you cards).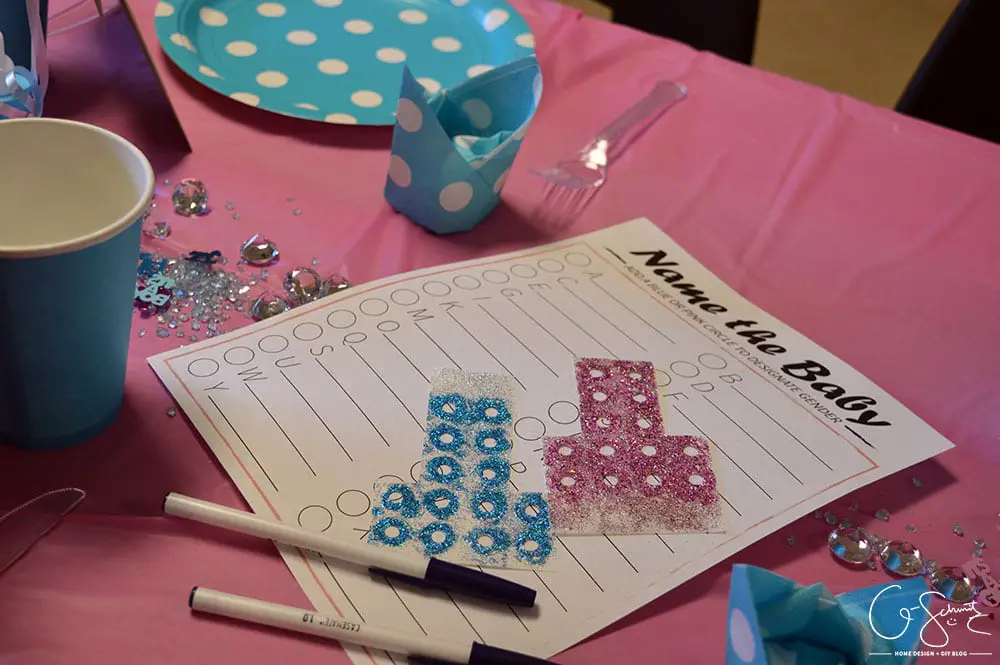 Other than telling my friends that I wanted a pink and blue baby shower (we don't know the gender of the baby) – my only other contribution was providing the Name the Baby Shower Game, for which we got a few filled out papers!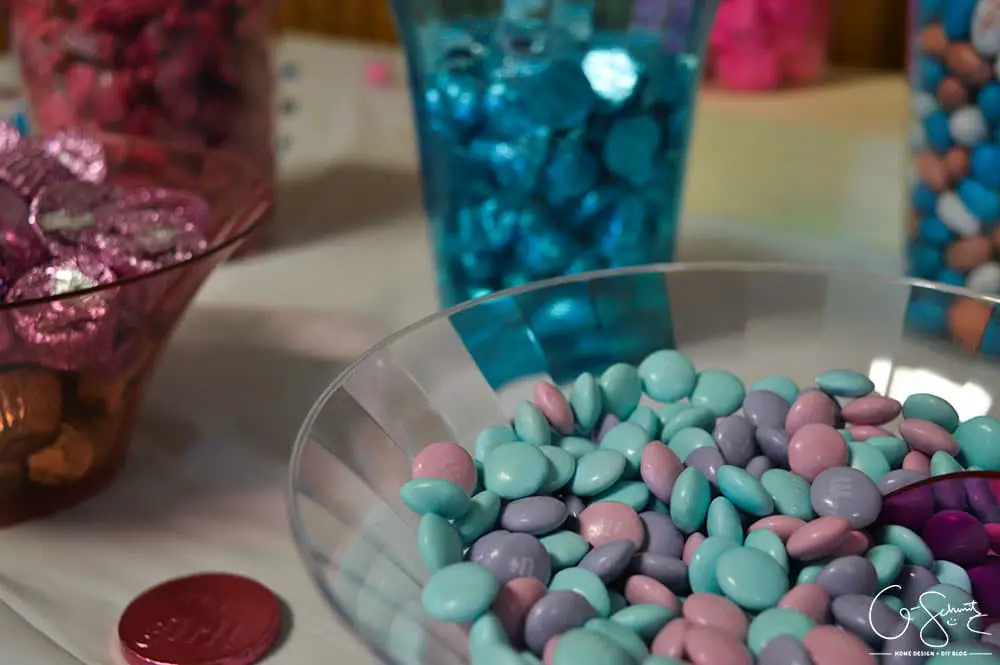 A pink and blue candy bar was near the entrance/exit and guests could fill up little bags to take home (I've eaten a lot of candy this week haha!).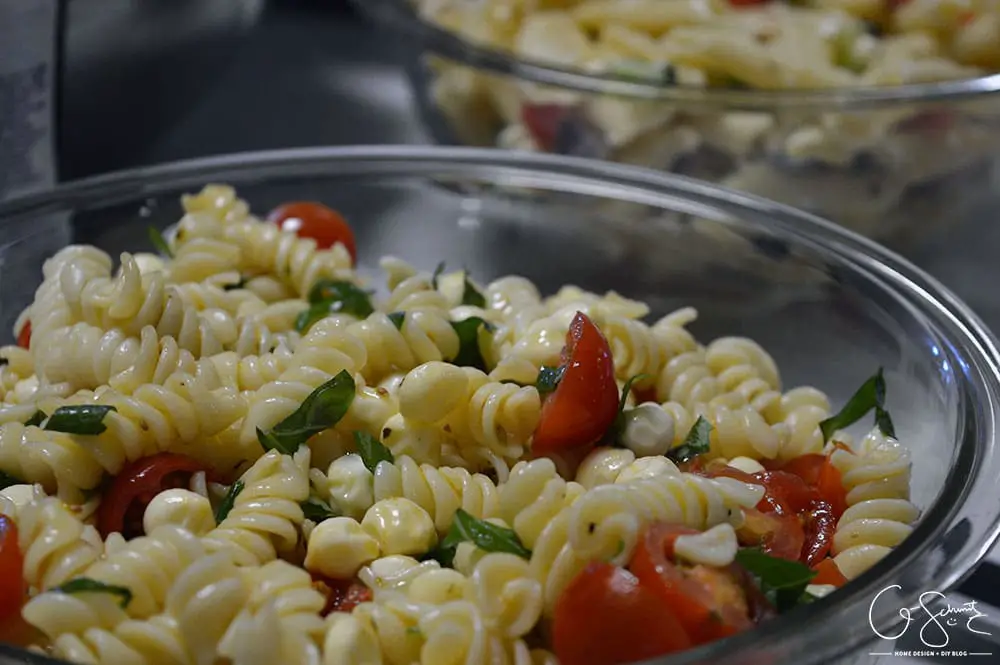 There were also HUGE food tables filled with healthy lunch options like sandwiches, salads and veggies…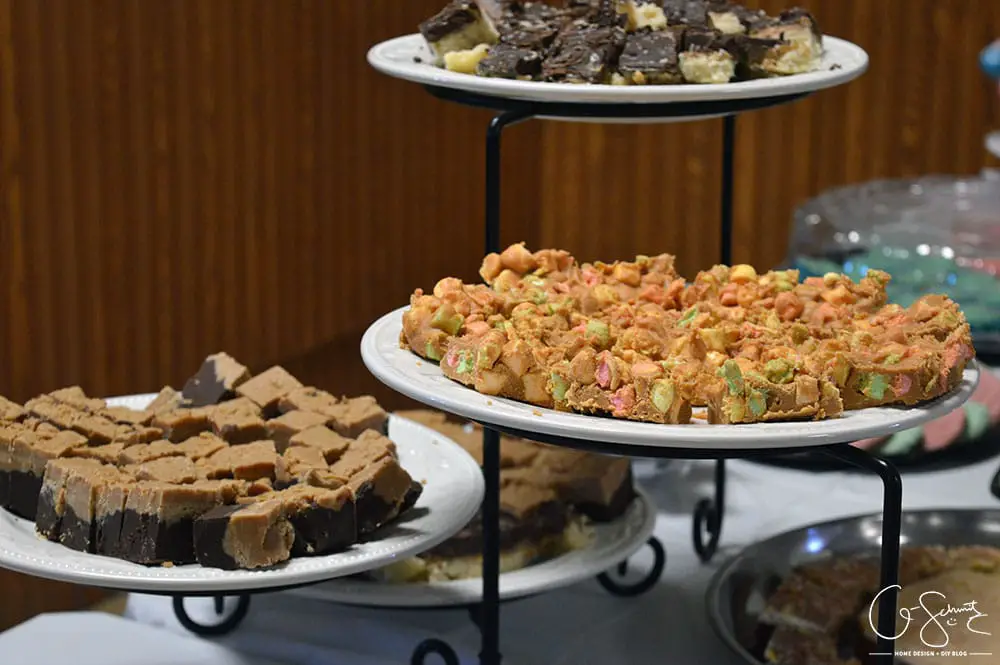 … and a not-so-healthy dessert table that was just as large (and delicious).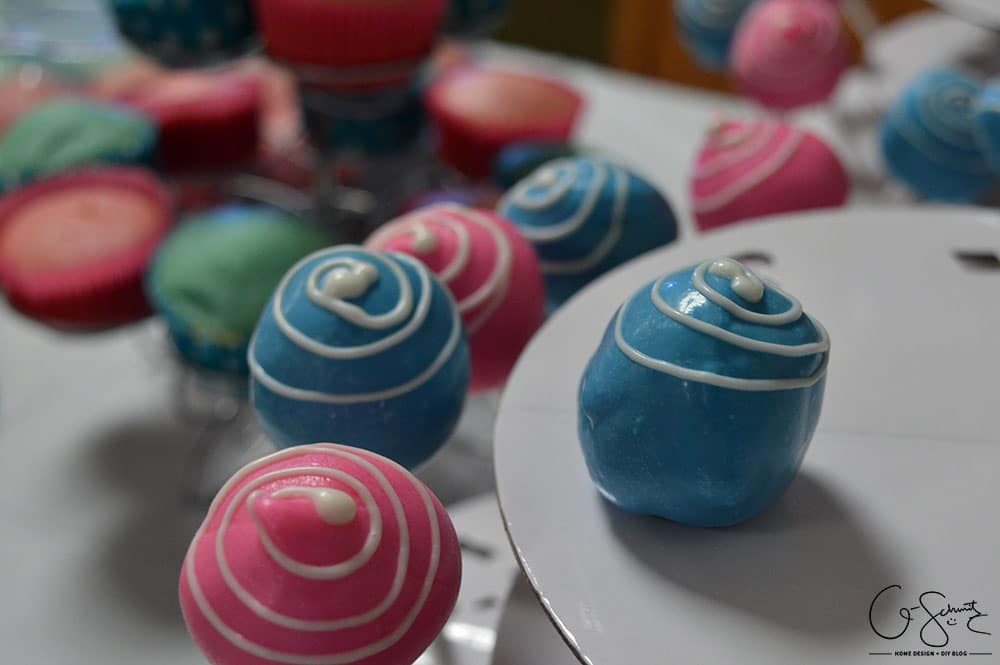 My friend even made some homemade pink and blue cake pops, and guests couldn't get enough!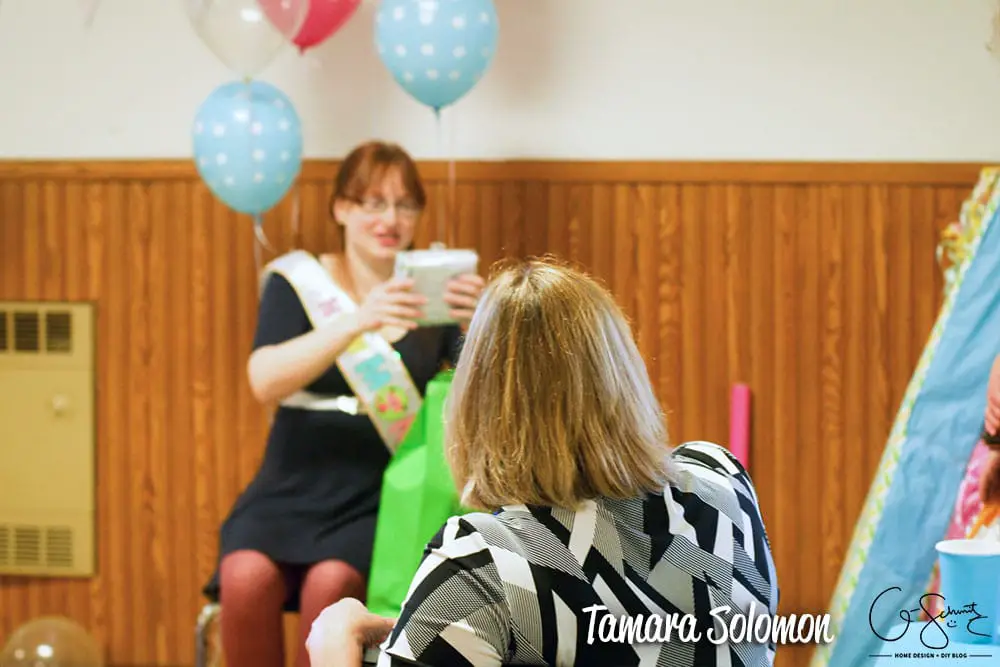 I tried to wear both pink and blue as well, so I would blend in to the theme and not look biased to either gender.  My friend Tamara took the photos of me that you see here.  (I don't like opening gifts in a room full of people, so I'm hoping people were more excited to watch the cute little baby things come out of the gifts, rather than watch me).
I wanted the baby shower attendees to guess the gender and birth details of our baby.  There is a prize up for grabs, but everyone will have to wait another month or two to find out the answer when the baby comes!  Umm, the Husband was over 10 pounds as a baby… and I'm really wishing I don't have a baby as big :o
The Husband came right at the end to say hi to friends and family (although I think he mostly ate all the food!).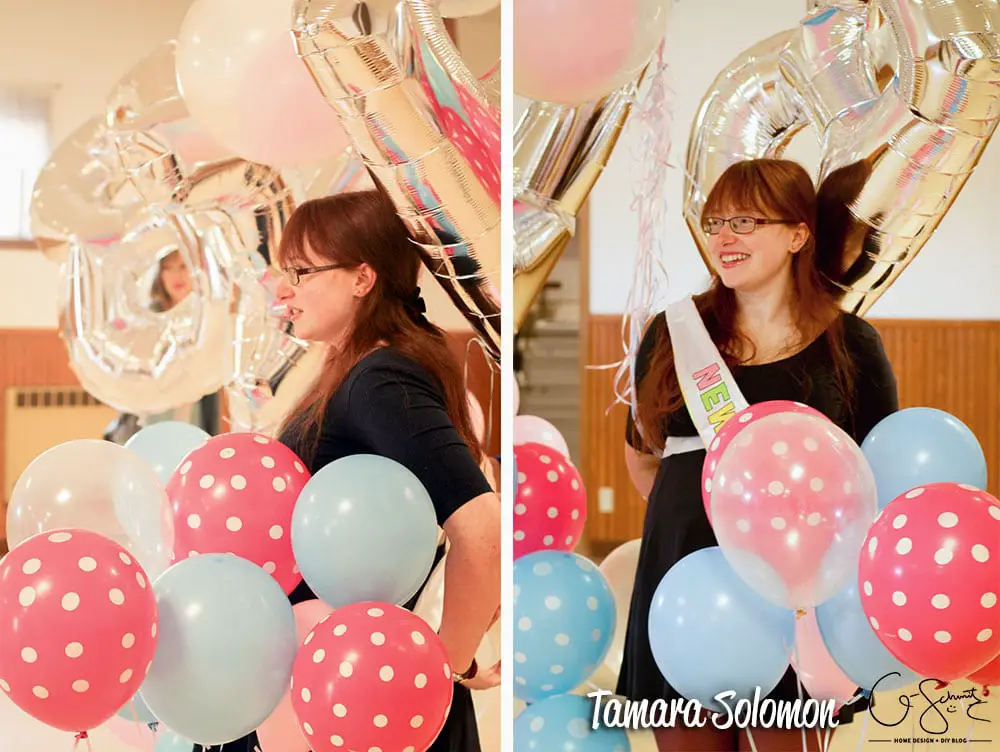 Once the guests were gone (hopefully filled up with yummy food), we cleaned up the hall and I took some pictures in the sea of balloons before we popped them all.  It was a great afternoon, and a break from the drywalling I was doing at home (seriously, I just put a layer of mud up before I had to put a dress on and look presentable – which explains why my hair is haphazardly disheveled).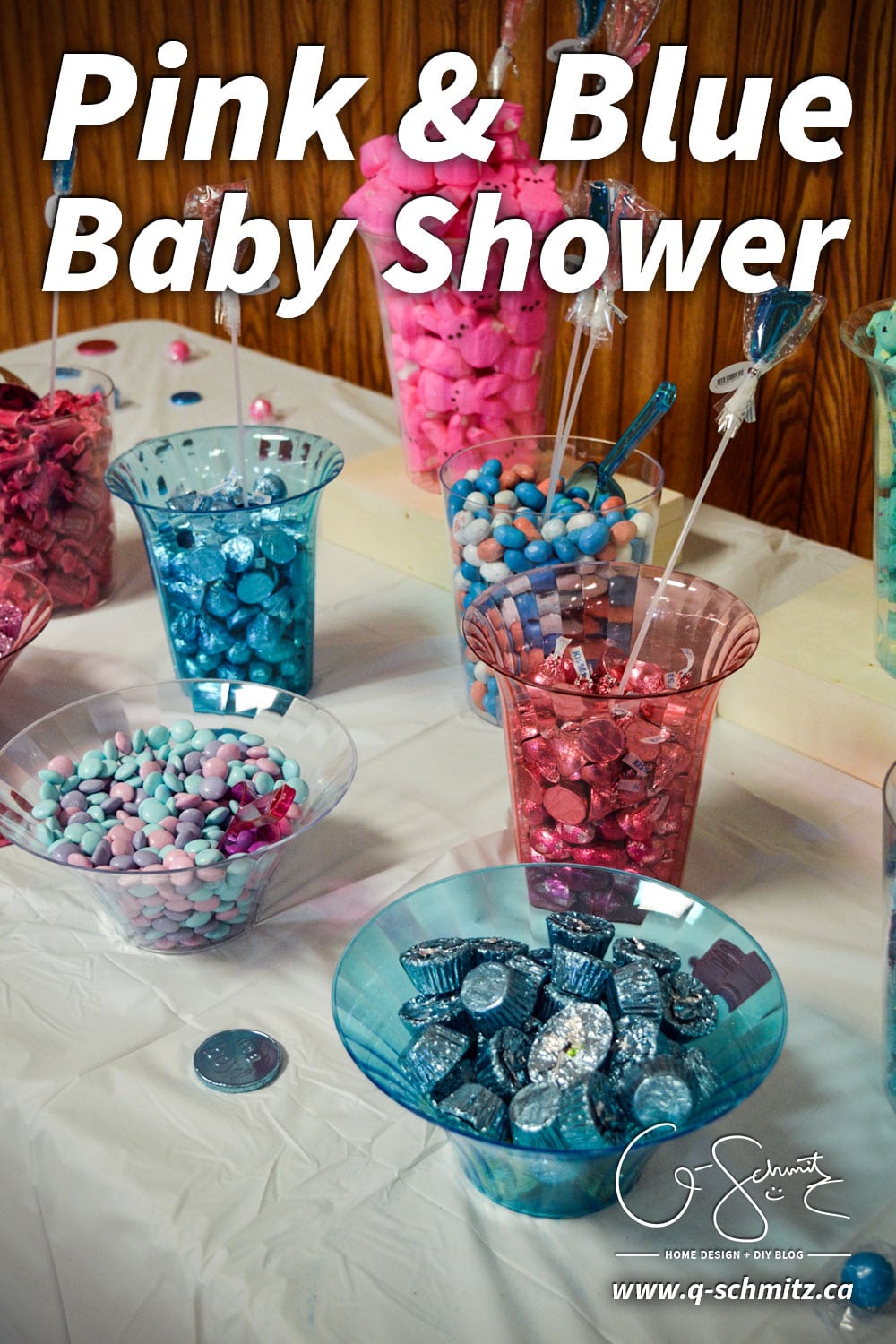 My favourite part of the pink and blue baby shower?  Well, I would have to say visiting with friends and family (some of which traveled a long distance to come)… but those desserts were good too haha!  I also liked the fact that people could try and guess if we are having a boy or a girl, and trust me – some people are really convinced one way or the other!  (Apparently I am carrying right in the middle, so there are no clues there).
If you're planning a baby shower, having the colour theme pink and blue is definitely the most general option; but why mess with tradition?  (I seem to like those colours anyways considering we have a blue room and a pink room in our house).
Speaking of which… I really need to start/finish working on the nursery so little baby will have a place to sleep… wish me luck :)
Some photos taken by Tamara Solomon; rest by yours truly.