I've been a busy lady lately… I mean sure there was the whole excitement of our One Room Challenge basement bathroom addition, but did you know that I was also prepping 3 other rooms in our house during the challenge as well?  Obviously, they were much smaller changes that mostly involved moving furniture around… but still, I had my hands full!  Since each room was going to be empty-ish at one point, I knew that it was a good idea to paint them while they were empty.  Today I'll be sharing 3 (and a half) paint tricks with you… some that you might not have heard of before!
– Note: This post contains affiliate links. See more information about affiliates here–
First can I share a quick list of basics that I'm hoping you already have in your painting know-how?
Wipe down all walls and baseboards/surfaces (wash if super dirty)
Clear out as much space as you can in the room (if furniture is staying, move it to the center)
Remove all outlet covers, blinds, artwork, etc!
Patch and sand any holes or cracks that you won't be re-using
According to the book What's a Homeowner to do, you're actually "supposed" to prime all your walls before you paint them.  Now, I don't know about you… but to me that's just added work.  I would only prime my walls if I was going from a darker/brighter colour to a lighter colour.
BUT if you've done any patching, you'll definitely want to prime those areas… AND this brings me to my first tip!
Paint Trick 1: Prime Edges Only
Let's say you're among the 75-80% of people who have white ceilings and white trim (I totally made that statistic up, don't quote me on it!).  Chances are, you may have painted a room or two before, or maybe you've inherited a house that was painted before.
Maybe the room was taped, or maybe it was free-hand painted… but either way, you may have come across something like this before (see photos above)?  Basically, the old colour(s) of the room were either painted too tight to the ceiling/trim lines, or you didn't cover them enough the first time you painted.
You can always leave them as they are, but you'll most likely end up with either more colour-stripes section by cutting in too thin again, or some sort of weird clown lipstick where you cover the old paint with your new colour, but you're way out of the lines where you should be!
Since you've already got your prime ready from any patching you might have done, it makes sense to prime the edges of the room (along all the trim and ceiling) at the same time.
(Again, this assumes that you have white ceilings and trim).  You could even go fancy and use your designated trim paint for your edging if you wanted to match what was there exactly.  But guess what, not many people are going to notice a difference between a warm semi-gloss white and a flat primer.
You also don't have to go over the white areas completely either.  All you want to do is cover up any colours that were there before, not redo your entire trim and ceiling again!
Priming edges makes sense now?
(Just to add, if you have a coloured ceiling you can also paint the edges of the room with that ceiling colour.  I find it's easier to cut a nice line along the wall than on the ceiling).
Trick 2: Mix Paint Perfectly
Let's say you're like me and a bit of a paint hoarder (guilty!).  Or maybe you are trying to save a bit of money and aren't too picky on your exact paint colour choice (also me).  You may find yourself mixing a few different colours of paint to get something that you want (or just to save up some storage space by combining half-empty paint cans).
Either way, you'll need to mix the paints perfectly so that when it does come time to paint, you don't have a can that's half mixed and comes out streaky on your walls.
(And yes, I do mix different finishes/brands/colours of paint all the time – I don't mix between oil-based and latex/water-based though). 
When I visited my parent's back in February, I knew that I wanted to take home all the various red/purple toned paints that they had in anticipation of a room I was going to paint.  I also found a similar purple shade at the Habitat Restore, and for a fraction of a normal gallon of paint, I scooped it up!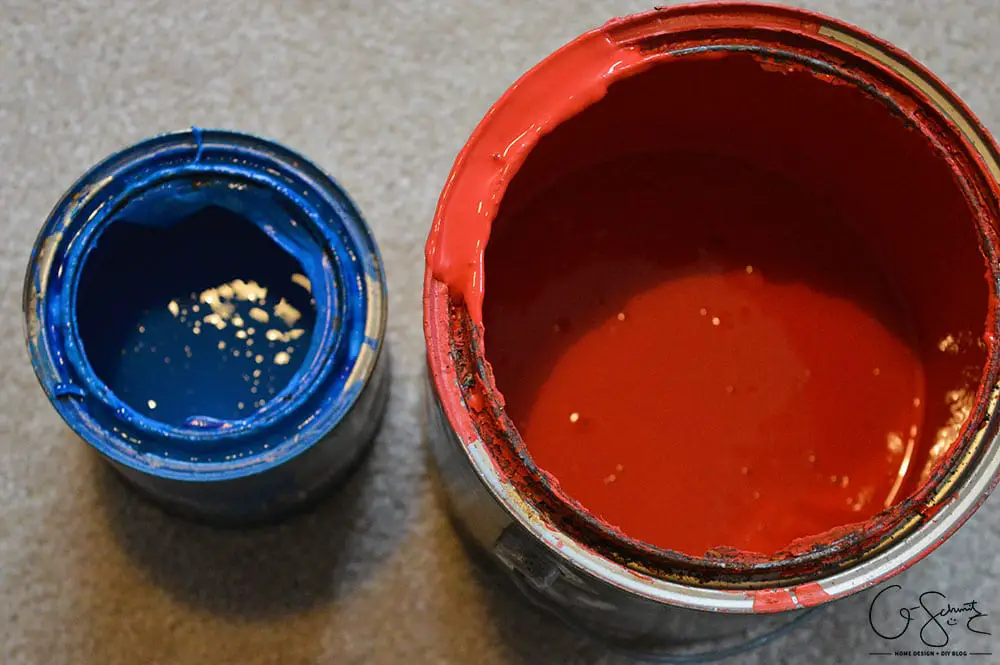 Heck, I even had a bright red gallon of paint and a little bright blue quart that I knew would make some sort of purple if I combined them.  So all 6 of these different paints would be part of whatever new colour I was going to mix.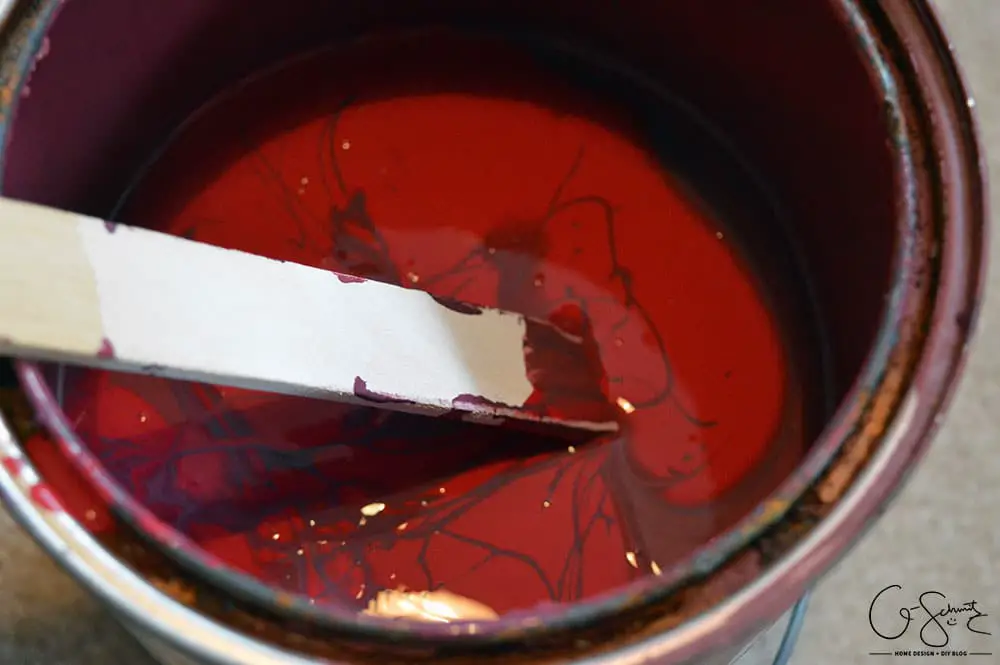 Normally you would just dump whatever smaller amount of paint into a gallon and stir together with a paint stick (or even using a paint mixer attachment and a drill).
That's where you would have gone wrong.
By mixing your paints together in one of a "dirty" paint can (aka one with wet paint), you're almost guaranteeing that you'll never get a consistent mix between the various colours.
But why you ask!?
Because there will always be some of the old paint along the edges and sides!  And unless you go crazy with a rubber spatula or scraper (don't, it's just a time waster), that old colour will mix differently the lower you go into your paint can.  Heck, I've even seen it happen on brand new paint I've had mixed in store!
The solution to mix paint perfectly?
Use a clean bucket/can!
You can see in this photo (above) that if I had just started painting using the can on the right, that eventually the red along the sides would mix a different colour of paint as I kept going.  I've seen it happen before, and usually the edges of your room (where you cut in with a brush) will be a different colour than what you roll with.  OR your second coat of rolling will be a slightly different colour than the first.
(Annoying)
So, what you're going to do is empty the contents of your paint can(s) into a clean and paint-free bucket (or even an empty paint can if you have enough room for your paint).  Now, you will do the same stir-stir-stir with the stick or the paint mixer, and you won't have any random colours bleeding through from the dirty can!
Remember to keep stirring throughout the project of course (like for all paint, new or old) so you keep those colour pigments all fresh!
Where did I use that gorgeous colour you may be wondering?
Sneak peek: The master bedroom got painted… full reveal coming soon!
Trick 2b: Storing Paint
Once you're done painting with the mixed colour, you'll want to store any leftovers for future touch-ups and what not (or you know, to mix with more paint colours later).  You can buy empty paint gallons or empty quarts to store paint, but I find that empty (cleaned) plastic or glass jars work just as well.  If you have any hindsight, you can easily let your now emptied paint cans dry up (the ones you had the paint in before it was mixed in the bucket) and re-use those to store your paint.
Remember to try and get a can/jar/bucket that's as close in size to the amount of the paint you have left as possible.  Storing a tiny bit of paint in a too-huge bucket will undoubtedly trap more air than necessary and will cause your paint to dry out quicker.  (Not to mention it takes up more storage space!).
Trick 3: Paint without Taping
Okay, so we've got some primed edges and some perfectly mixed paint… now what?  How do I get this painting show on the road so I can finish my room faster!
Any pro will tell you (or won't tell you, they just do it) that you don't need to tape a room before you paint it.
I know, it may sound crazy (especially if you're not a paint perfectionist or don't have too much experience) but taping up a room perfectly takes sooooo much time.  I have found that's it much simpler to just go slow when I'm cutting in (aka: edging a room with a brush) than to take the time to put up tape… which may end up bleeding through anyways and/or not being put on right in the first place (aka paint stripes like in trick 1).
Besides, it's much easier to clean up paint that might have gotten onto the wrong surface when it's fresh and wet, than to realize the mistake after you've peeled up the tape and everything has dried.
If you're still worried about your edging skills, invest in one of these trim guides (shown above) which basically creates a barrier between the two areas.  You'll want to still be cautious because paint may leak through, but as long as you don't overload your brush, it should be good.  (And again, easier to clean paint that's still wet!).
Conversely, I will always use tape if I want crisp stripes, patterns or edges between different walls/colours; but I won't use tape along the trim or the ceiling.
Do you do a lot of painting in your house? 
You may have heard of one or two of these paint tricks, but you probably hadn't heard of all three before!  Maybe you have another painting tip or trick to add to this list that people don't often think about?  I'd love to hear your feedback in the comments!
Shop Items