Hello Everyone!  First, let me tell you that I had the worst cold yesterday, so I'm very happy that it's under control now and I can actually write this post this morning.  I still have the cold, I just don't feel as useless as I did!  But isn't getting a cold a sure sign that winter is coming?  Let's hope everyone stays healthy this year; and let's discuss our plans for November 2016 together.
– Note: This post contains affiliate links. See more information about affiliates here –
October 2016 Recap
October was definitely a Halloween heavy month here on the Madness and Method blog!  I first started by sharing our festive planter, made some yummy cereal brains, did a simple ping pong ball light strand and made (failed) hanging simple spirits.  Happily, I made up for my limp ghosts by making cool Halloween silhouettes and a super-awesome light-up boo sign (if I do say so myself!).
I had a big recap of all the Halloween décor in this post and then shared lots of photos of our DIY family Halloween costumes here.  Oh, and I've since figured out what my costume will be when we have two little babies (I already had a plan for 3 babies).  But who knows what we will be next year (I definitely don't see a baby around next October!).
Off-the-blog we attended a wedding down south, so I got to visit with my family who came up a little bit to visit us (and take care of baby while we were busy!).  I also stopped at Ikea again… because why not!?
Book(s) Read:
Big Magic by Elizabeth Gilbert, Crush it! by Gary Vaynerchuk and (some of) Business Adventures by John Brooks.
You may remember that I'm trying to read through this list of 100 books, but I realized that if I continued my pace of reading a book a month – it would take me like 10 years!  Then I read the first two really quickly, so I was aiming at reading a book a week… so about 2 years.  Then the third was much longer, and I am unfortunately not done reading it yet!
(Oh and I had a random nightmare that the Husband only cared about the stock market; and me and baby only angered him because we distracted from his millions of dollars.  Ha – crazy!  Have you ever had a dream where you're mad at someone, and you wake up still angry?  Even though it's clearly irrational to be mad at someone for what they did in your dream.)
Minimalist Goals
Items Removed:
Halloween Costume  + Wig
Long sleeve shirt
Ikea items
5+ Mugs
Items Added:
Fun fact, I actually won the Nespresso from Metrie because I attended BlogPodium (and entered the myMetrieIkon Instagram contest).  The plan is to make a stocking holder with the ikon, so I should have a post coming up about that soon!
When we registered for baby's things before he was born, I didn't think that a humidifier was something that we needed.  Fast forward to cooler temperatures and DRY air, and I was getting tired of hearing sniffles every morning (not to mention baby didn't like when I tried to take out his nose boogies with the little baster thing).  I sent the Husband to buy a humidifier, and he came back with this cute looking sheep one.  (Oh, and it's supposed to be on a raised surface, that isn't fabric, wood or metal; so for now it's on a lid on our storage ottoman, but I may get a tray instead.)
Plans for November 2016
Have you signed up for the Madness and Method newsletter yet?  I sent out the first one this week, and I'd love for you to get the blog updates there too.  Don't worry – I'll only send you an email once every two weeks, so you shouldn't get too tired of me haha!
If October was the month for Halloween and fall décor, then November is definitely the month when we buckle down and get ready for winter around here.  We've already put away all the patio furniture, and now I just need to get around to removing the Halloween stuff.  I have a bunch of stuff that I need to organize indoors too, and next week I'll be sharing how we tackle our entryway closet.
I know that December will be busy with holiday plans and family gatherings, so I'm trying to load all my projects into November so I have some smoother sailing next month.  Obviously having a cold has slowed me down a little bit… but I'll be back in no time.  (Actually, I think I'm going to Home Depot this weekend to pick up some supplies!).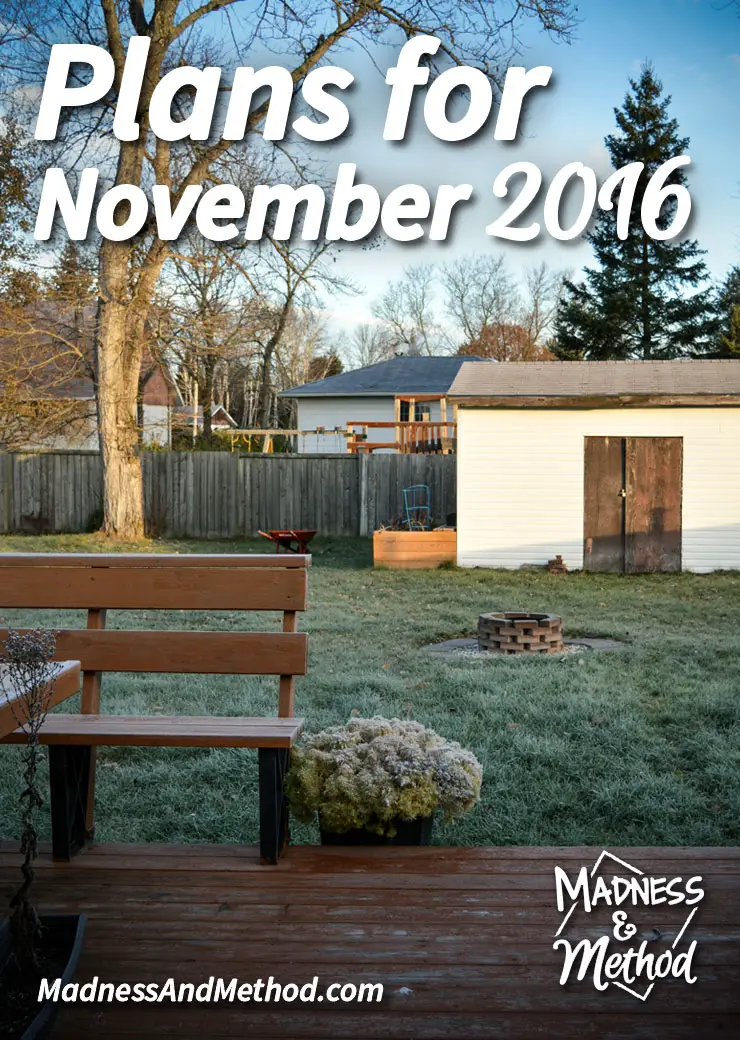 What are your plans for November 2016?  I like sharing these monthly update posts because it gives me a chance to reflect on what happened the month before, and also share some insight into my plans for the next month(s).  I'm really not looking forward to the logistics of winter this year (it's the first time with baby) but it will be cute to slide down a hill with him…
Besides, I always have lots of hot chocolate to look forward too!
Shop this Post: