This is the second time I've installed wallpaper (on walls) and the second time I've run out!  I swear I ordered the correct amount this time… but nope :(  Either way, I was able to rework some things in our bedroom and I did a lot of cut and pasting so you can't even tell!  If you ever run out of wallpaper, then I have a fix for you.
– Note: This post contains affiliate links. See more information about affiliates here. –
Now, I should clarify that I didn't actually "run out" of wallpaper.  I had a lot left, but the pattern didn't match up anymore and/or the pieces were too small for my wall sections.  This is a common occurrence when you're only wallpapering a portion of the wall (aka above wainscoting).  It has to do with how the pattern lines up vs. how much space you have to cover.  I'll go into more details below, but first, a recap…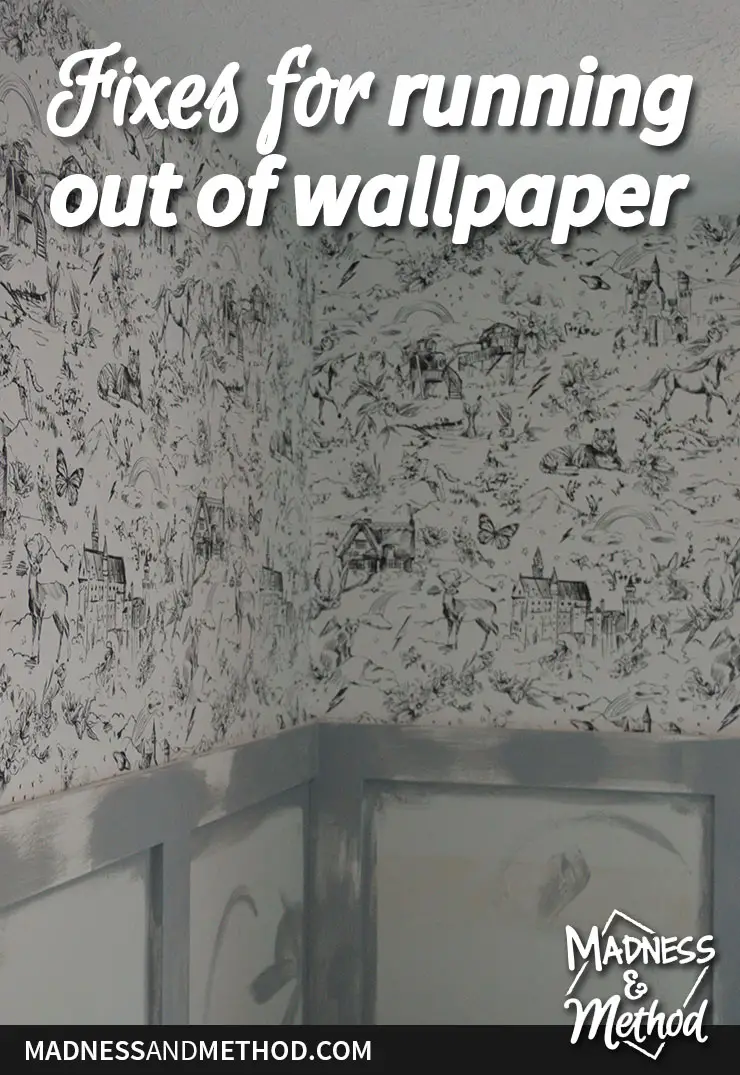 I am completing our kids' room for the 8-week Spring 2021 One Room Challenge.  In week 1, I introduced the design plan, in week 2, measured and planned the room.  For week 3 I dove into the wall treatment details, and week 4 was dedicated to the closet nook.  Last week, I finished (ish) the custom wraparound headboards, and we're now in week 6!
Projects Completed:
Re-primed and caulked the wainscoting joints
Put up the door decal
Wallpapered
Added: more wainscoting trim
The province finally announced their opening date for non-essential stores – June 11th!  That means I can buy the small things I need AND choose my paint colour.  I'm going to try and get all the small stuff done for my update next week.  Maybe save the painted red walls for the reveal?  This weekend is Zachary's birthday, so I don't want to commit to a time-consuming project.
We shall see!
How to Install Wallpaper
You might not necessarily trust the advice of someone who consistently runs out of wallpaper, but I do have the basic install down :p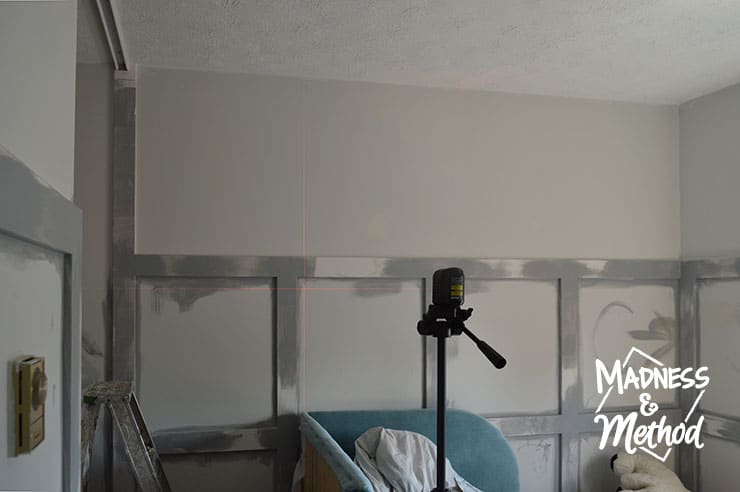 First, you choose a starting point and make sure your starting is level.  I was originally thinking of beginning in the corner and working my way out, but then I would have had a half-piece along the closet.  It was much better to start there and work my way to the right.  I measured and cut a few panels so that they would be ready.
This wallpaper needed to be watered (to activate the glue).  So I had some water, my roller and tray, scissors, tape, rags and a plastic card to smooth it out.  (Once everything is dry, you'll also need a utility knife to trim the excess).

This was my first time using this type of paper (the last times were already sticky).  I didn't have enough water on my first panel, so that was annoying.  I found that I had to roll over the paper a few times (without squeezing out my roller first) to get good adhesion.  Then, you "book" your paper (aka fold the edges over lightly) and wait a few minutes before you apply it.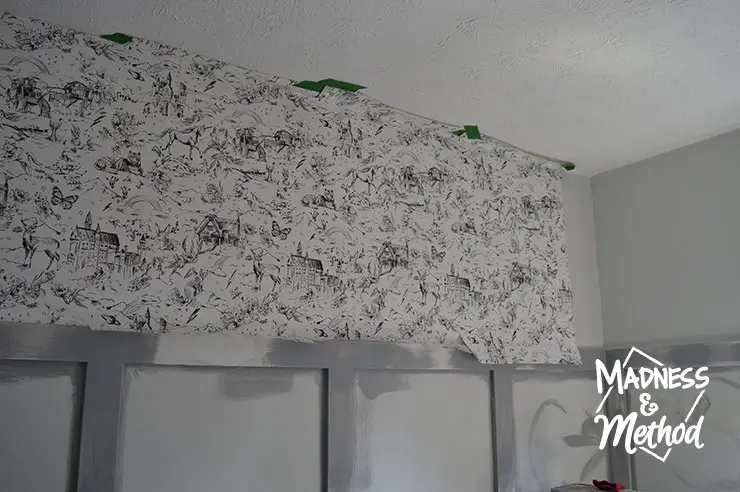 I did this first wall on Thursday and it took me just over an hour.  I ordered 4 rolls of paper, measuring 12′ each – and started worrying once I had to open my second roll before I even finished my first wall.  The part of the walls above the wainscoting measured approximately 32″ (so you'd guess I could get 4 pieces, right?) but I could only get 3 good sections to line up the pattern.
This all has to do with the vertical repeat or drop match, so I'll explain that a bit more…
Understanding Wallpaper Vertical Repeat and/or Drop Match
When you order wallpaper you need to look at what the drop match or vertical repeat of the design is.  (There is also a straight match, but I believe that's more for murals).
Essentially, the drop match/repeat lets you know how often a repeating element will come back to line up.  So if you have a small drop match/repeat, say 12″, then your pattern will line up every foot.  If you have a bigger drop match/repeat, the same element won't come back as much.
What does that mean when you order? 
Well, if you're doing a full wall, you can usually use your dimensions (square footage) to determine how much wallpaper to order.  Different wallpaper companies will let you know what extra percentage you should order (or might have a calculator on their website).
If you are only covering a small portion of the wall, say above wainscoting, you need to measure that height and compare it to the drop-match.
My mistake was ignoring the drop match and just looking at the square footage! 
Vertical Repeat/Drop Match Diagrams
Let's look at some diagrams: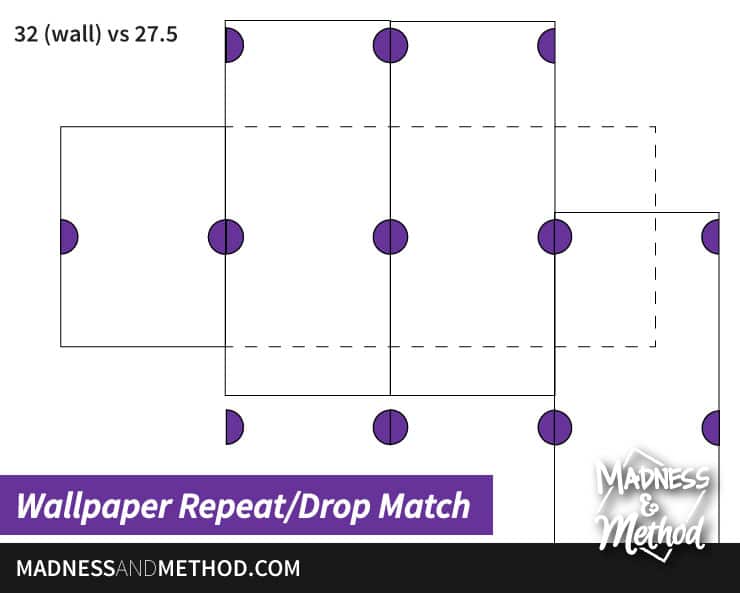 The portion above my wainscoting was around 32″ and the wallpaper pattern I chose has a vertical repeat of 27.5″. That meant that to line up the same pattern across my wall (shown with the dotted line), I would have a lot of waste above and below.
You could always line up your pattern with the next available marker (like the example on the farthest right), but you don't usually want any horizontal seams.  (Luckily, the pattern that I chose looks very "random" and is easy to cut and paste since I DID have to hide many seams).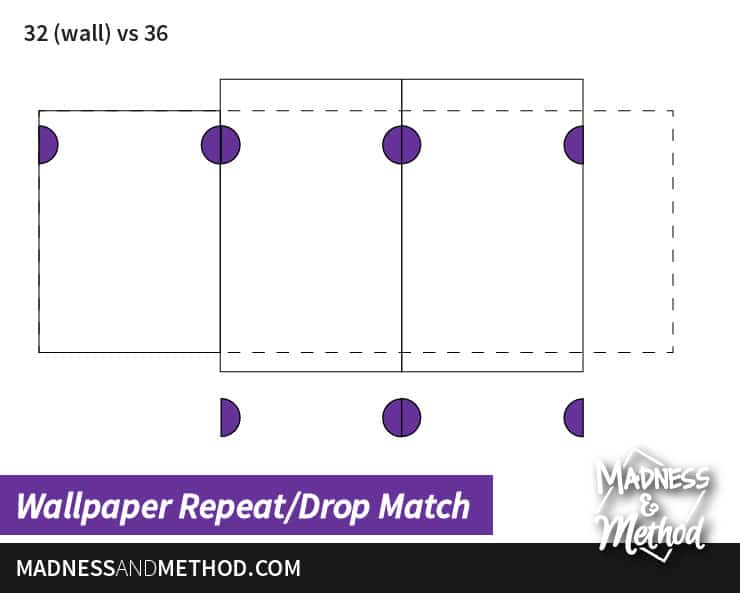 By comparison, if I would have chosen a pattern with a larger drop match than my surface (like this doggy one), I would have had a lot less waste.  I would be careful to order such a big vertical repeat if you're doing a whole wall, since you may have to order more in that instance.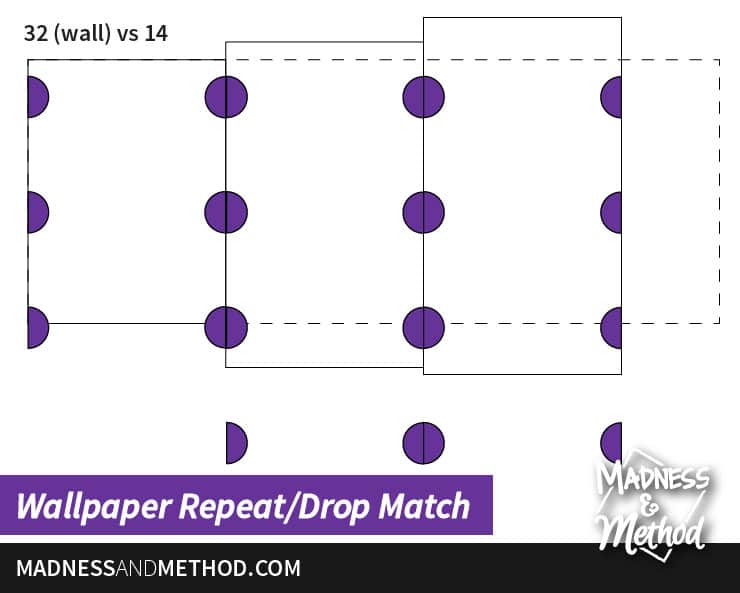 Finally, if you choose a wallpaper with a small drop match (this chevron one is 14″), there are a lot more opportunities to line up your pattern.
The wallpaper I chose for our main bedroom had a repeat of 20.5, and there was also some cutting and pasting there.  However that time, I couldn't hide the pattern and make a new random one – so it was a lot trickier.
Let's dive into what I mean when I say "hide" the seams…
BUT FIRST!  What does this mean when you're doing a small portion of the wall!?  My suggestion, if your drop match is more than your wall (32 vs 36), then you're good to order the exact amount of wallpaper you need.  If your drop match is less than haft the size of your wall (so anything under 16″), then you can probably order the correct amount of wallpaper.  BUT if your drop match is in between (so 16-34″ ish) then order an extra roll!
(As with most materials, it's best to order at least 10% more than what you calculate).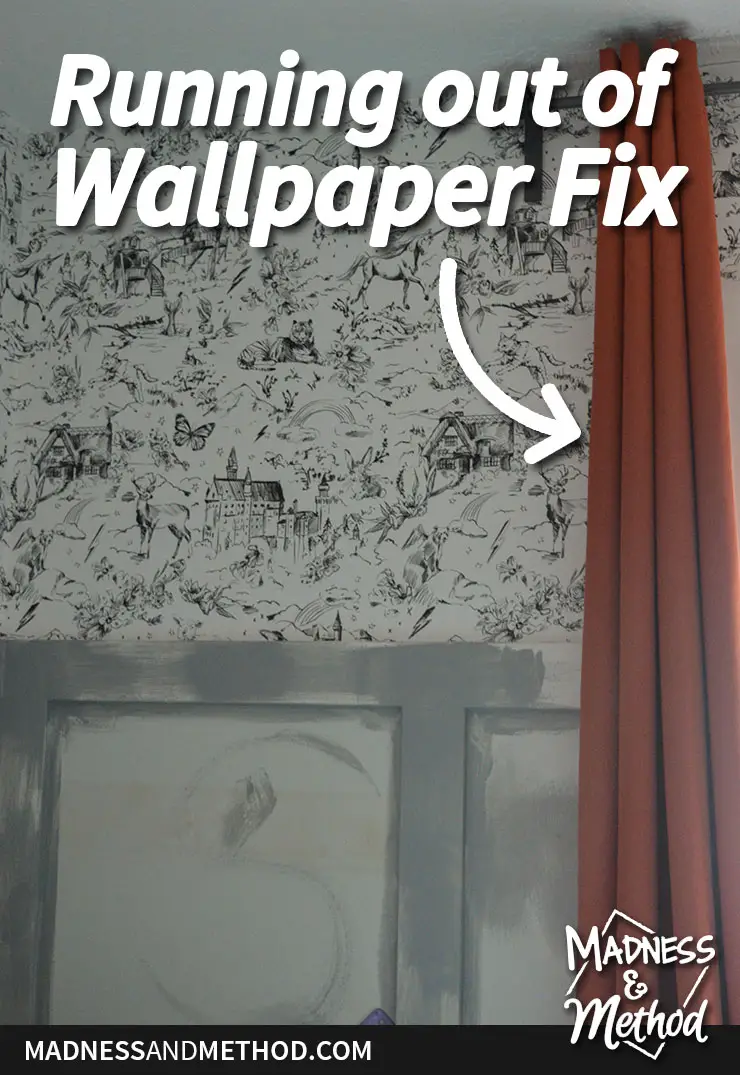 Hiding Unmatched Wallpaper Patterns
I started working on the wallpaper again on Sunday.  It was really hot that day, so I was avoiding going outside, ha.

The window was coming up, so I knew that it would be a good opportunity to use some of the extra pieces I had cut.  I removed the curtains and rod, then did two more full panels before I got there.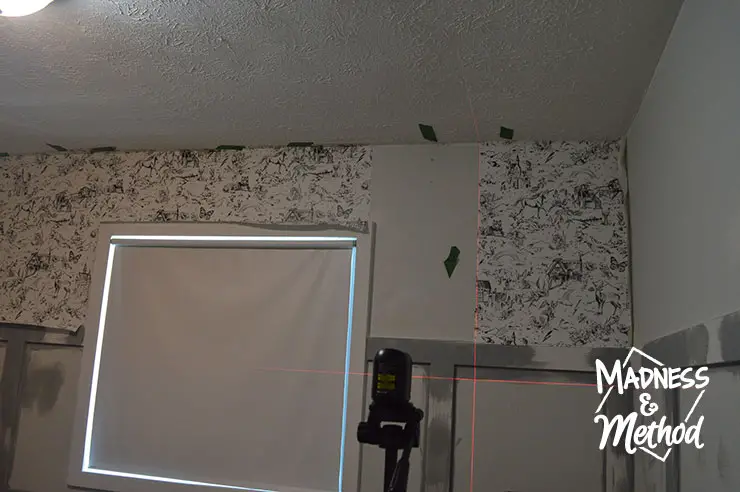 Then, I used the off-cuts and completely changed the pattern along the top!  A full panel was added in the corner and again, I used my laser level to make sure it was straight.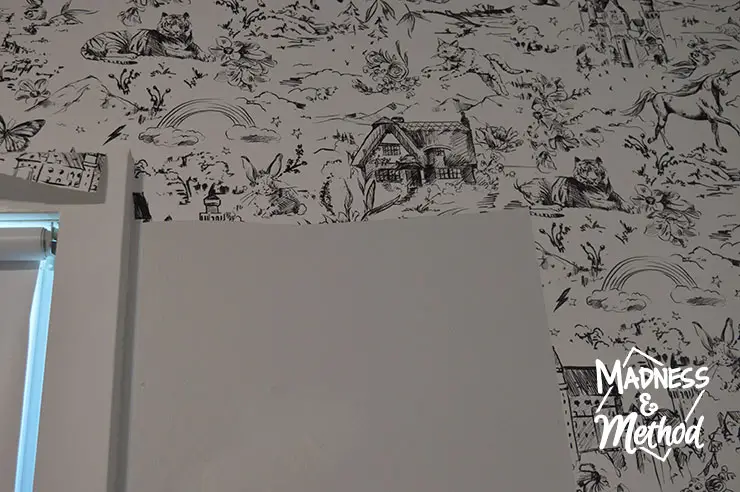 For the top part of the hole, I continued matching the pattern from above the window.  Luckily, it looked like it blended in well along the right.  Notice how the tiger's butt isn't really a tiger's butt?
(Yes, you read that sentence right, ha!)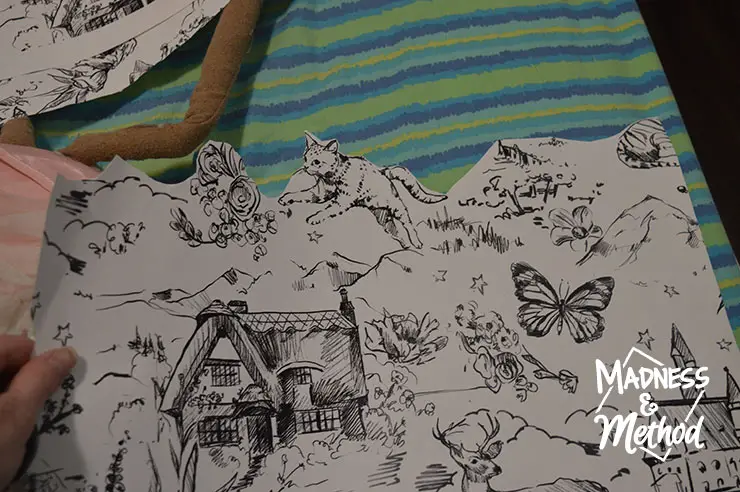 I didn't have a piece to match nicely with the bottom, so I carefully cut along some of the shapes so that there wouldn't be a visible seam.
(I also found and could match up the tiger's butt, ha).
I shared this exact same view on my Instagram the other day, so you can see how it looks.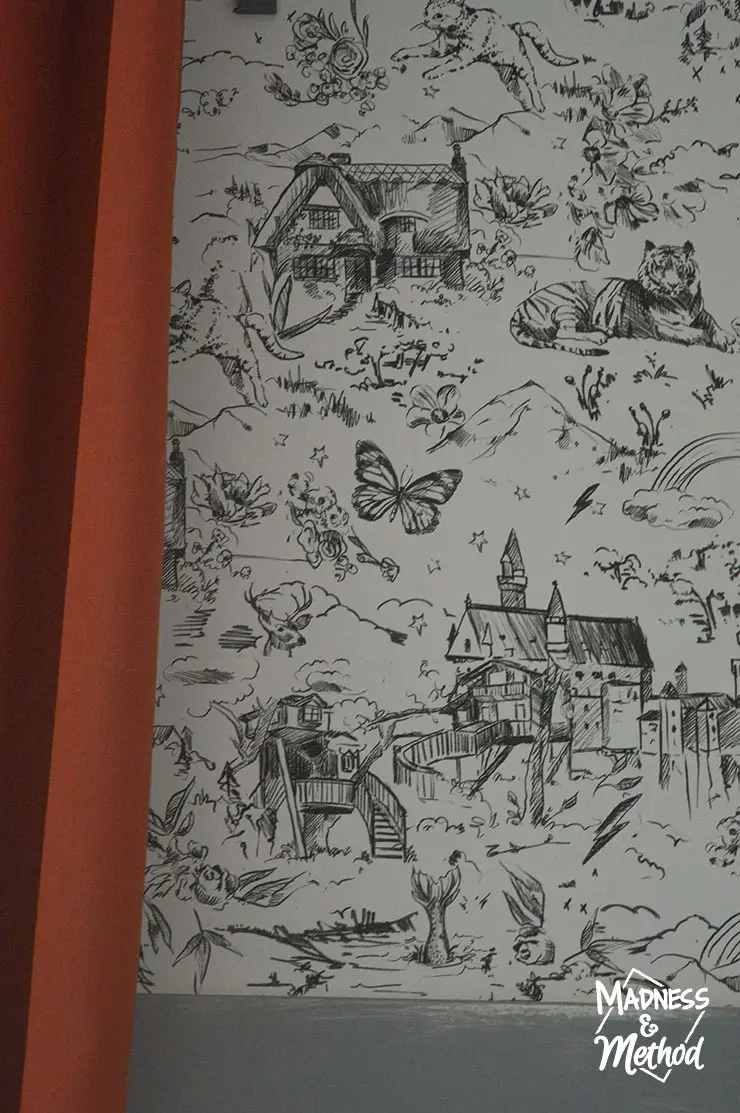 Once the curtains are added, any imperfections are hidden.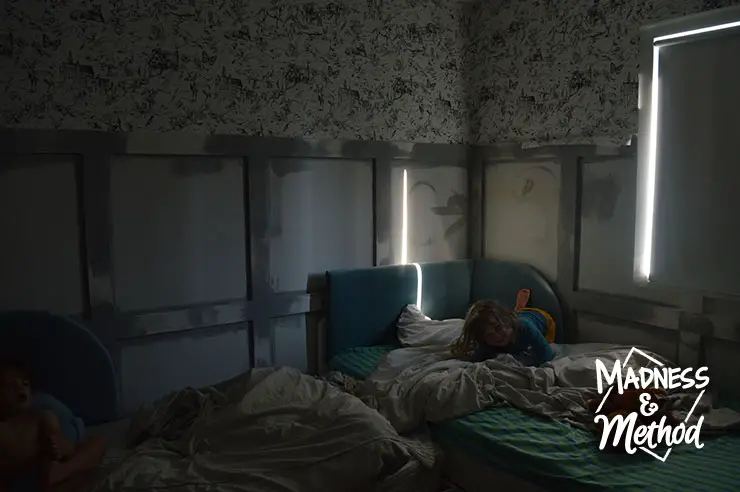 Although I did try to not hang the curtains right away, but the kids were complaining that it was too bright at bedtime.  Notice the big light gap streaming on Élise's bed?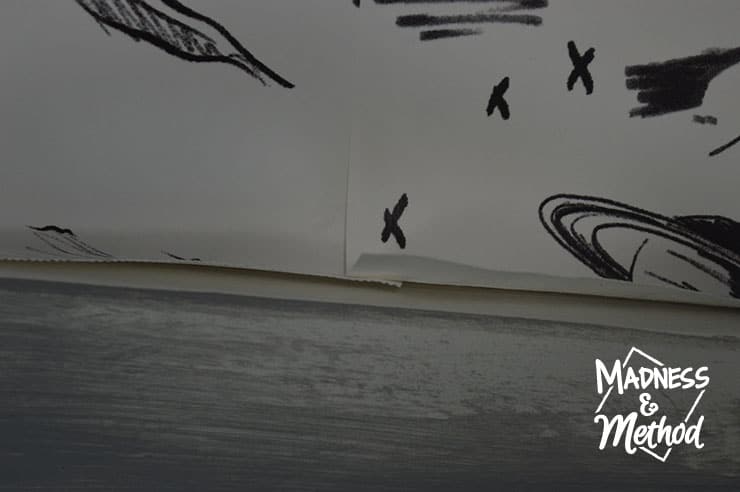 The next day, I went in and trimmed all the excess along the edges of the wall.  I did find that some of my seams, especially along the wainscoting or in the corner, didn't glue well.
Does anyone know if I can add more water to re-glue it?  Or should I just use a glue stick or something?!
Running out of Wallpaper Fix #2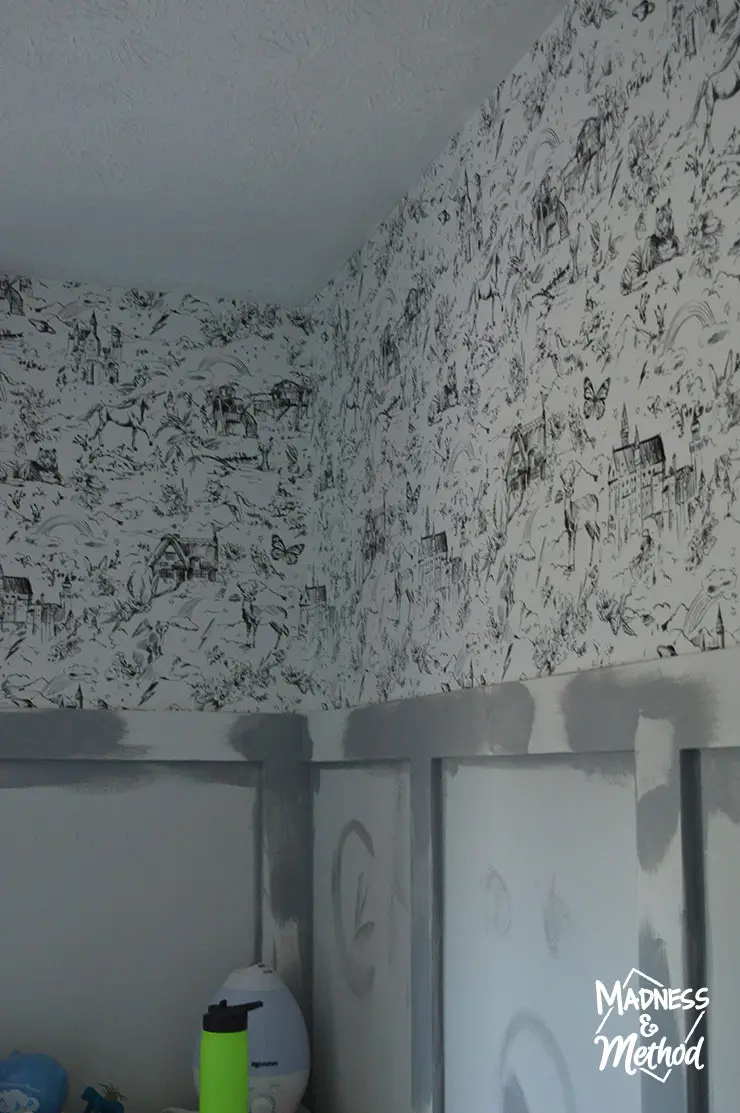 Luckily, I had figured out that I would run out of wallpaper early enough.  I decided to conserve/use the off-cuts around the window where it would be hidden.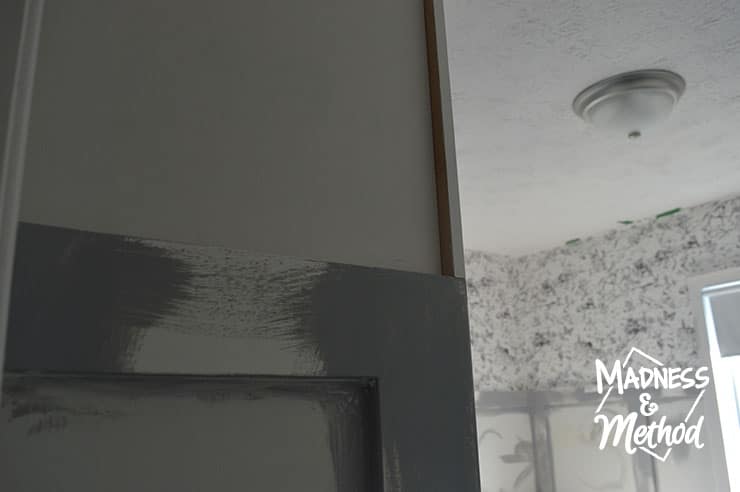 Even so, I didn't have enough paper to cover the bump out.  I did have on piece of trim leftover to cover the front, but it was looking weird from the side (entry of the bedroom).  Thankfully I had off-cuts of wood too, so had to hack something together to cover the side and hide the back of the trim.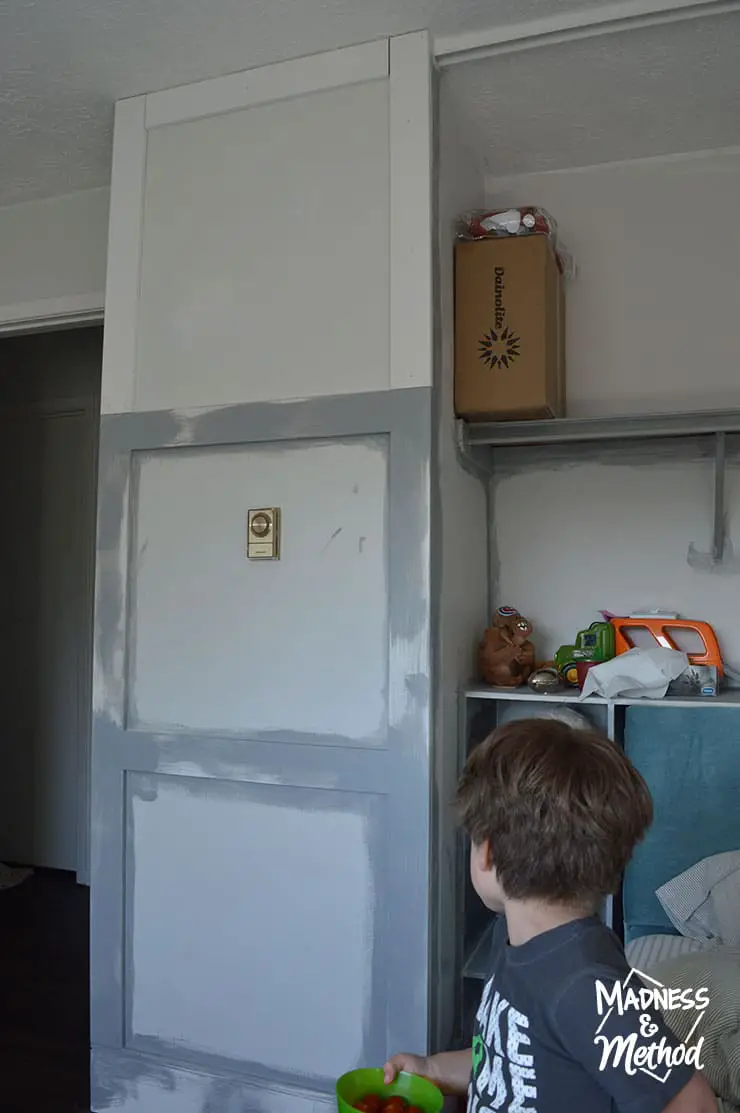 Here's how it looks from the front.  I did plan/want to have wallpaper on the top there, but now it will just be painted all red like the closet.
Not sure what I would have done if our room was a normal square/rectangle shape though :(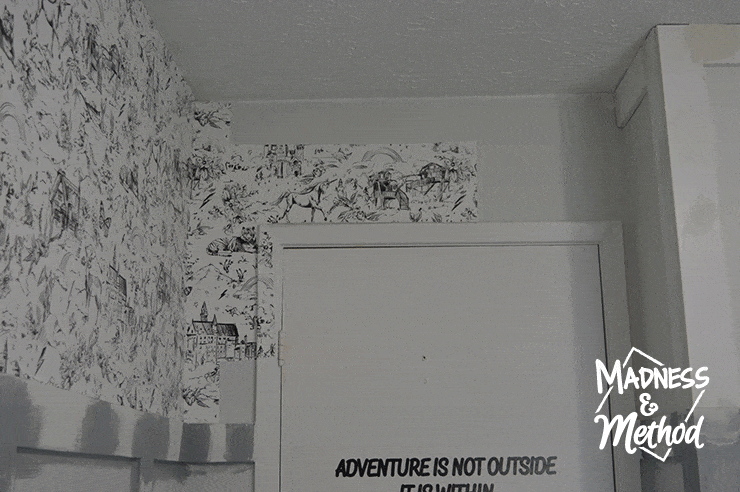 Anyways, here's a short animation of me filling in the last section yesterday.  This required the most patching of wallpaper pieces, but I don't think it's in a spot that people will see that much.
You can also peak the door decal that I added!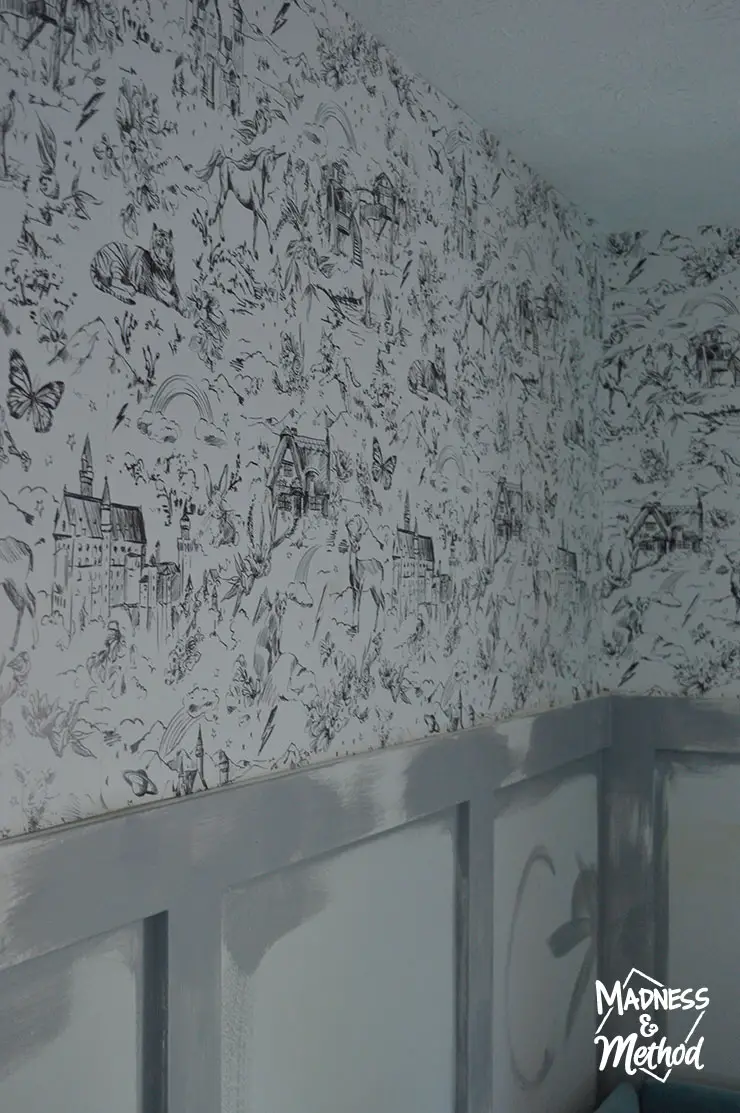 Even with the extra time added to fill in all the small spaces, I do still really like how the wallpaper turned out!  I chose a black/white pattern so that the colours wouldn't compete with all the ones in the room.
I'm excited to see how it will look with the walls painted!
OH, and the ultimate fix when you're scared of running out wallpaper: ORDER AN EXTRA ROLL!  (You might not be able to return it, but you could always use it in other ways).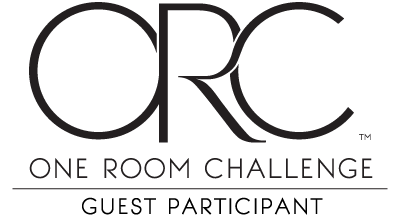 About the One Room Challenge
Check out all the other linking participants (and 20 featured guests!) on the One Room Challenge website.  Here's my progress so far:
Running out of Wallpaper Fix (this week!)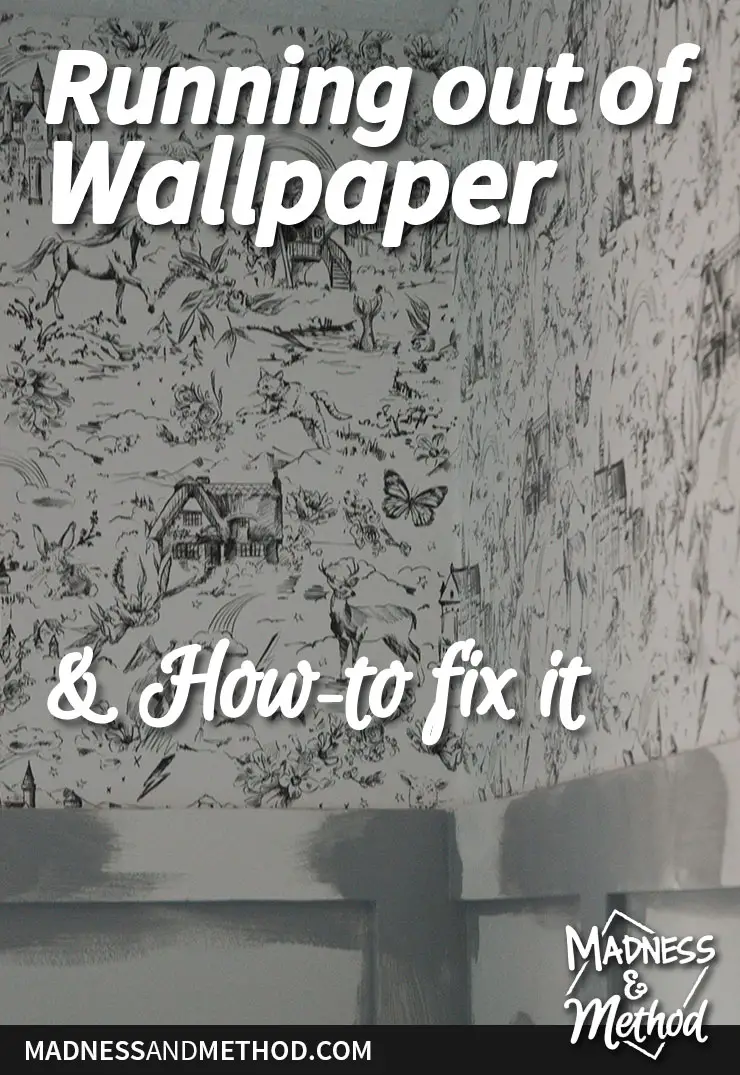 I hope you enjoyed reading all about what to do when you run out of wallpaper!  Have you ever run out of wallpaper?  I was really worried I'd have to order a new roll and not have it come in time :(
I'll see you next week.  Hopefully, all the small to-dos are done by then (I shared the updated list last week).  The Husband needs to install the light fixture (it came in time!), so let's cross our fingers there's not too much grumbling…
Hahaha :)