I'm excited to share the photos for another completed room at the rental renovation!  If you weren't aware, we created a basement apartment at our second house and have been renovating it forever.  While there are still small things that need to be done (like add in some caulking, actually hang up the mirrors, etc), this bathroom is good enough to show off :)  Check out our glam basement bathroom reveal!
– Note: This post contains affiliate links and the Aspect Peel & Stick metal Mini Subway tiles in Champagne were provided. See more information about affiliates and sponsored posts here. –
I shared the moodboard for this glam bathroom at the start of the year, and I'm happy to say that it mostly followed that vision!
You can check out how the basement used to look here, and you can see some progress/construction photos and some drywall up here.  That pretty much sums up the space before/during… so let's get to the after: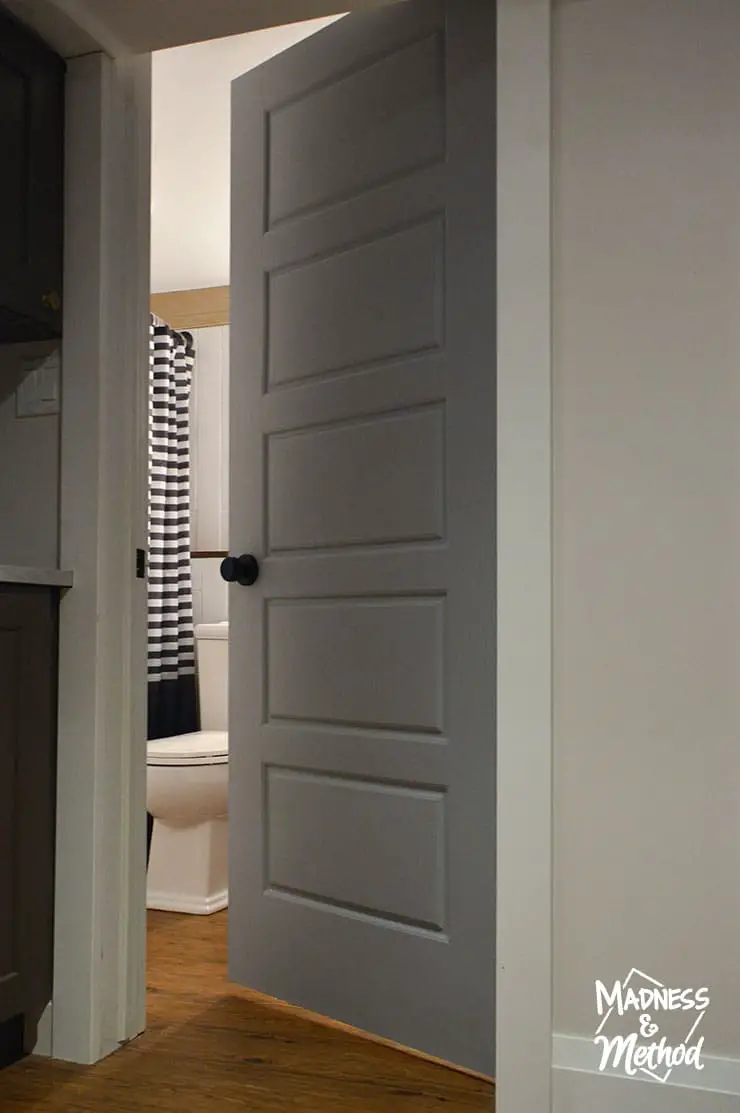 The bathroom is located just off of the kitchen, in the mini hallway area to the left of the bedrooms.  All the doors in the apartment are painted a grey/blue, and I like the subtle pop of colour against our neutral walls!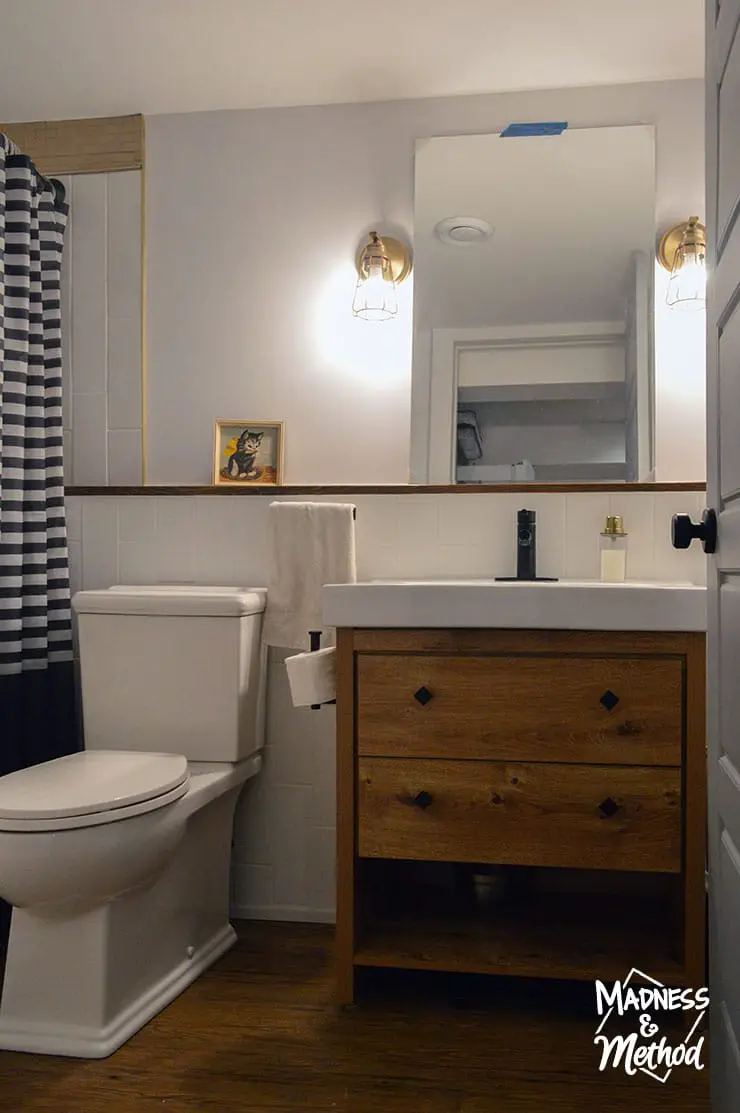 Remember when I said that we didn't hang the mirrors yet?  Just ignore the tape at the top for now :)  There's a small full-length mirror on the wall behind the door too.
Glam Basement Bathroom Shower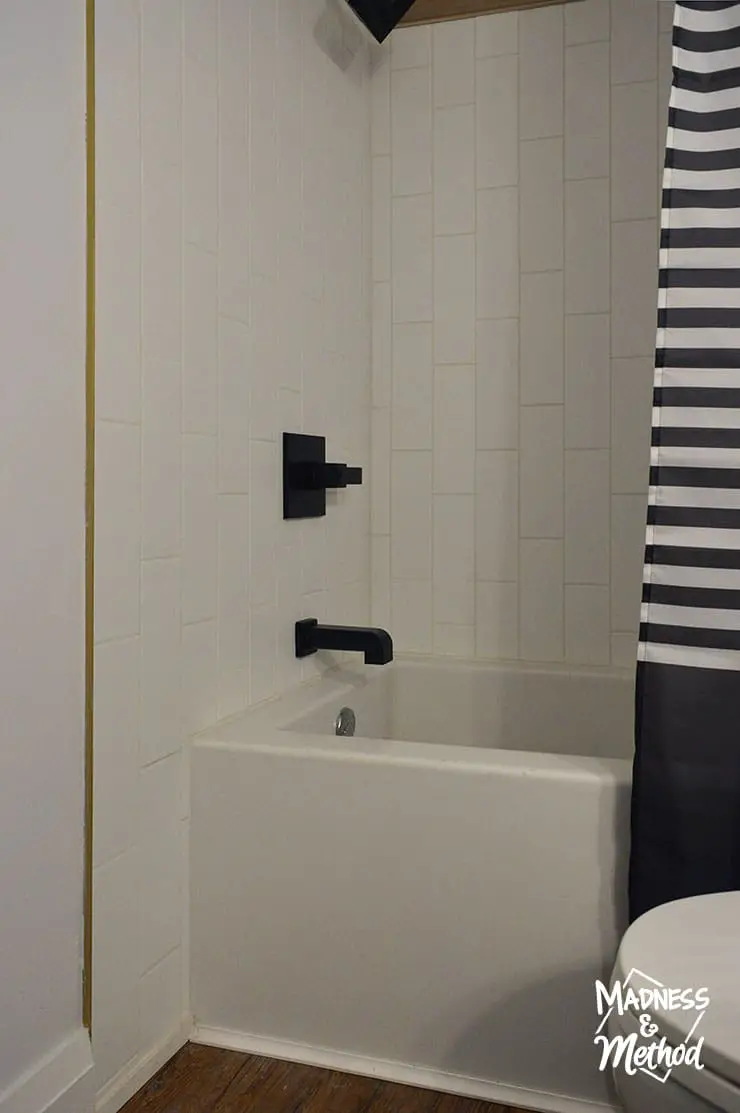 Last time I shared progress in this bathroom, it was all about installing the long subway tiles in the tub/shower.  We've since grouted and installed the hardware, and with the addition of the shower curtain, it is 100% functional!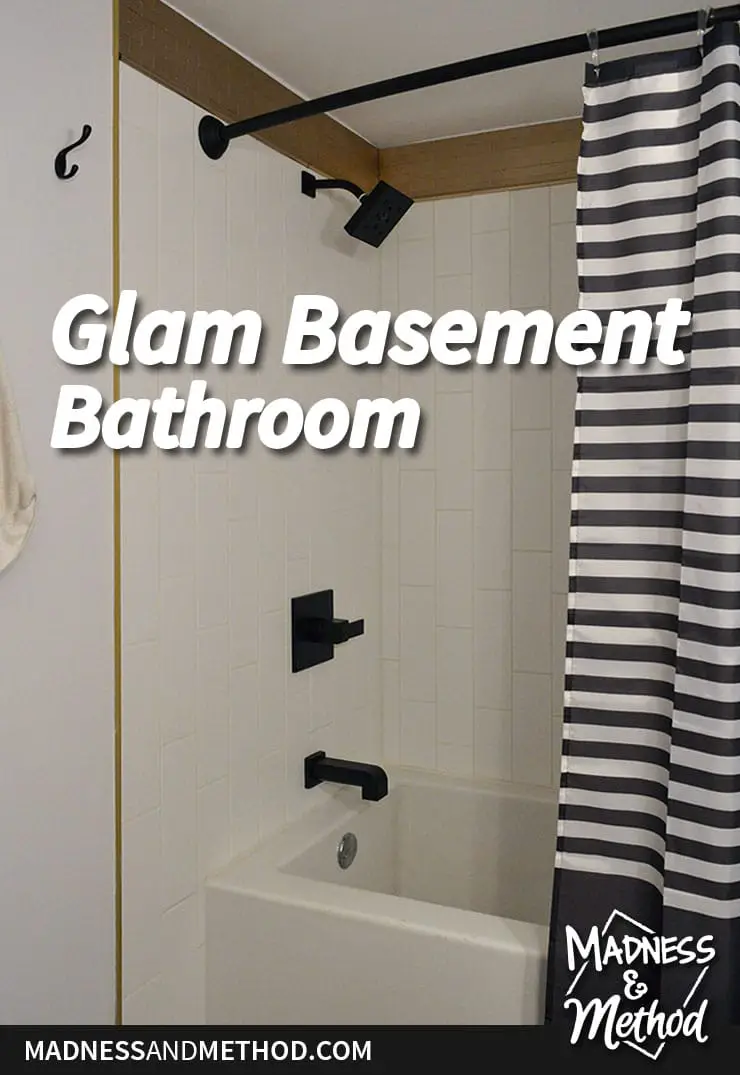 Although, truth time – we just hung the shower rod/curtain last week!  I just didn't shower for the last month or so (relax, we have another house and I showered there!), and the Husband took baths all the time (which is what he prefers…).
This is the first curved shower rod we've owned, and it does add a bit of elbow room that you didn't think you needed!  It was tricky to find a matte black shower rod (most I found were tension rods).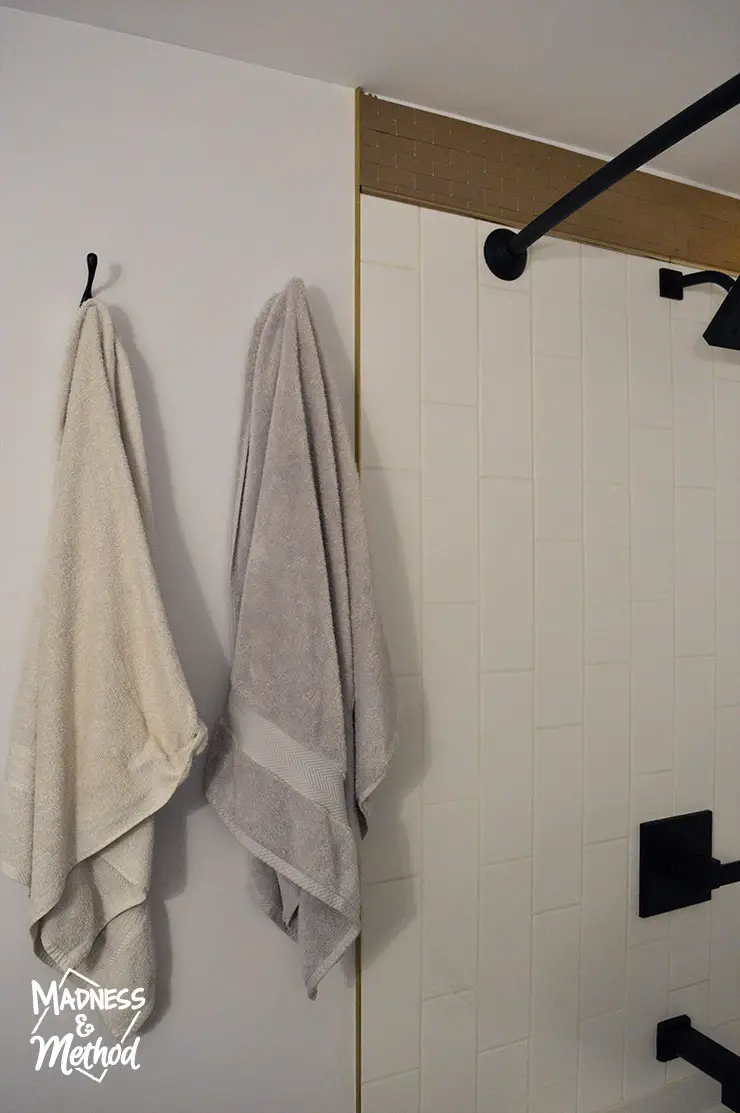 I added some cheap matte black hooks to the left of the shower for our towels, and I may add another one a bit lower.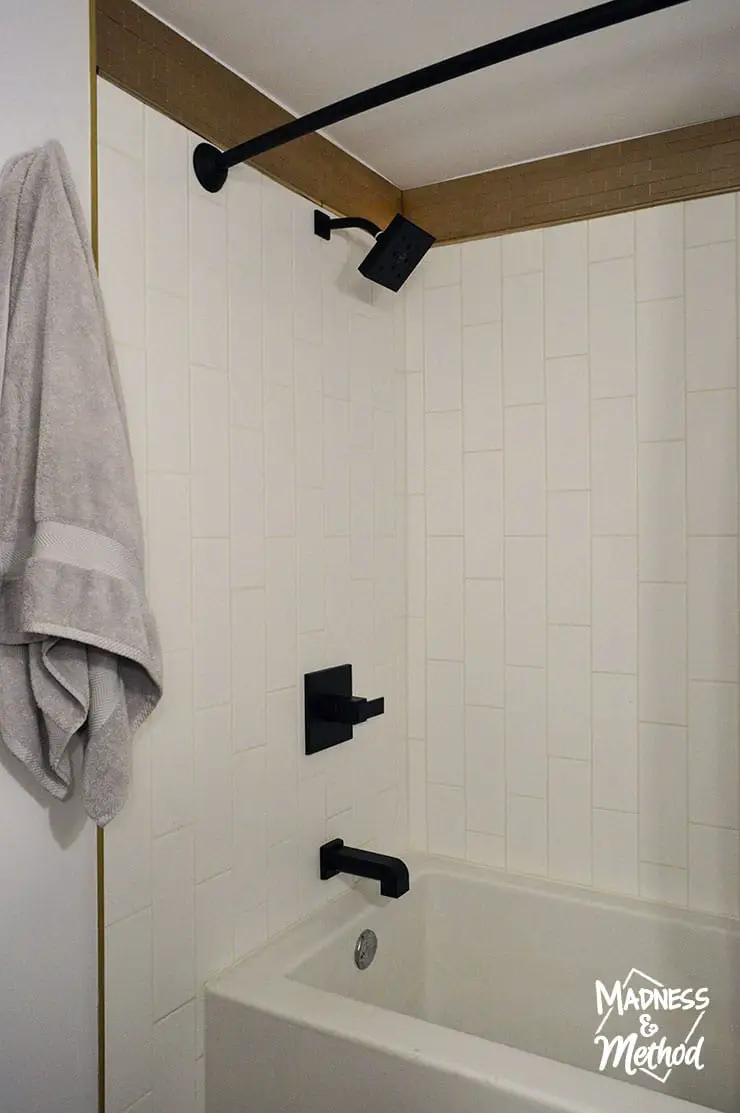 To highlight the Aspect Peel & Stick Mini Subway Tiles in Champagne border along the top of the shower, I kept the bulk of the accessories black.  I wish I could have gotten a taller border in, but alas we only have 7′ ceilings down here, so you work with what you have :)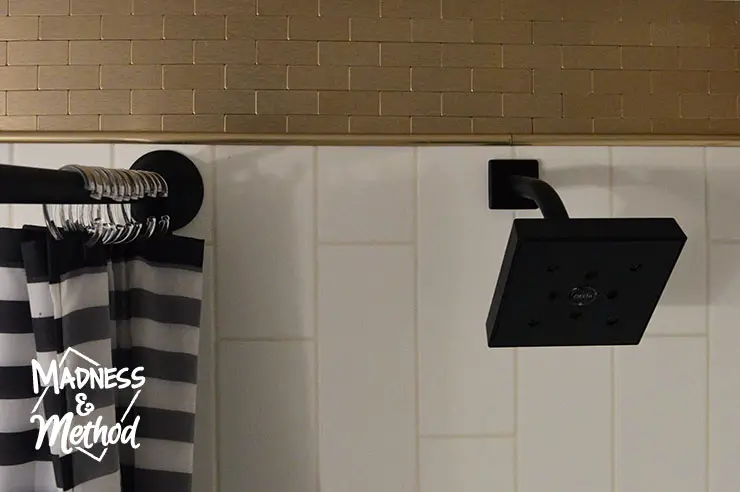 But seriously, look how nice the mini subway tiles are!  As I mentioned before, these tiles aren't meant for wet areas like showers… BUT I installed them above where water should go (usually there is drywall up there).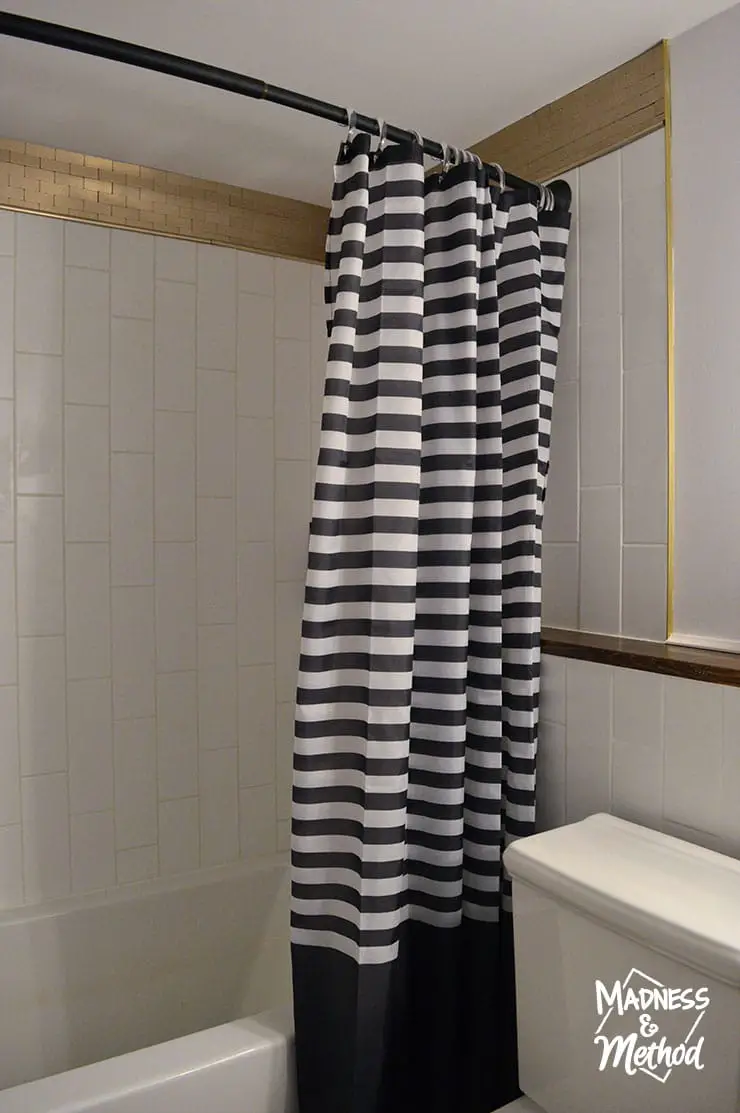 Funny story, I bought this shower curtain forever ago at Ikea.  I thought I had lost my mind because I couldn't find it among my things, and didn't want to get another one shipped over.  The Husband cleaned out his truck a couple of weeks ago and was all like "I found a shower curtain".
Thank goodness I wasn't going crazy :)
(And also, I should remember not to get him to bring stuff up that I'll need because apparently it will get lost in the abyss).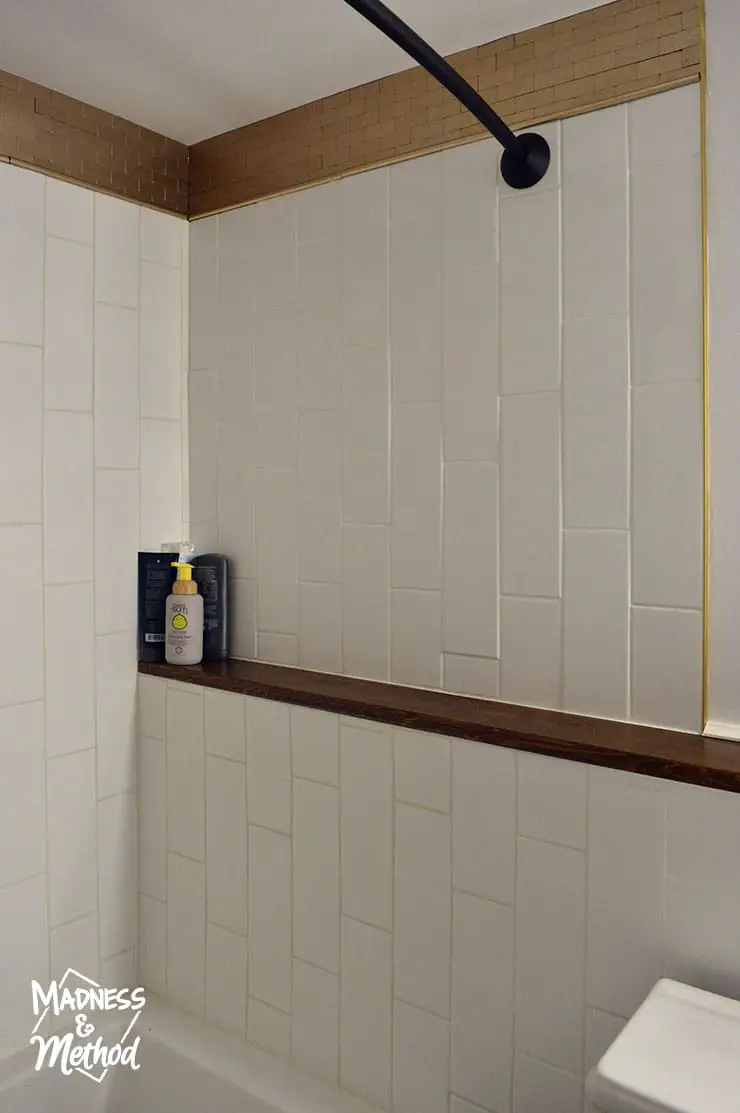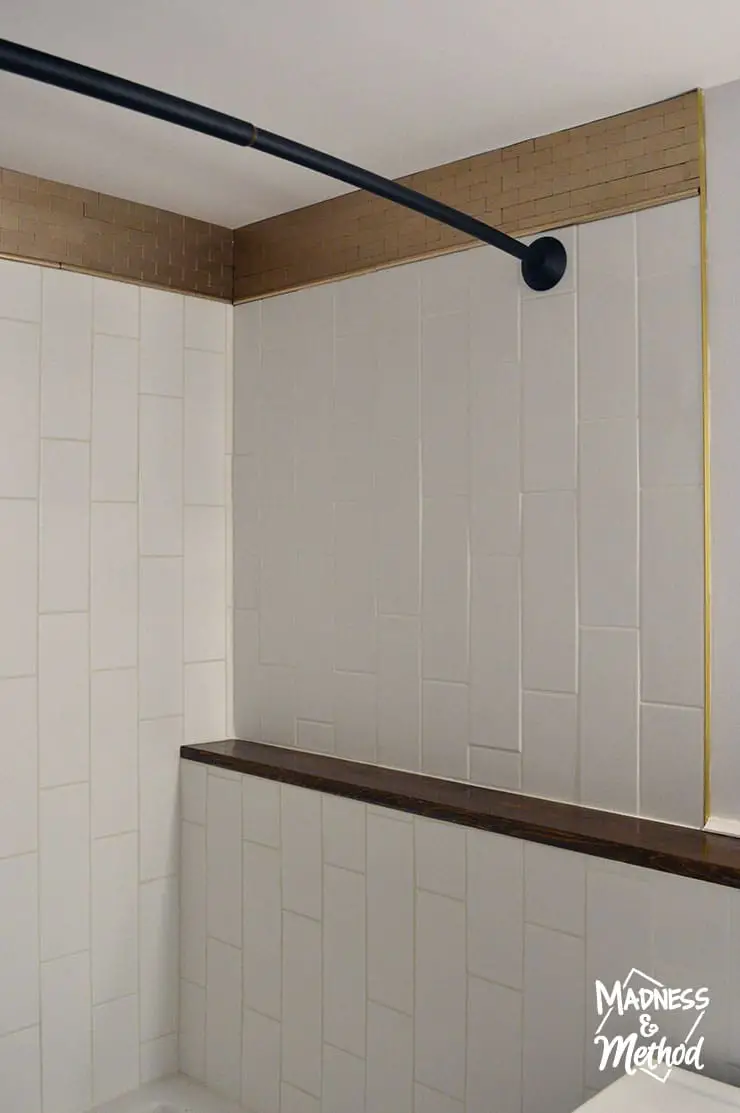 We lost a few inches of space from my original apartment design when they put up the framing (I didn't account for wall thickness/beam placement I think).  So I decided to add in a ledge across the whole length of the bathroom for a tiny bit of storage.  I had to explain my vision to the contractor a few times, as he was trying to convince me that we would lose precious space in front of the vanity/toilet.
Basement Bathroom Vanity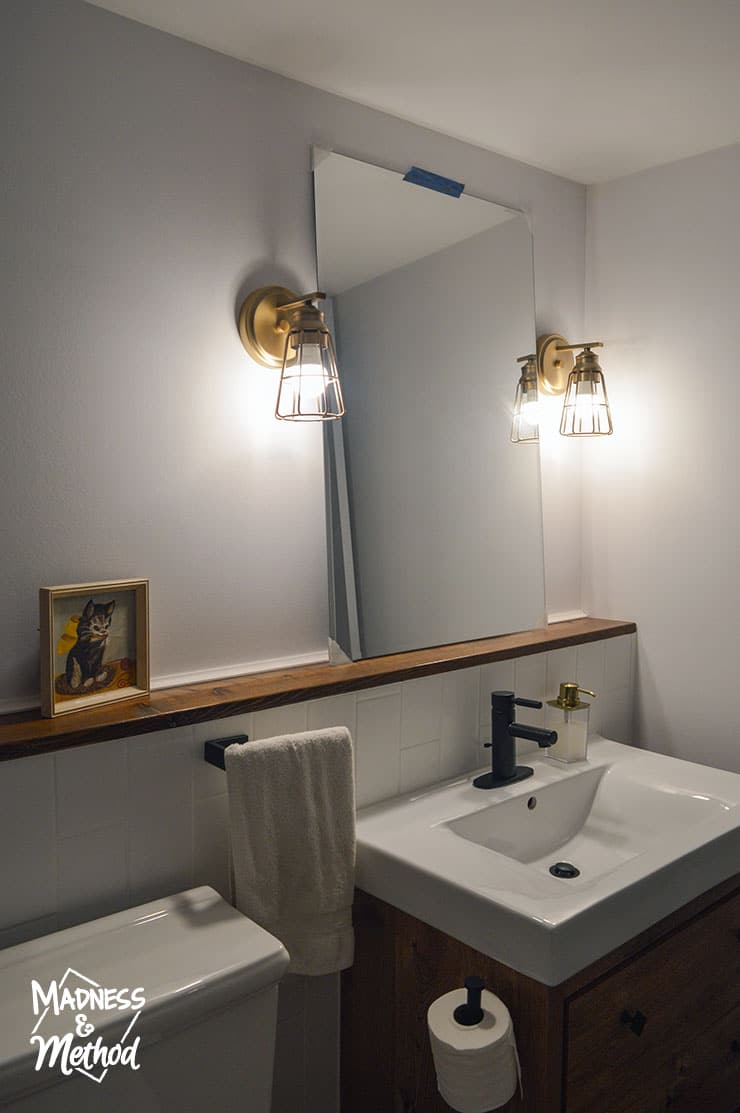 Well, I'm really happy I added the ledge (it's honestly just the width of an extra 2×4 stud pony wall).  We store all our soaps for the shower in there and have a place to put small decor items (and our toothbrushes) in the other end of the bathroom.  And yes, for now, it helps to hold up the mirror… but eventually it will be fully on the wall!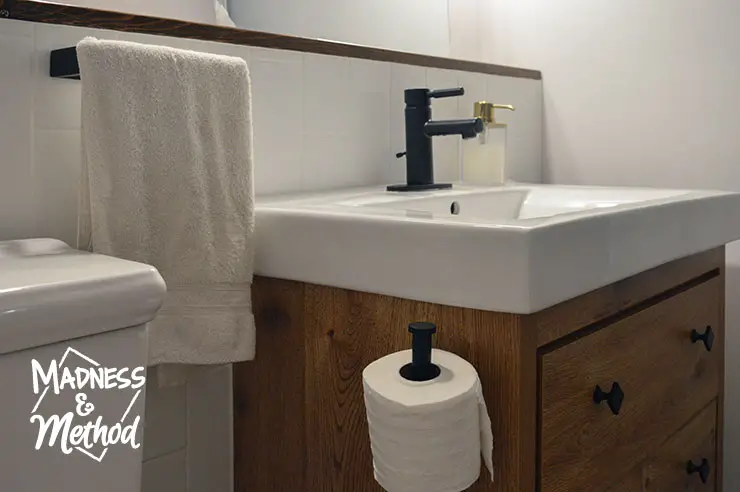 I stained the ledge to try and match the colour of our vinyl floors and the wood-look vanity.  Swapping out the nickel hardware for these square knobs (on the diagonal) helped tie in to the rest of the hardware.
While we were originally thinking of doing a freestanding toilet paper holder, living with a toddler convinced us to do something more permanent.  He has a habit of moving the toilet paper stand on us, and it does free up a lot of space on the ground too.  This one is stuck on the vanity, so I didn't have to worry about nail holes!
I also re-thought the hand towel ring and went with this hand towel bar.  We had a certain physical constraint that it needed to fit in, but I also didn't want the towel to hang too low.  The bar allows the towel to hang above the toilet, whereas the ring would be a few inches shorter.
I'm happy we lived with the bathroom for a bit before I ordered everything!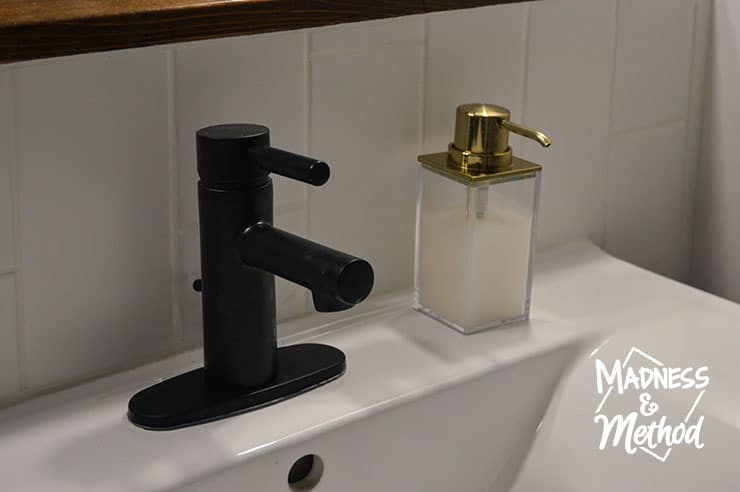 The soap dispenser also ties into the gold accents, and I like that the shape mimics the handle for the faucet (totally an accident!).  We also have gold/brass sconces, so there are at least 3 repeating gold elements to tie into the shower border.
Bathroom Storage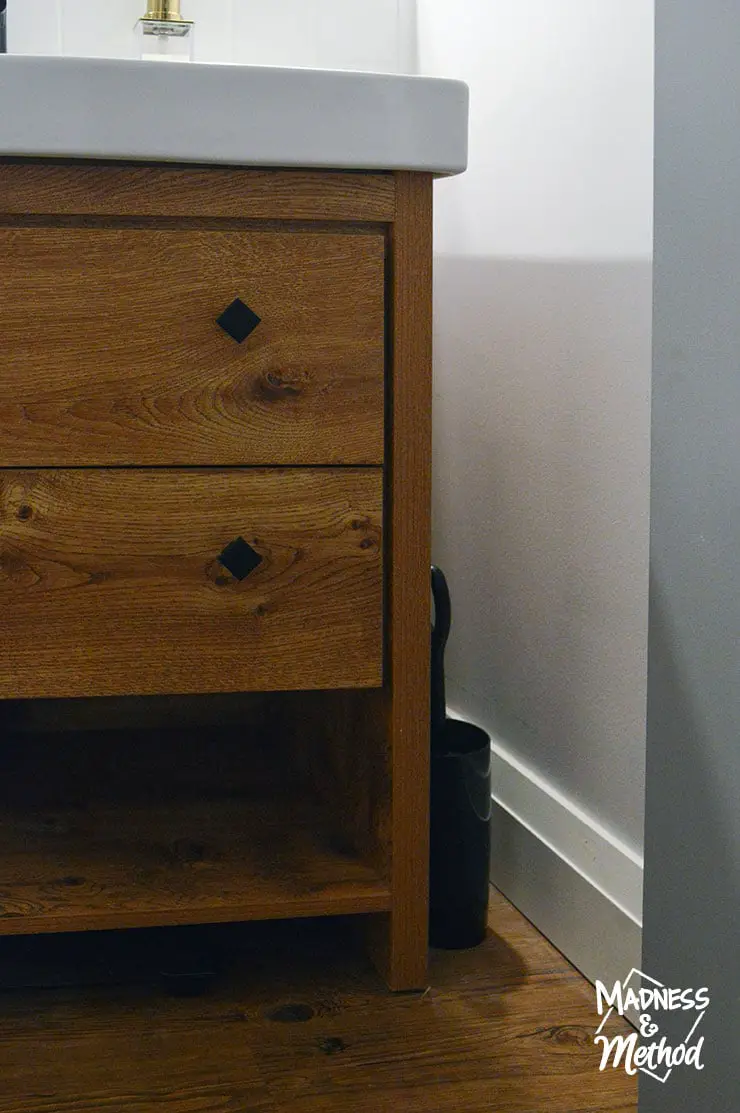 Going with a smaller vanity (this one is 30″) than what we could fit allowed us to have a little hidden space for storage.  This is where we keep our toilet brush, plunger and even the toilet bowl cleaner (because those drawers aren't deep enough).
Plus… I HATE when there is just a little teeny crack of space between the vanity and the wall.  So much dust accumulates there, and there is no easy way to get it clean.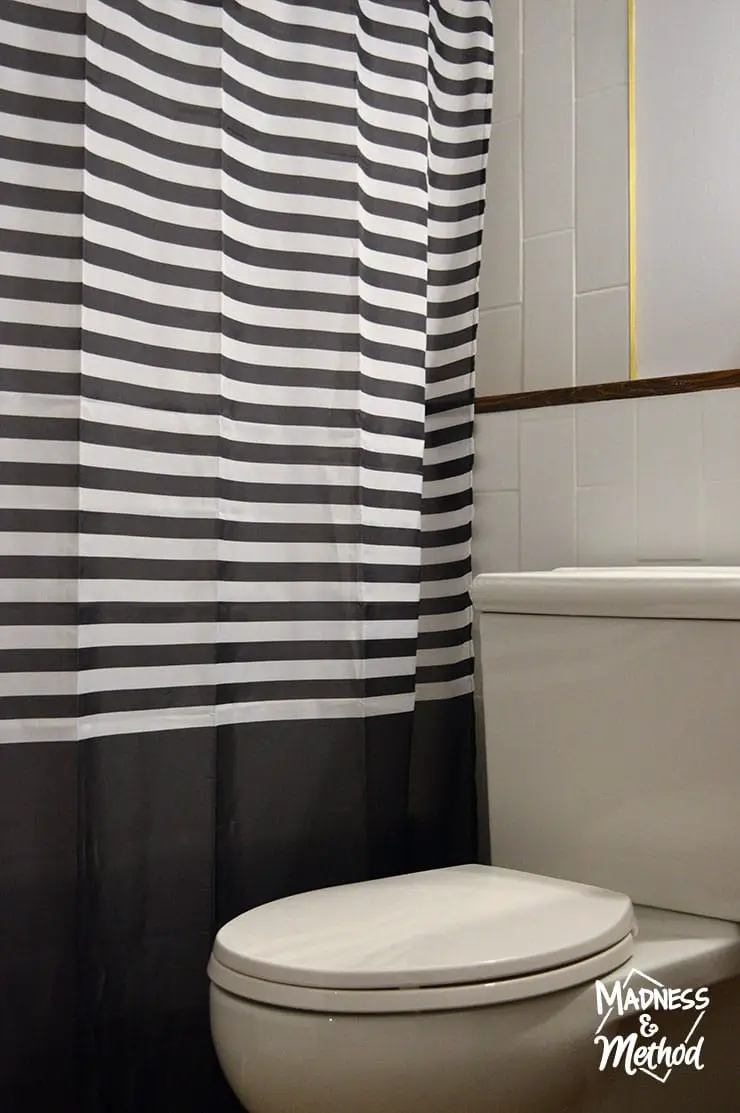 Wondering where we keep our other "bathroom" stuff?  There's actually a toddler potty seat next to the toilet, but it's perfectly hidden from the door view.  AND there's just enough breathing room around the toilet that we don't have to squeeze the shower curtain in too much when it's open.
(We had that issue upstairs, the shower curtain would bump into the toilet and toilet brush).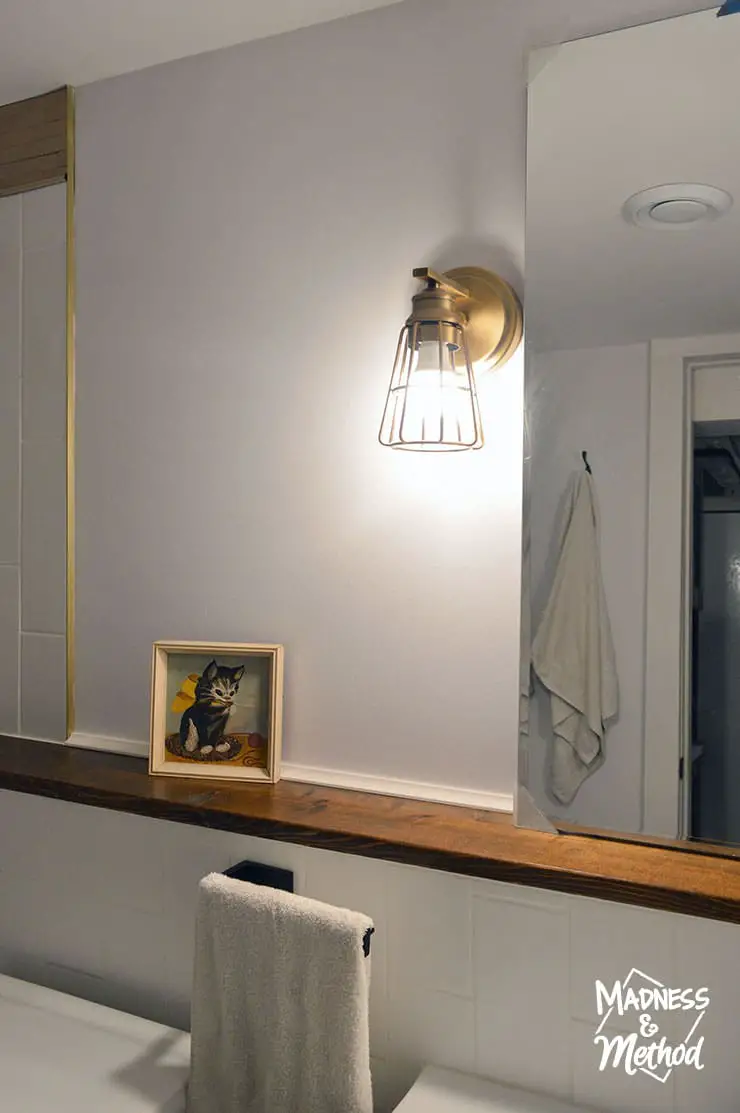 I also mentioned that we do keep our toothbrushes on the wooden ledge.  We're planning on AirBnb-ing this apartment when we're not there, so obviously, we'll take those with us.  But doing that has also made me more intentional with the things we do have down here, and it's helped me enforce my minimalism ideas :)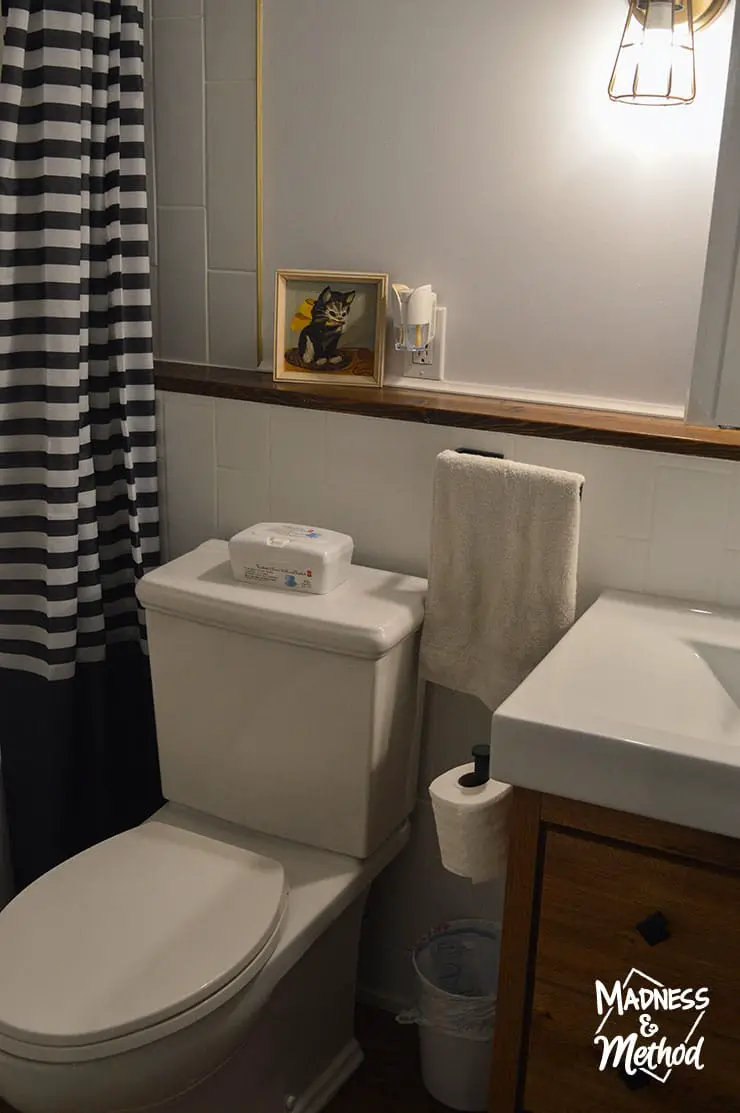 And, just in case you wanted the more real-life view, we also have our garbage pail just below the towel rack.  There's usually some wet wipes on the toilet too… and surprise surprise, the vintage cat painting was hiding the outlet!
Shop This Post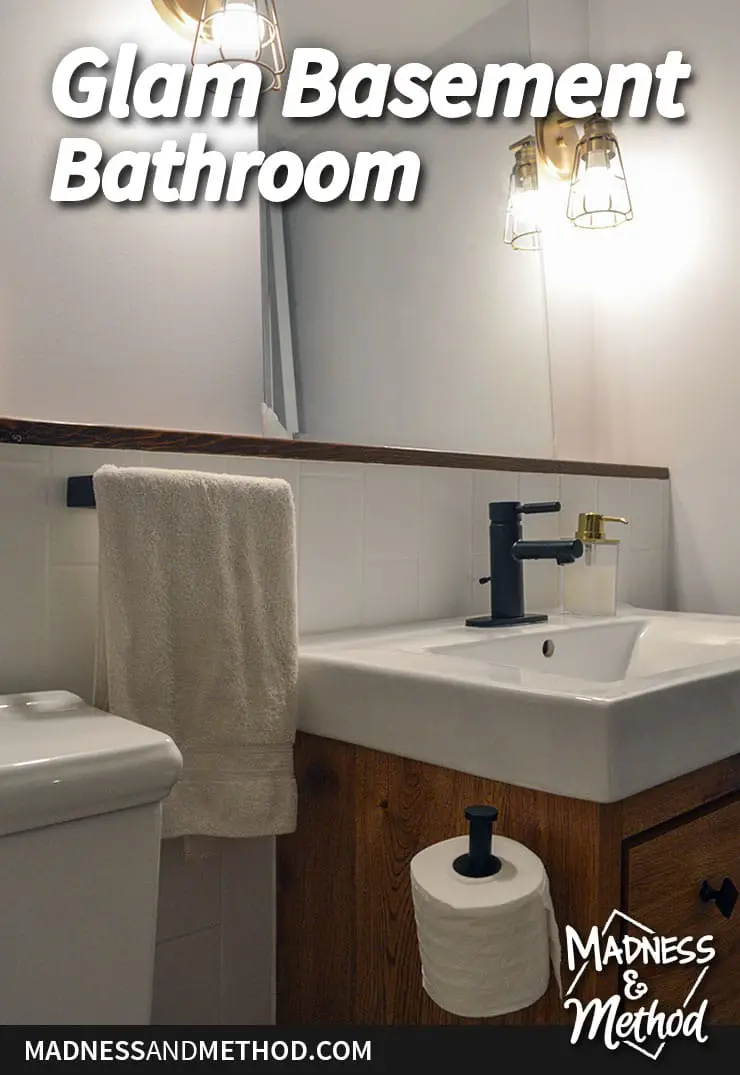 I hope you liked this glam basement bathroom reveal – and that it resembles the moodboard I shared a few months ago.  Being a small 5×8 space (with no natural light) it's a bit trickier to photograph everything together – but there are really only 3 things in there, ha!
Oh, and I know I hinted last week that I'd be sharing an anticipated basement space… so hopefully, you're not too disappointed that it wasn't the kitchen.
Although, spoiler… that one is coming up soon!