As someone who loves renovating and DIY projects, it's no surprise that I would choose Ikea for our kitchen cabinets.  I've had a lot of experience with designing, building and installing Ikea kitchens!  So today I'm going to dive into the process of buying Ikea cabinets, both in-person and online.  A lot has changed in the last little while (aka pandemic) and I wanted to include my buying tips to navigate that.  Hopefully this comprehensive guide will help you figure out the best way to buy Ikea cabinets!
Over the last few years, I've completed 5 different Ikea kitchens!  You could say that I'm a bit of an expert at Ikea kitchens.  (PS: that's a Peppa Pig reference).  So as a bit of a refresher, here's a link to all of them:
Honestly, I love designing, planning and building kitchens – so I don't think this is the end of the list, ha.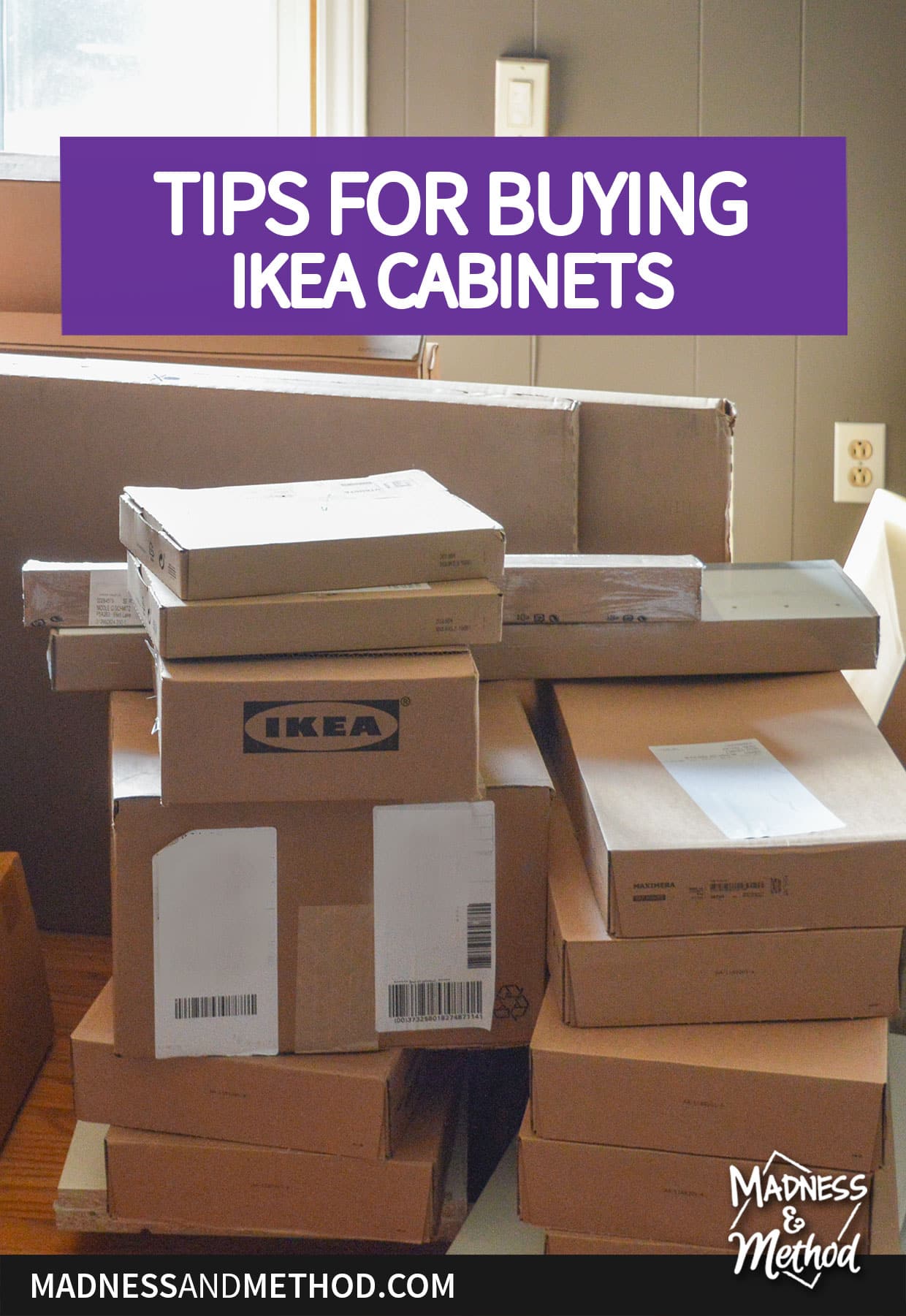 This post was originally published March 11, 2015. It has been refreshed and republished March 07, 2023.
But yes, let's talk about buying Ikea cabinets!  Our closest Ikea is Vaughan, Ontario – but it's at least a 4 hour drive away.  The first time we built an Ikea kitchen, we visited and bought everything in person.
Buying Ikea Kitchen Cabinets in-Person
This is a great method if you live near an Ikea, or have the means to visit one.  It's probably the best method if this is your first Ikea kitchen, and/or you need help designing it.  Essentially, bring a truck, rent a U-Haul or have a couple of vehicles/trailers ready.  Some items (like tall cabinets and end panels) can come in really long boxes – so make sure you can fit them first.  AND  plan to be there (or nearby) for a few hours.
On our trip to Ikea to buy cabinets, we brought a truck and rented a covered U-Haul towing trailer.  The Husband had conveniently spent the weekend in Toronto with friends, so I drove down and met him at Ikea.
Once in store, you need to navigate to the kitchen section.  There will be a computer zone with associates that can help you set up.  You'll need to log in to the computer, access your design and then order the items.  The associates will be able to help if you're forgetting something, and they'll go over everything if you have questions.  From there, they'll print your order – but you need to go to the check-out and pay for the items before they start picking them.  You might then have to go to the Ikea kitchen pickup section and bring your receipt too.  They'll put your order up on a screen, and give you an estimated time for it to be ready.   
If you're planning on shopping at Ikea, do not shop before paying for your kitchen.  Get the kitchen list, pay for the kitchen, then go back through the store and buy anything else you need.  Depending on your kitchen size/how many pieces, it may take a couple of hours for them to get all the items.  We anticipated this, so headed to a nearby movie theater, watched a film and came back.  There were a couple of items they didn't have in stock, so they shipped them to us a few days later.  
Since the pandemic, the cabinet stock and availability has taken a big hit.  I would check the stock before going to the store, OR plan to come back another time.  Honestly, they've vastly improved their website/kitchen ordering since – so it's a lot easier to find this information yourself.  
Or, you can buy the cabinets online!
(Scroll down to check out my general Ikea kitchen buying tips too).
Buying Ikea Kitchen Cabinets Online
I think I've ordered my last 4 kitchens online!  The first time I ordered online was because it was the kitchen for brother.  It was easy to order them from where I lived and have them shipped to him.  At that time, you have to create your design online, then submit it for review before it could be ordered.  (As I mentioned, some things have changed since the pandemic.)
Nowadays, you can design your kitchen in their planner, see the list of all the items, then move the items to your shopping cart.  (Or, have it reviewed – but this option may take longer than it used to).  You can then select if you want to pickup in-store, a collection point, or have it shipped directly to you.  Depending on where you live and what you ordered, the delivery price may vary.  I've paid as low as 20$ for small items, and as high as 400$ for a huge order.  
Listen to this deal: when we ordered our basement kitchen it was during a delivery sale, the whole thing came to us for 99$!!!  I'm pretty sure I spent close to 1000$ for delivery of our last two kitchens (in pandemic times) because I had to do multiple orders depending on stock.  Honestly though, the price including delivery was still good for a complete kitchen! 
Speaking of stock/pandemic issues – ordering Ikea kitchen cabinets online became a multi-step process.  Here are some of the things I did to ensure I got everything I needed:
Save the kitchen design list as a PDF on my computer (or you can print and write on it)
Order as many items as possible, then check them off the list as they come in
Test different shipping locations (if possible).  For our kitchen, I shipped them to myself, my parents, my brother, my friend in Ottawa – basically anywhere they had stock at the time
Pickup items if you can (sometimes you can buy in person, but not have them shipped to you)
Check stock daily/weekly
Order boxes in different colours if available (the doors/panels all match, but some of my cabinet insides are dark vs. white)
Check out some other general Ikea cabinet buying tips below, and happy planning! 
Other Ikea Cabinet Buying Tips
Some of these tips will apply whether you are planning on buying your Ikea kitchen in-person or online.  Basically, some guidelines to follow to get the best experience.  
Buy During a Sale:  Ikea used to have kitchen events twice a year where you could get back up to 20% of your purchase price in gift cards.  Since the stock/pandemic issues, I have not seen this sale again.  They will do a similar sale with appliances (buy 1, 2, or 3 for different gift cards) so that's something to consider.  
Design Before Showing Up: I get it, not everyone is computer savvy or knows how they want their kitchen designed.  If anything, make sure you have all your measurements (see how to measure your room here).  I've done so many Ikea kitchens now, it's almost like second nature at this point.  But you should definitely have things in place (or a very good idea) of what you want.  I just noticed that Ikea has design centres now, so that's a great option if you don't live near a big store! 
Determine How You'll Pay:  This was a big one for us when we bought our kitchen in-person.  I completely forgot that kitchens cost a lot of money, and sometimes debit and credit cards have daily limits on them.  For our first kitchen, we had to split the payment on multiple cards – but since ordering online, it's been a bit easier to manage the payments.  
Organize Everything: Check out my tips above about organizing a multi-online-order.  But also, organize those boxes as you get them!  Here's a video I made about how I like to organize (and build) Ikea cabinets.  Ideally, you'd separate your frames from your panels/doors from your inside components (drawers, shelves, hardware, etc).  You could also separate them by cabinet, placing everything you need for each cabinet in a little pile/section.
Return what you don't need:  Sometimes you order the wrong part, duplicates or realize afterwards that it's something that doesn't fit or you won't use.  You have a year to return items, but I like to get them out of the way as early as possible (aka whenever I am headed to Ikea).  I also pack up all the extra hardware that I don't use, and bring it back too!
Hopefully this guide on buying Ikea kitchen cabinets has been helpful!  And yes, I am totally available if you have questions about Ikea kitchens, or you can even hire me to design yours :)  Don't forget, you can always use Ikea cabinets in other places (my parents put them in their laundry room and their basement bar too).
Check out these other Ikea kitchen links if you want more:
And let me know if you have any questions!