The old kitchen had been demolished, the walls have been primed and painted; and the floors have been tiled – time to start bringing stuff in!  But first, we needed to actually purchase our cabinets, and, since we had decided to buy them at Ikea, we had to assemble them too.  So how do I go about choosing and purchasing Ikea cabinets, especially if there isn't a store near us, you ask?  Well, read on to find out how we did it!
Our closest Ikea is in Vaughan, Ontario; about a 3-4 hour drive away, depending on traffic and road conditions.  It just so happened that the weekend we decided to get the cabinets was during one of their kitchen events.  We weren't planning on going during the kitchen sale because I was worried that it would be too crowded, and I actually didn't want to have to wait for a sale (considering we actually bought the cabinets mid-renovation).  But as luck would have it, the kitchen sale was on and we were able to get 20% back in Ikea gift cards (totally worth it!).
The Husband had spent a guys' weekend in downtown Toronto, so I planned to meet him on the Sunday afternoon at the Ikea in Vaughan.  I rented a U-Haul covered trailer early Sunday morning and set off for the long drive.  Once we got to the Ikea, we went straight for the kitchen planning section and were setup on one of their work stations.  Because I had planned the layout of the kitchen on the Ikea Planner ahead of time, it didn't take long for an associate to go through the design and make sure I hadn't missed anything.
After everything is verified, you then get a long printout of your order and head towards the cashiers to pay for it.  This is where we went – uh oh!  A few weeks before, I had told my Husband to make sure his credit card was empty because he has a higher limit than me, but we knew we would have to split the bill.  However, I had also forgotten to remind him (and myself) how much our order was actually going to be and that we would need to figure out how to pay for it (go figure!).  After some card shuffling and trying to put different amounts on different cards, everything went through, yay!  Because of our gracious wedding guests, we had the money in our accounts to pay for everything, but of course we forgot that cards have daily limits on them!
DIY/PRO Tip: When making a large purchase, always make sure you plan how you will pay for it ahead of time (as in, before you get to the cash register).
Ok, so then once you have your paid receipt, and your original item list, you go to the designated kitchen pickup counter and they scan everything and get you setup.  Depending on the amount of items you have, and how many people are ahead of you, this could take a few hours to process.  Luckily, I had read a great post online about buying Ikea Cabinets and I knew what to expect.  So, since it was the middle of the afternoon (and the Husband did NOT want to browse around Ikea for a few hours :( ) we decided to go watch a movie (there is a theatre across the highway from the Ikea in Vaughan).
Fast forward about two hours later and we returned to Ikea to find our many boxes waiting for us.  We then spent the next 20 or 30 minutes loading up the truck and trailer, trying to organize all the boxes by weight as we went – but it was raining, so it was more like we tried to quickly put them in the vehicle without damaging anything.  At the time, Ikea had known they were short on a few items, so they shipped them out to us as soon as they came in (which was only a few days later).  That's right, we didn't have to drive hours just to go back to pick up a few missing boxes, what great service!
When we got home, it was time to unload and organize all the boxes once more.  Although it wasn't very organized at first, I took a few hours during the next couple of weeknights to put everything in designated piles.  I had everything labelled to where they went once installed, by wall and base cabinets.  For example, all boxes for the base cabinets on the south wall had the letters S1, S2, S3 and so forth (and trust me, each cabinet has at least 2 designated sub-components that goes with it).  I was able to code everything out like this using the printouts from Ikea when we had gotten our original order list (there's a printed top view, and each side view as well).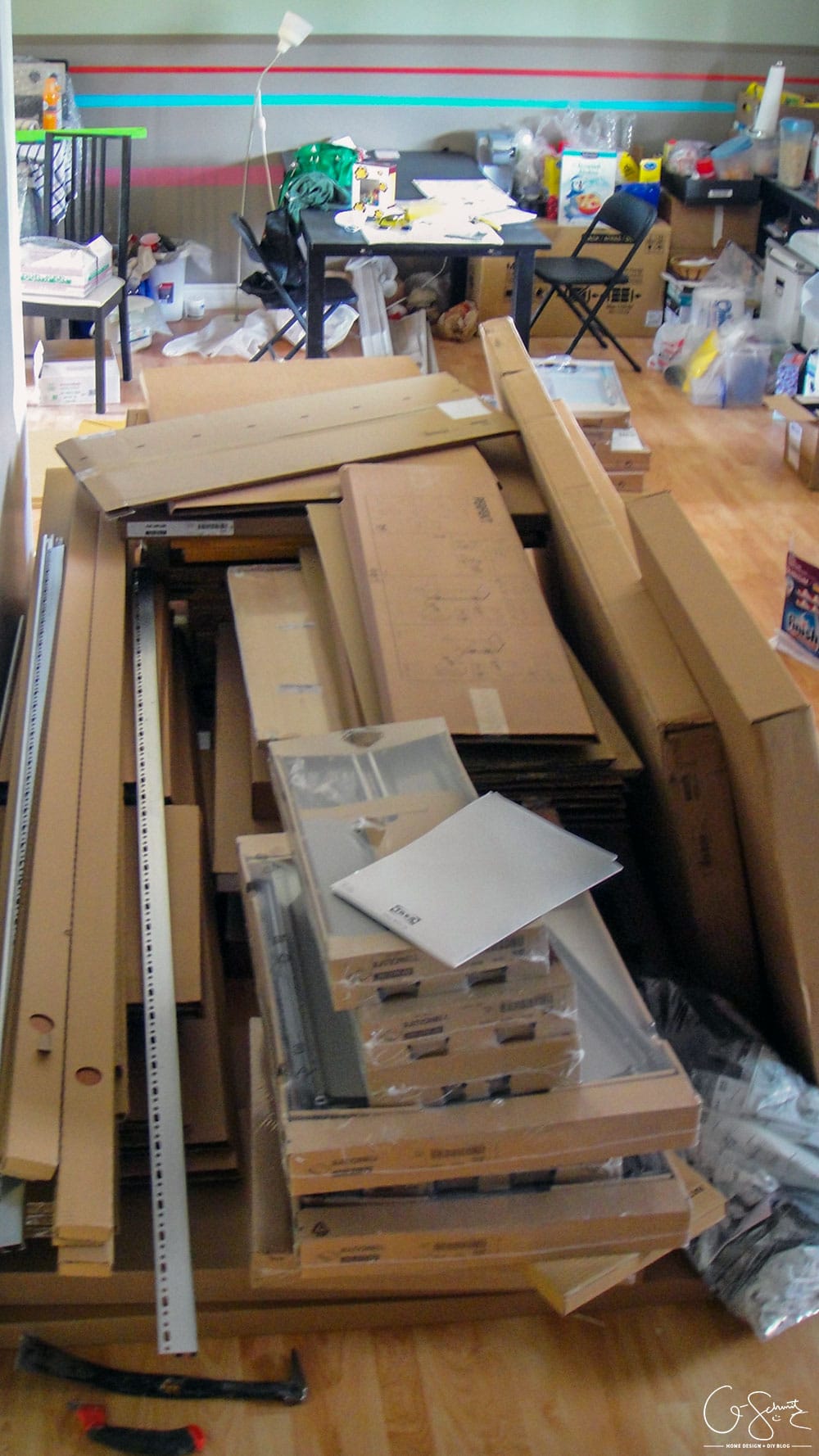 Even though it was organized, it was still a lot of boxes!  In fact, in the photo above you can see the mess of a "temporary" kitchen and dining room we had setup in our living room (see how we already had lots of boxes filled with our kitchen stuff?).  As we started assembling them, it felt endless – "wait there is another pile of boxes under this one?", but we managed to get everything done in a somewhat good pace (I hadn't really budgeting a timeline for the cabinet assembly, since I had no idea how long it would take).
In case you missed it, and just because I want to highlight the GREAT RESOURCE I found when I was doing the Ikea kitchen research, I want to mention Faith's Kitchen Renovation Blog Series (which is mentioned on lots of other blogs too).  She goes through the entire Ikea kitchen process, including pros and cons and installation tips, etc.  So definitely check that out if you are considering an Ikea kitchen, or just have some time to kill!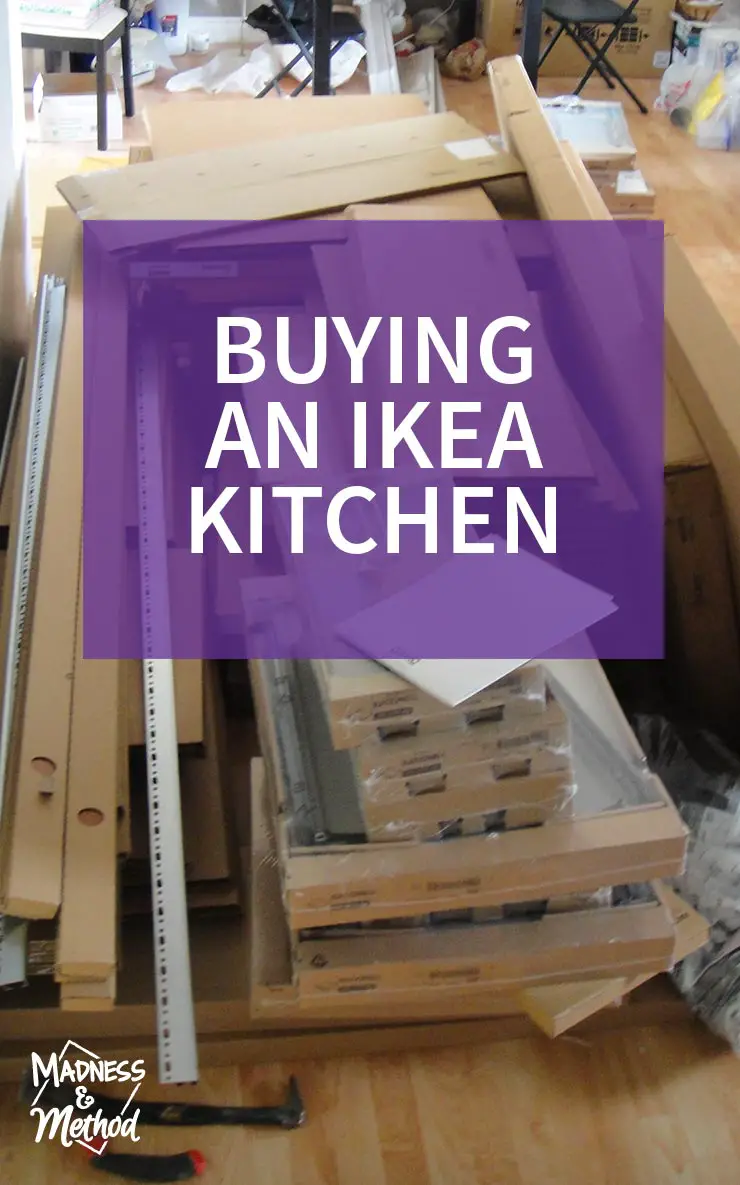 Either way, please visit again next week when I discuss the assembly and installation of the upper/wall cabinets!