I'm sharing a few more moodboards for our Rocky Retreat cottage today!  We'll have four bedrooms in our cottage, and I'm doing each with a different theme.  All fitting our main colour scheme of course.  Keep reading to see all the nature-themed cottage bedroom plans!
As a reminder, we're building a cottage in Northern Ontario.  I'm calling it the Rocky Retreat, and you can see more posts about it here.  This month, it's all about finalizing the cottage plans – and each week I'm focusing on a different area.  Today… the bedrooms!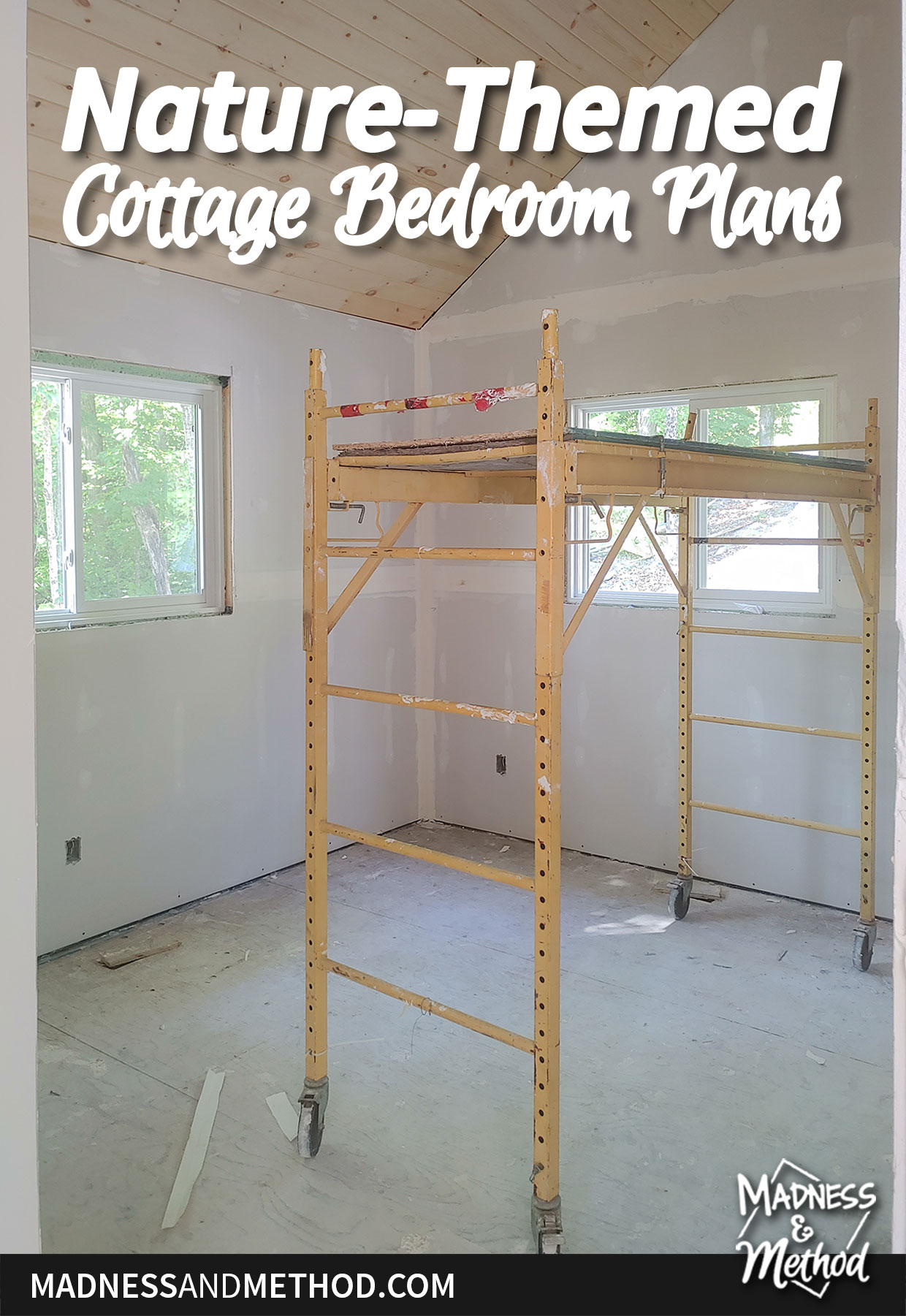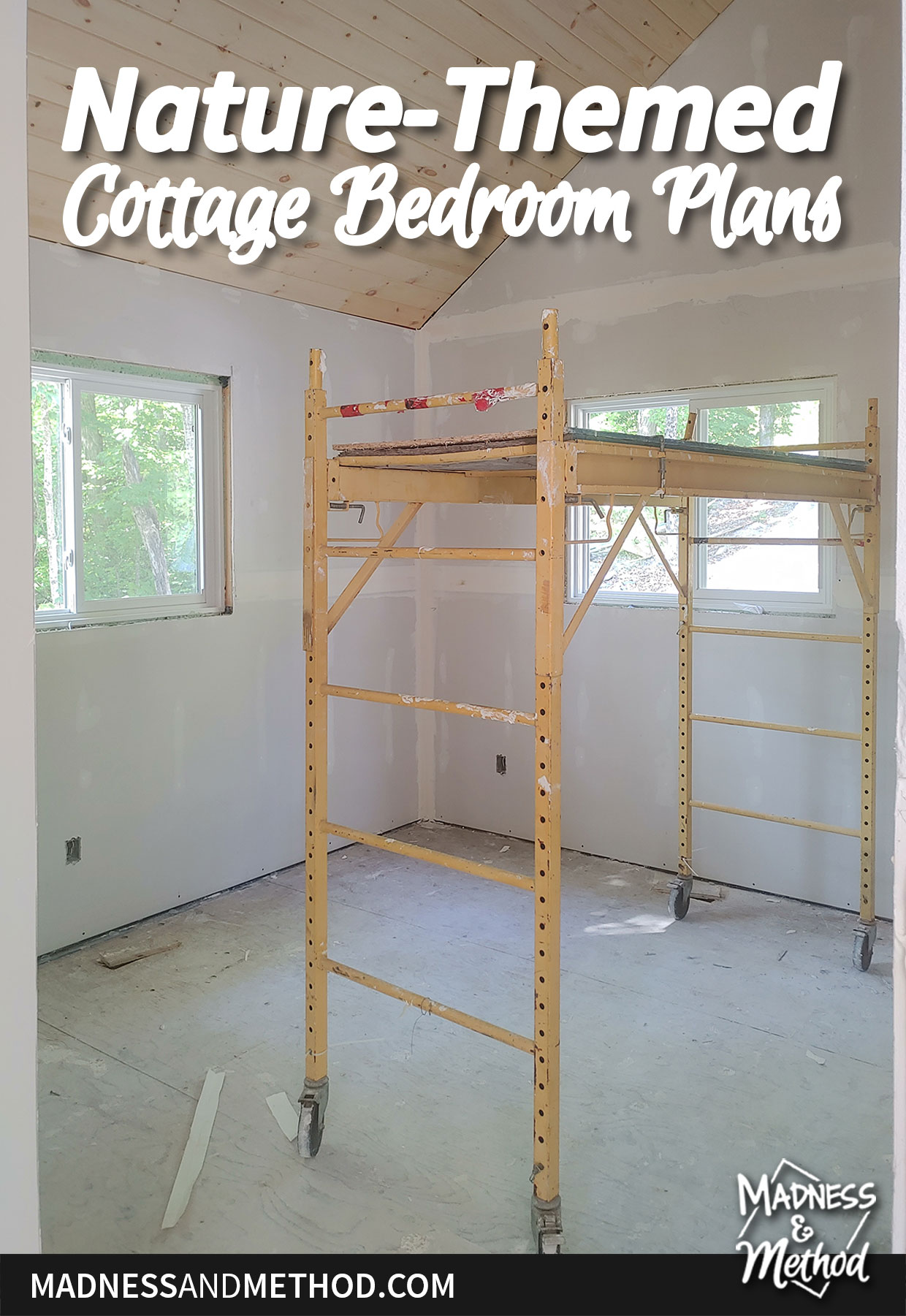 In real life, the next couple of weeks will be a mad rush to get the cottage as liveable as possible.  Luckily, I've been buying and hoarding a lot of furniture and decor.  On a related-unrelated note, I cannot wait to clear out our basement and garage again, ha.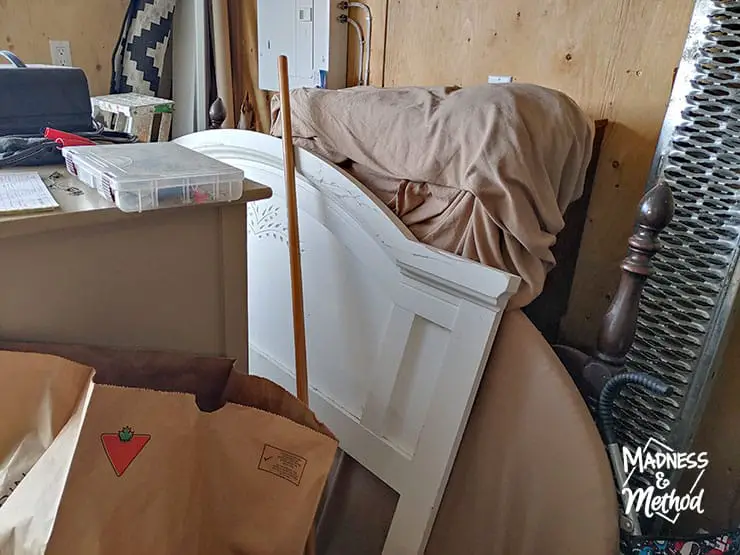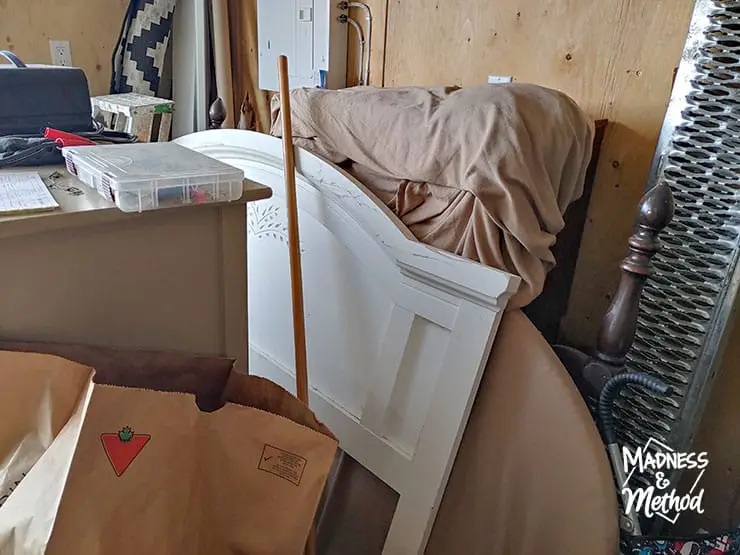 Here is the view of one corner of our garage with the headboards, a dresser and two nightstands.


90% of the furniture is second-hand, and I accumulated a lot of it last summer.  I may paint/update the furniture, but I'll see how it looks in the rooms first.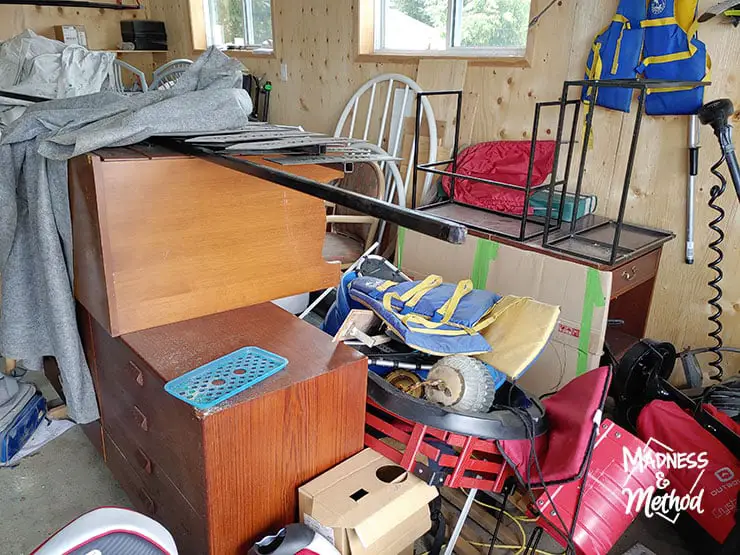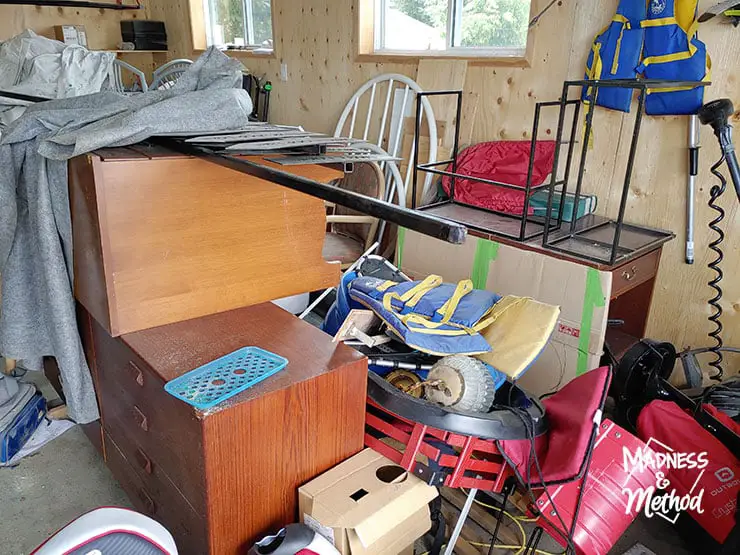 Here's another part of our garage that is filled with stuff!  I got dressers for each of the bedrooms, but then we had to reconfigure the basement layout a bit.  The dressers will most likely still be used – but in different locations.
But yes, let's get to the different nature-themed cottage bedroom plans :) 
Nature-Themed Bedroom: Water
First up, our upstairs bedroom – which will be the water bedroom.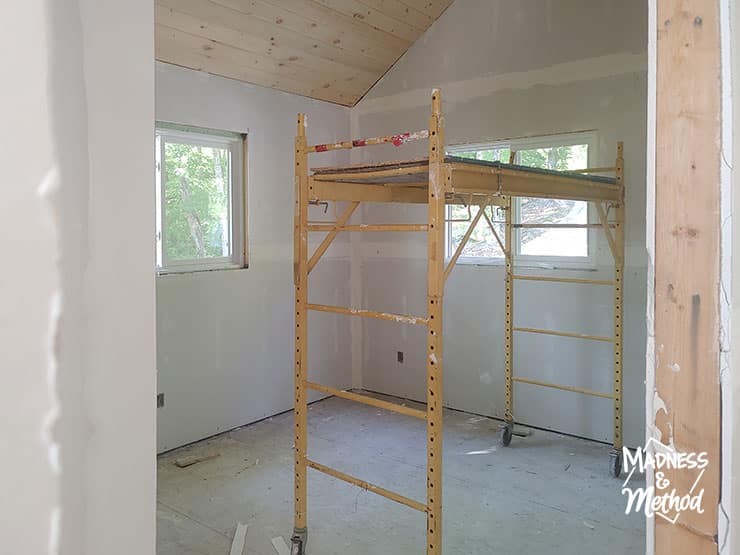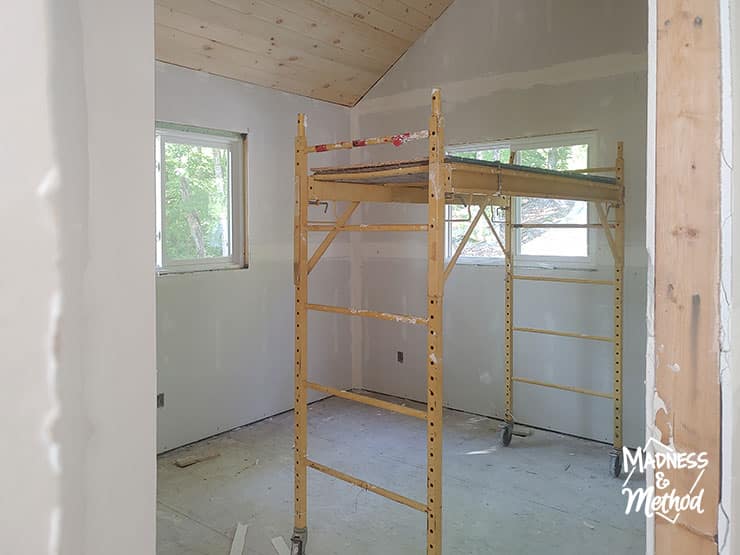 This bedroom is sort of the "primary" one because it is a bit different.  There are two windows, pine planked and vaulted ceilings, a full closet, and a pocket door to the main bathroom.  But it's pretty much the same size as the other bedrooms (were supposed to be) at 10×12 ish.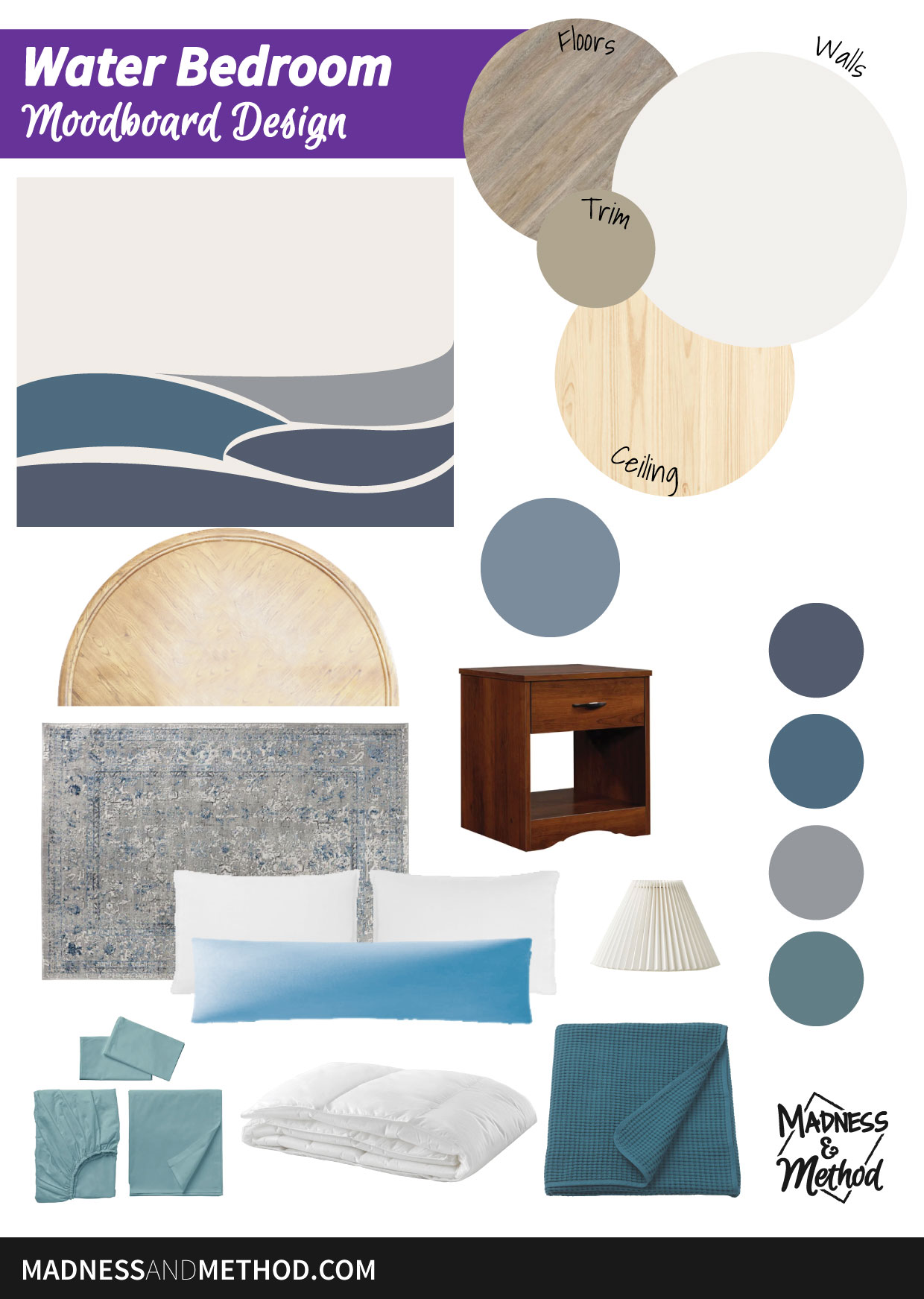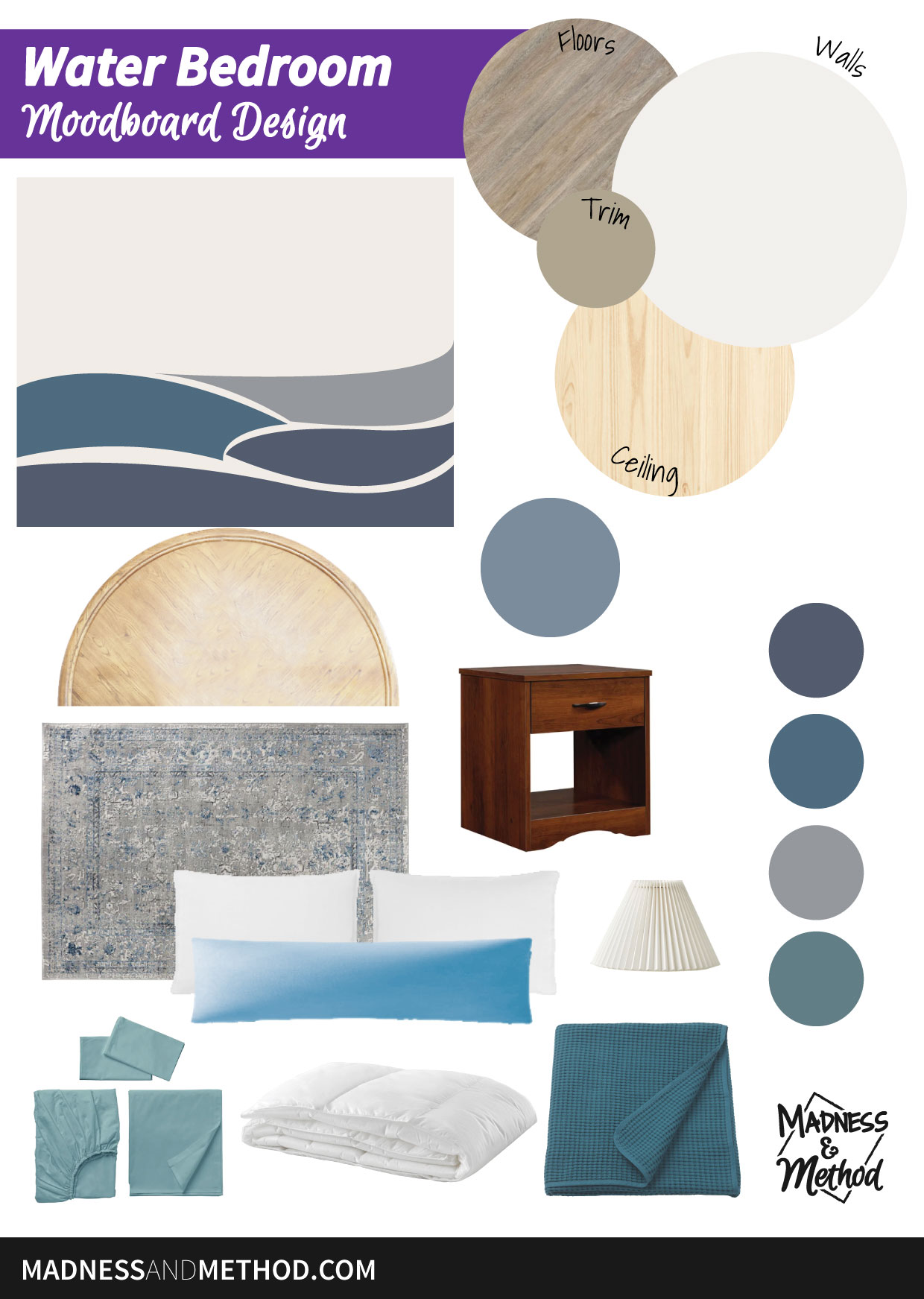 I may swap some of the furniture around (ie: nightstands), but the majority of this room will look like this!  I may also paint the nightstands, but again, time will tell.  For the water bedroom, I am using the colour blue throughout!  It's the main accent colour of our home (see all the colour ideas here) so it will fit in nicely upstairs.  The rug and headboard I have pictured are similar to the ones I bought (secondhand).
In all the bedrooms, I'll be doing white duvets/comforters, with colourful sheets, a large body pillow, and a folded blanket at the bottom.  Each of the bedrooms will also have a large mural painted behind the headboard, and this one will feature water of course!
For lamps in this room, I want to do wall sconces.  Not sure if I will buy a different one, or do a DIY with a pleated lampshade.  Not sure what I'll be doing for the window coverings… that's a future problem to solve :)
Nature-Themed Bedroom: Forest
Okay, I'm not 100% on which bedroom will be the forest room, and which will be the flower room (scroll below for that).  For now, let's say that the basement bedroom with the window will be the forest room.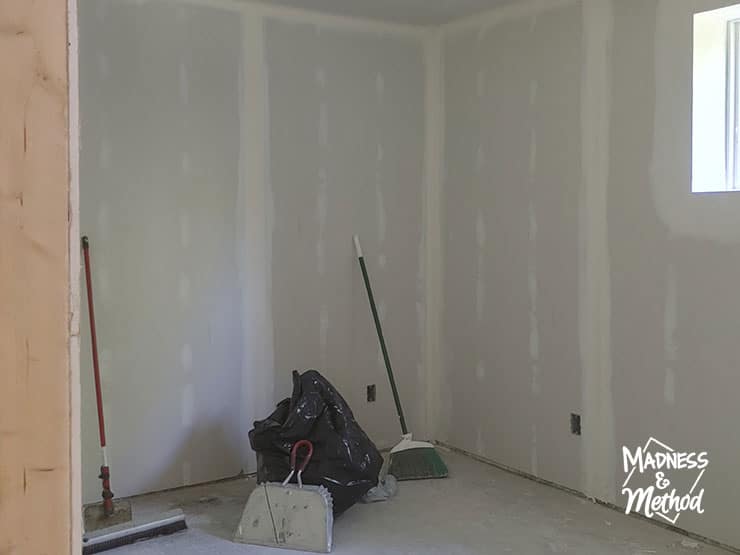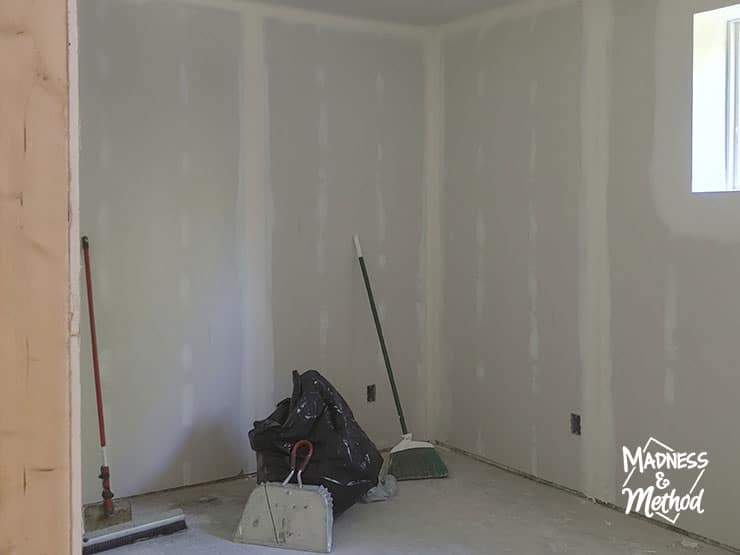 This room is the only basement bedroom that kept its original footprint.  We did move the electrical panel into the closet, but it will be hidden behind a painting.
I also want to bring our green crib in here, so it should fit with the theme!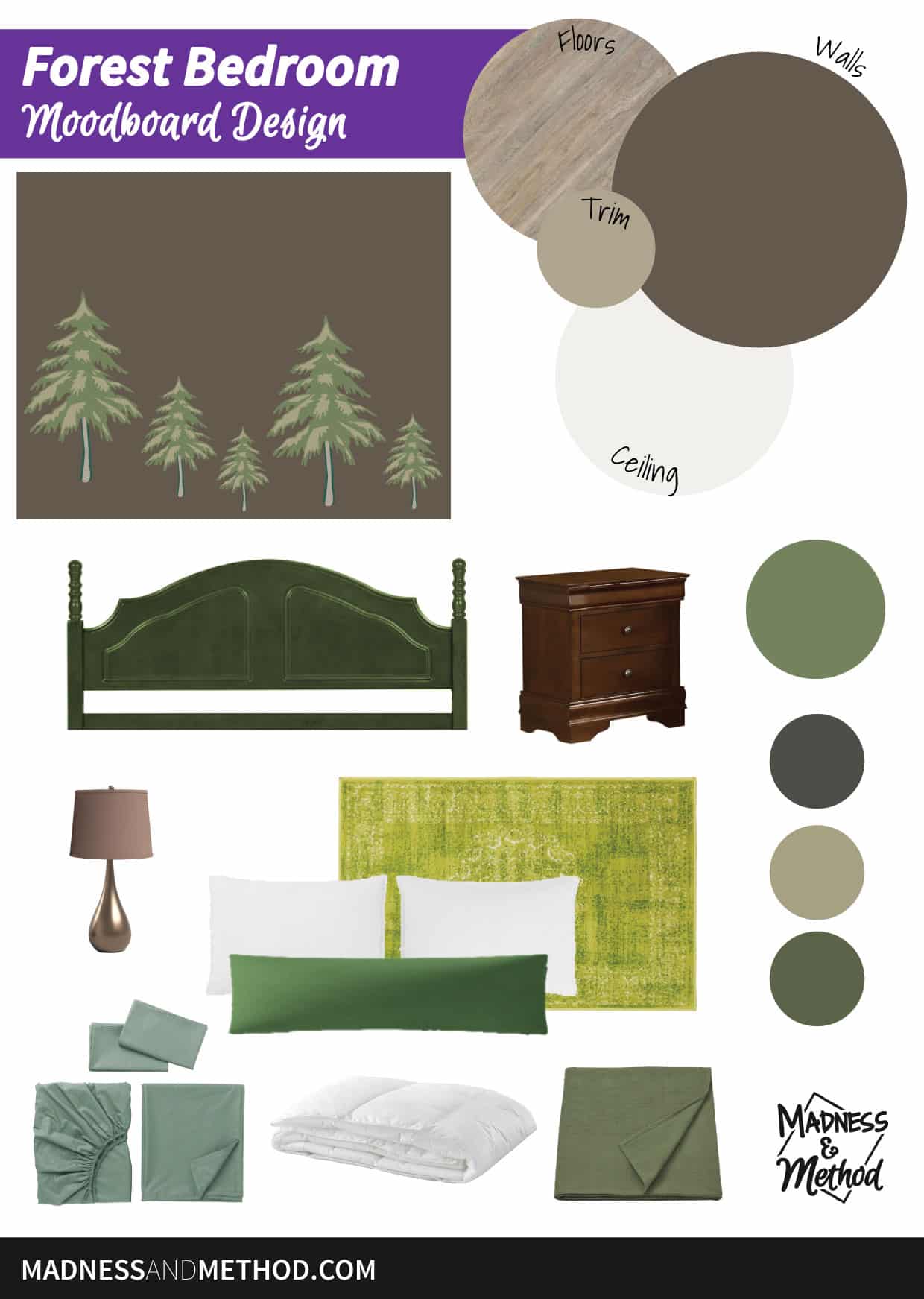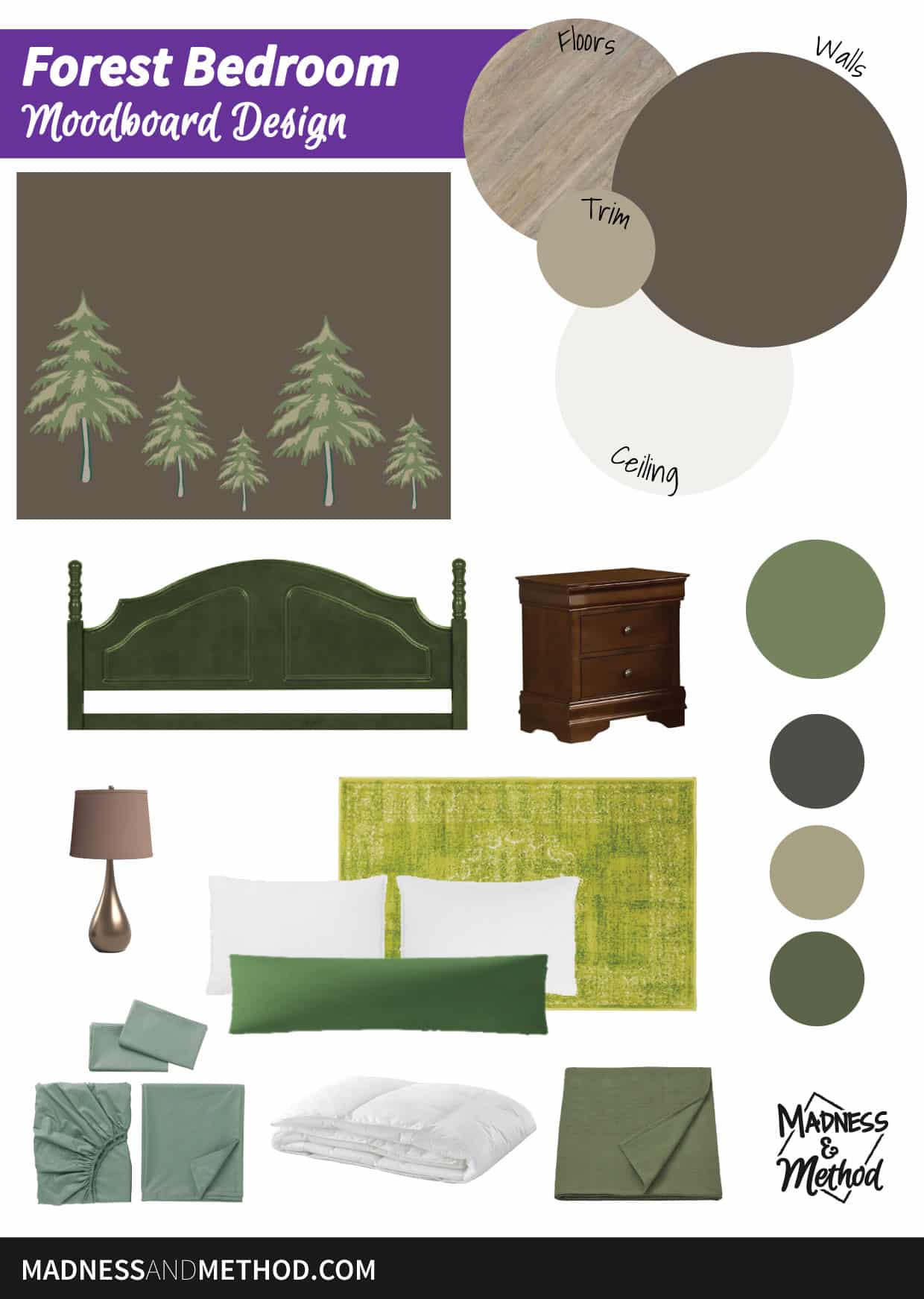 In my moodboard, I have the headboard green and the nightstand wood, but that may flip (or they can both be green?).  The two-drawer nightstands I have are the widest of the bunch, so no matter what, they do have to go in this room (or upstairs).  The rug is looking super-limey in this moodboard, but I think it's darker in real life.  I think I'll do two copper/brown lamps, but also debated with green ones (here is a post that shows both).  Since then, my kids have broken a green one though…
The walls downstairs are all going to be super dark brown, and I'll have a forest/tree mural painted behind the bed.  I think my tall narrow dresser will also go in this room (pictured above).  It's a taupe-y colour, similar to the trim I think.
Nature-Themed Bedroom: Flowers
Let's assume the flower bedroom is the smallest, middle bedroom.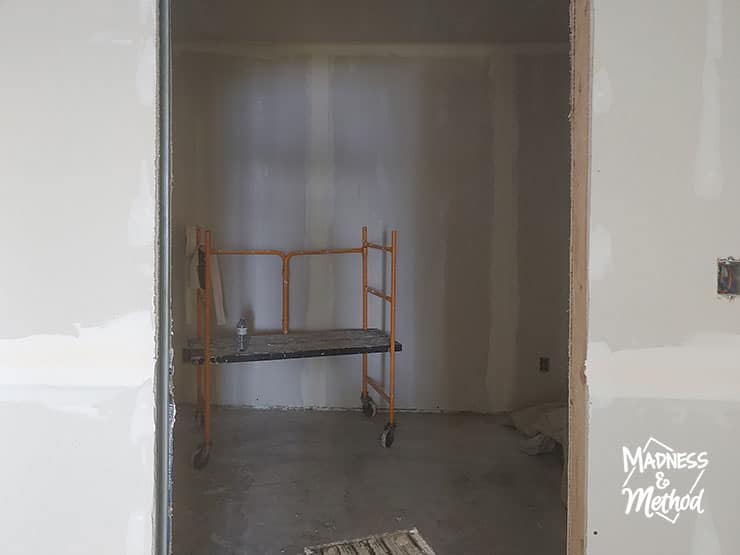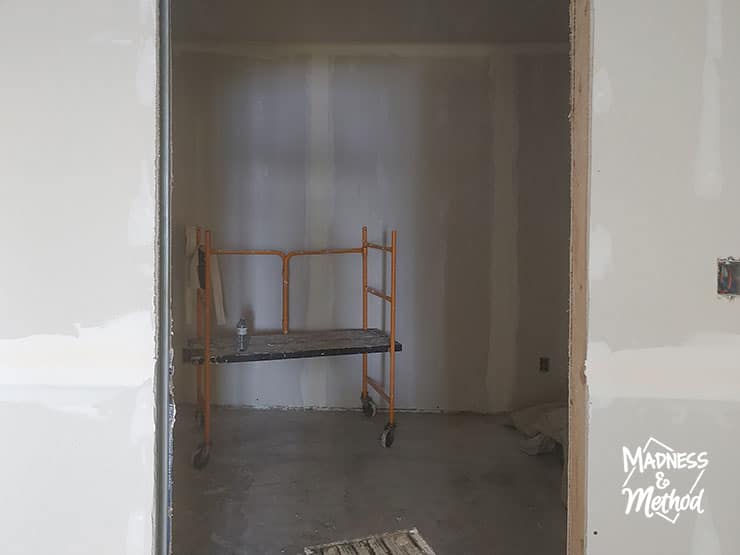 It was supposed to be an open nook for the rainbow/twins bedroom, but apparently, we need a furnace, ha.  There are no windows in this bedroom, and it will be super cosy and tight.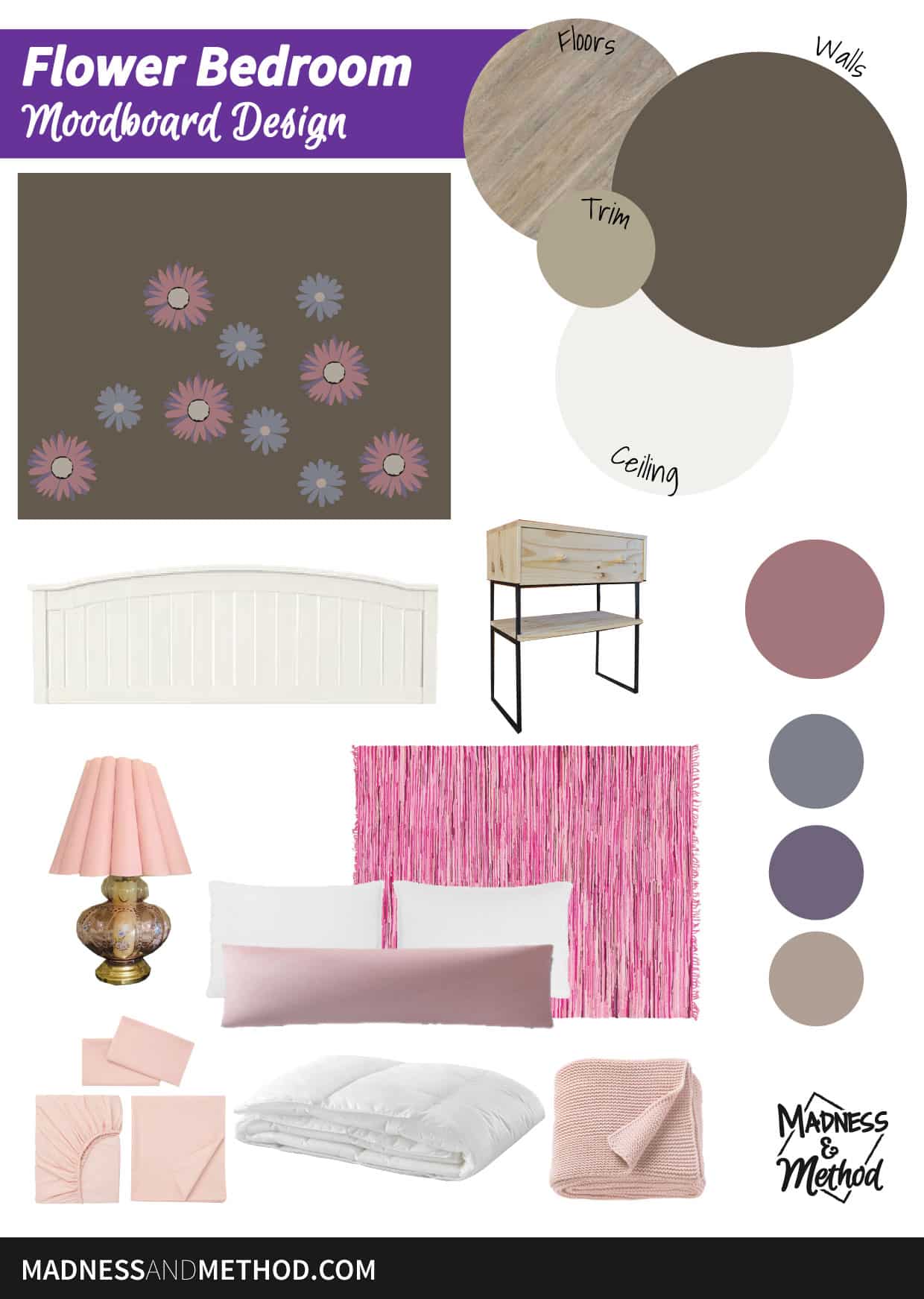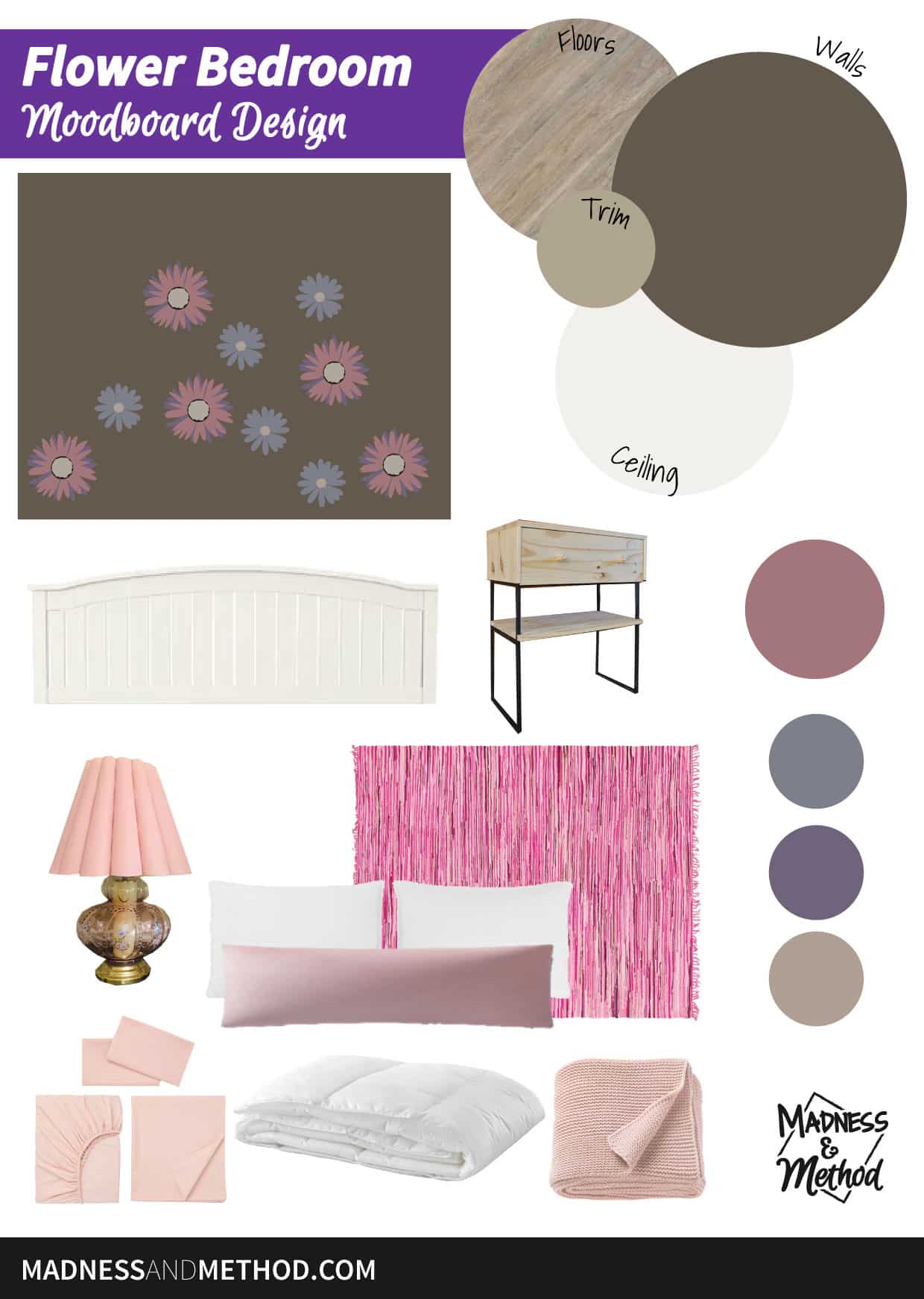 The flower bedroom will be pink!  Again, I'll do a mural behind the bed (I got some flower stencils so that should speed things along).  The headboard is white, but I can paint it if I need to, and the bedding will be pink.  Again, the rug is looking super bright, but I think once the bed is in place (ie: covering most of it) it won't be as bold.
I got two pink lamps secondhand, and when I was putting together these moodboards, a quick search said that they were vintage Carl Falkenstein Hollywood Regency lamps.  I loved those scalloped shades, and I knew they would fit the flower theme perfectly!  Apparently worth more than I paid, I think I'll still use them (and hope they don't break!).
They'll probably sit on the DIY Ikea Rast nightstands I made, and I'll most likely just clear coat them.
Nature-Themed Bedroom: Rainbow
Finally, our last bedroom at the cottage.  In all the bedrooms, there will be queen beds, but here, two twins.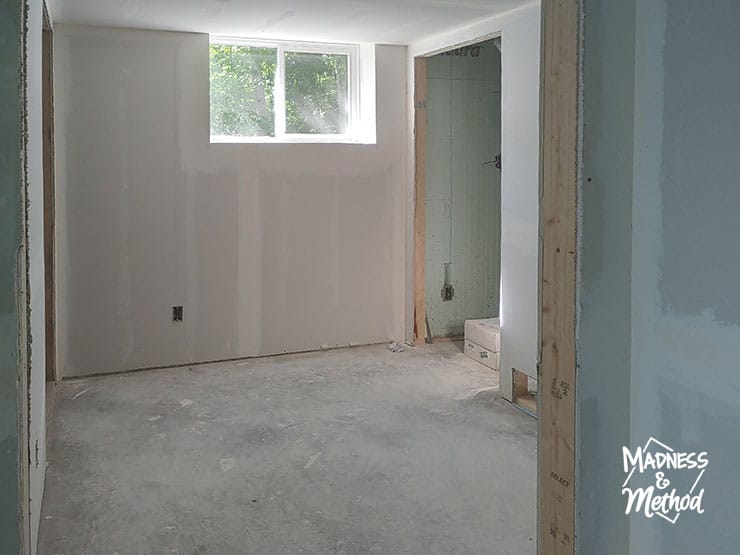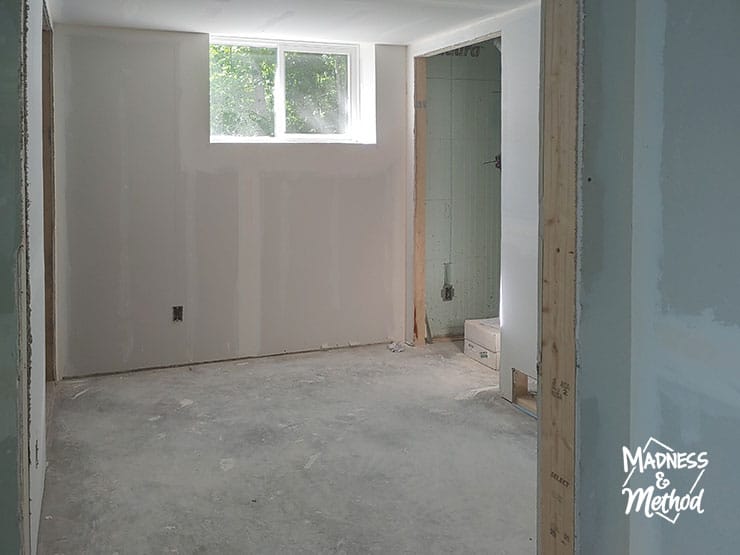 Unfortunately, my beautiful symmetrical twin nook was updated, but we'll still have room to squeeze in two twin beds here.  Blocking the doors, but no one needs to access those rooms.  I think I'll also be able to fit one of the small dressers in here too, so that should be good.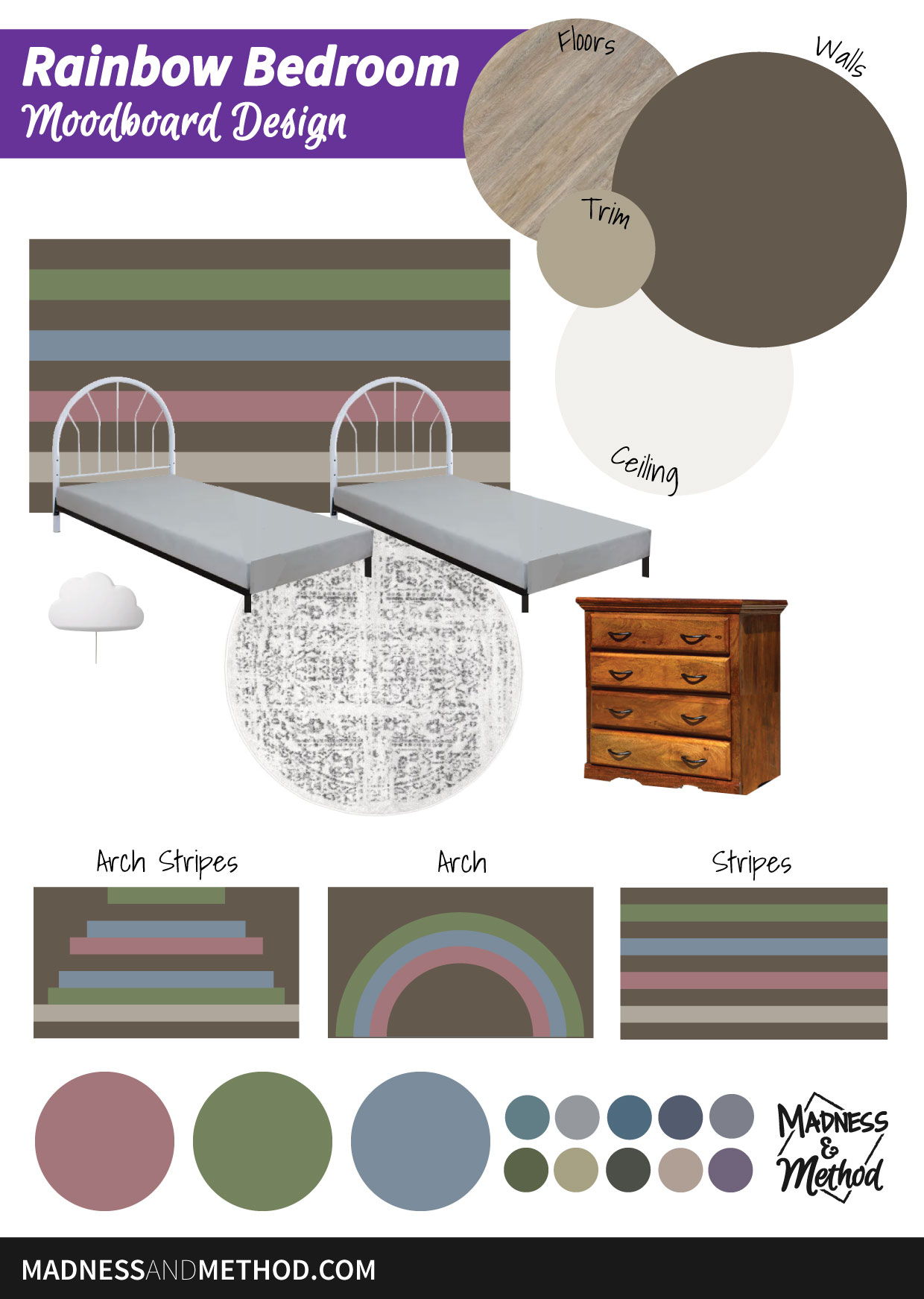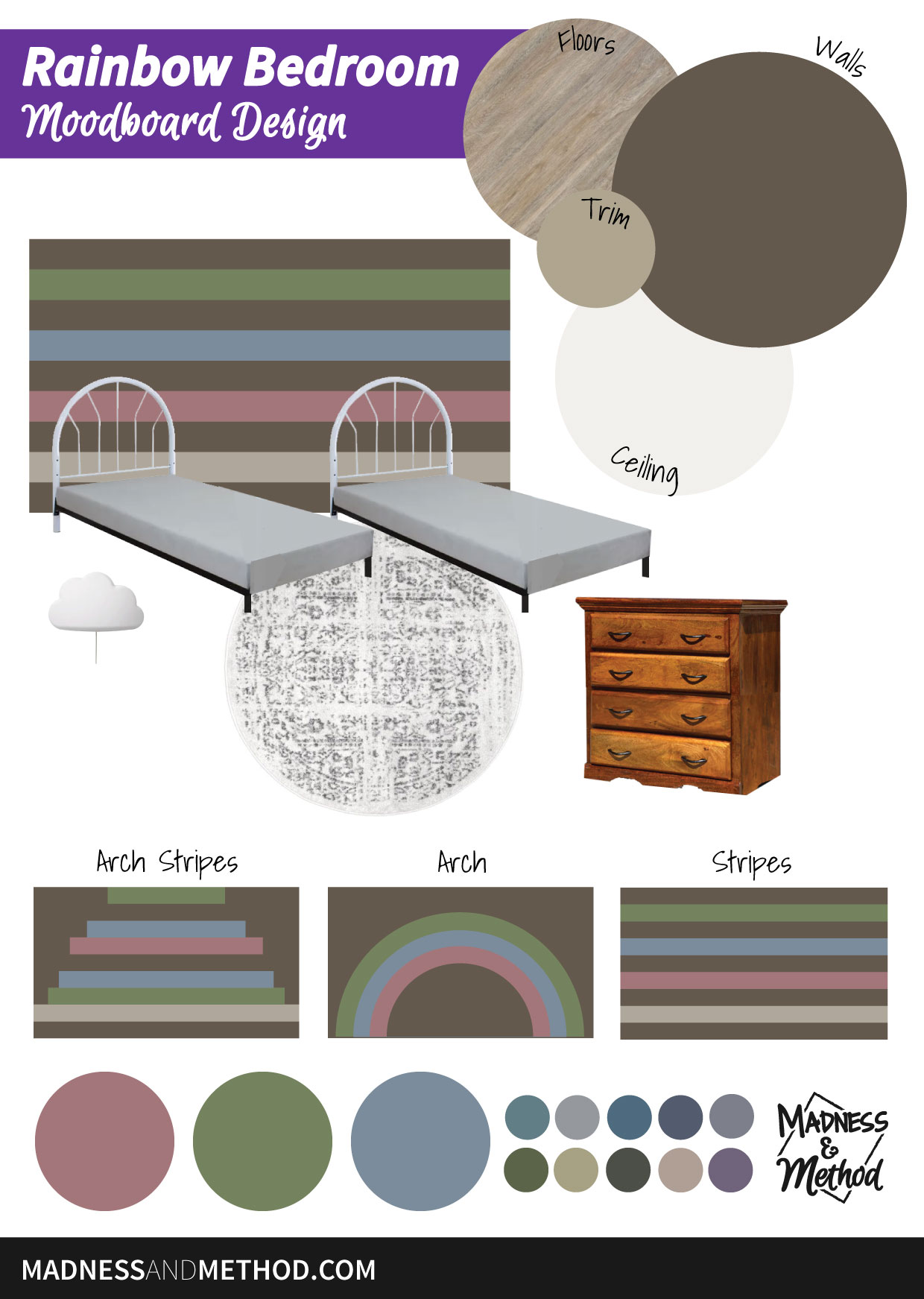 For this bedroom, I'll use all the accent colours to create a rainbow mural!  Or course, now I have the off-centre window to contend with (and the doors), so we'll see how it goes.  Either way, let me know which of the rainbow mock-ups you prefer.  A traditional arch, stripes that form an arch shape (and go longer than the one wall), or traditional stripes?  I'll probably use other colours too, but the mural will be a long way off, ha.
For this room, I'll most likely do white/light grey bedding (I think I have it all already).  There's a round rug, and I got the cutest metal frame that I'll use for two matching headboards.  Wouldn't a cloud wall-mounted light go perfectly!?
Oh, and I have a little open nightstand to go in between the beds.  But I won't know if it will fit or not until I get everything else in place.
Okay – those are all the details on the nature-themed cottage bedrooms plans! 
Let me know your thoughts (especially about that rainbow mural).  Plus, let me know if I am forgetting anything that you need in a bedroom.  Other than the curtains/blinds, that will be figured out later…
I'll keep you updated once things come together :)