I can finally share all the photos of my brother's painted bathroom reveal!  While I completed the bulk of this room makeover in March, I went back in April to finish all the details and now you can see it all today.  I've been sharing all the projects throughout this makeover, so hopefully you enjoy everything together :)
It's the final week of the Spring 2023 One Room Challenge!  This round, I tackled my brother's bathroom renovation and shared before photos of his beige bathroom, the painted floors, toilet installation, tub and tile painting, mirror frame build, the vanity transformation and the bold accent wall!
The best place to start will be the BEFORE PHOTOS to see how far we've come.  But don't worry if you want to skip it, as I'll be sharing some side by side before and after photos below.
Essentially, I painted practically every surface in his main bathroom.  He wanted to make it look like his powder room that I renovated in 2016.
Ready to see this painted bathroom reveal!?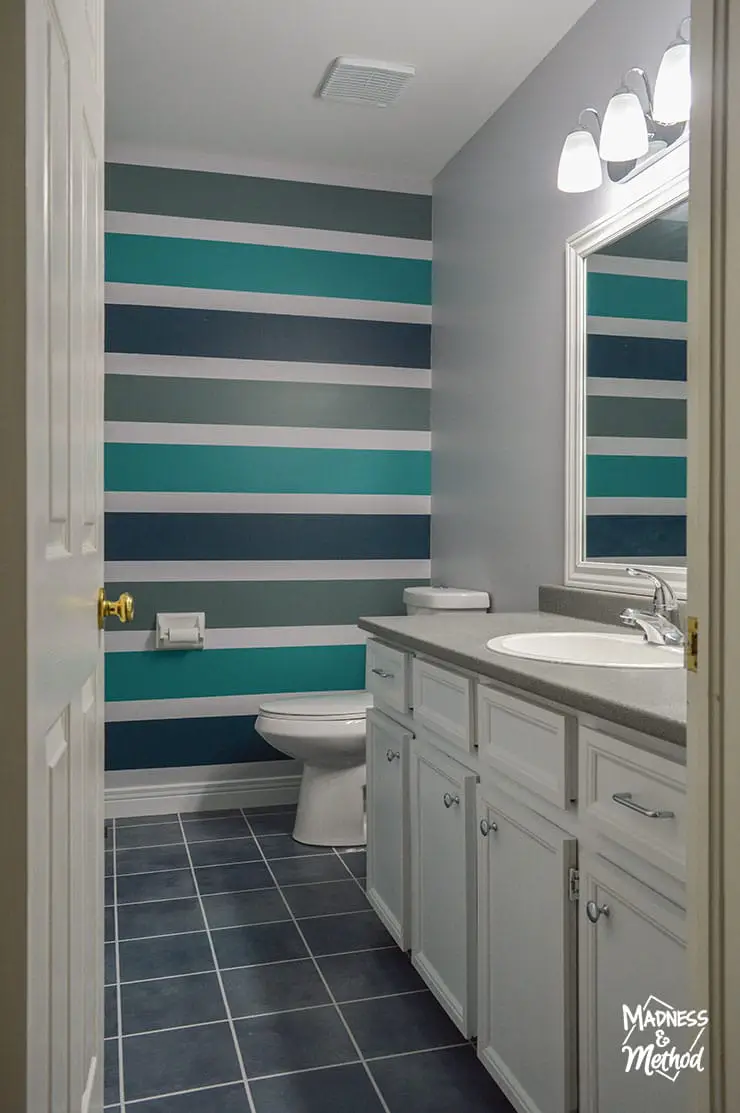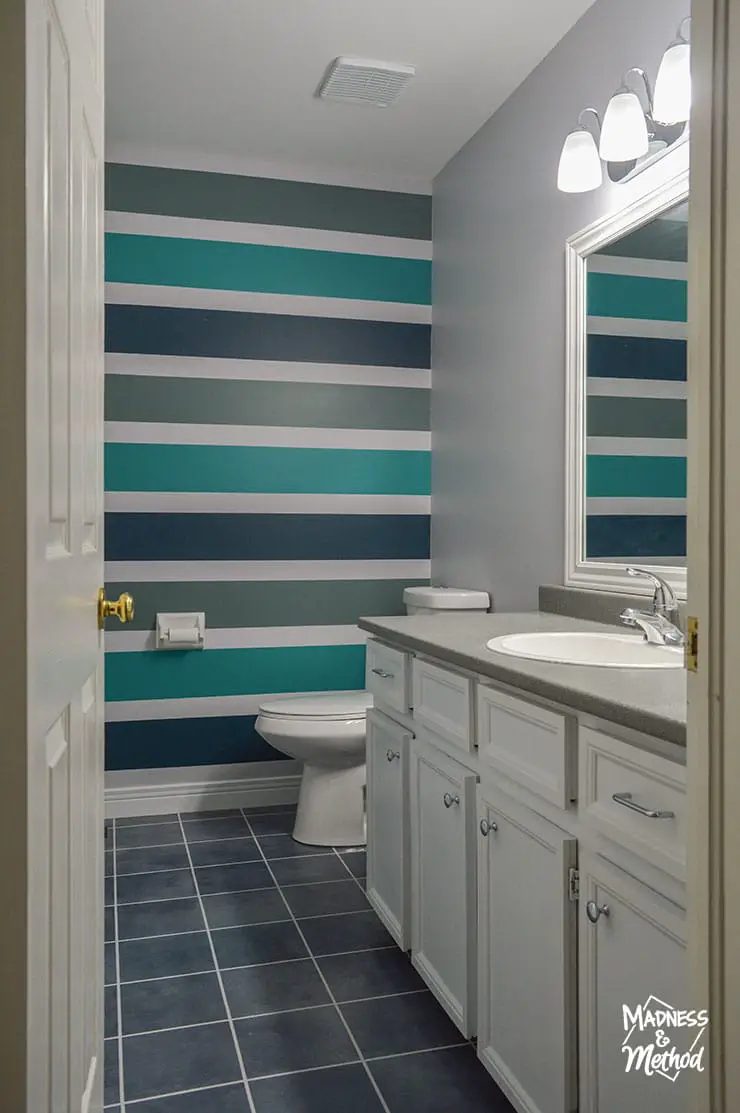 Bam!  Yes, I painted the vanity, the counters, the walls, the tub AND the floors!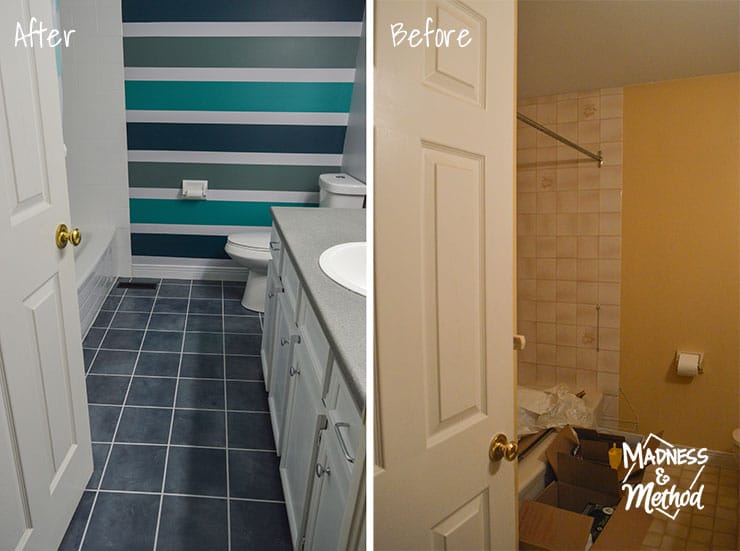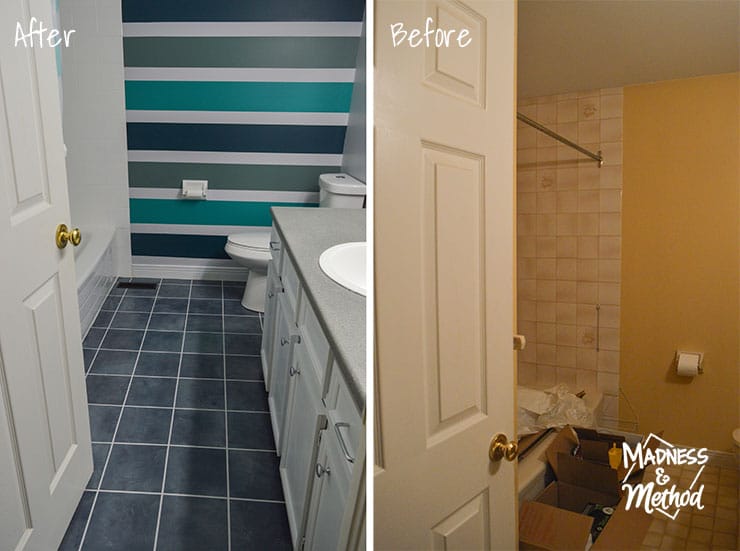 Here's a sort of side-by-side of the similar view towards the tub.  I also upgraded the lighting to bright white bulbs, so everything is bluer too.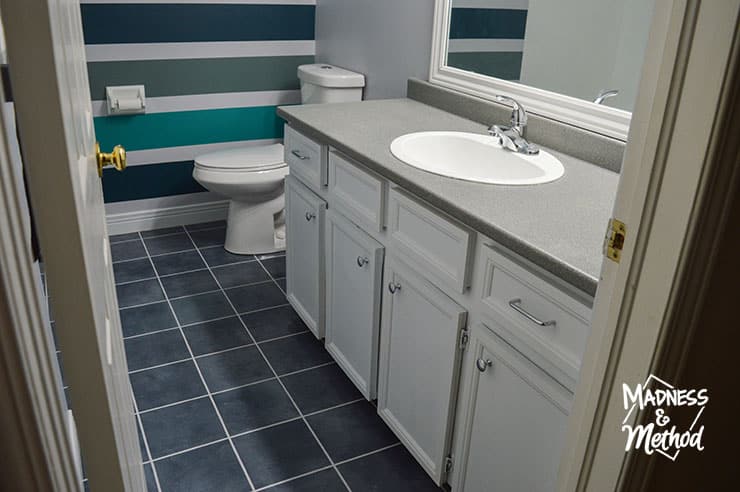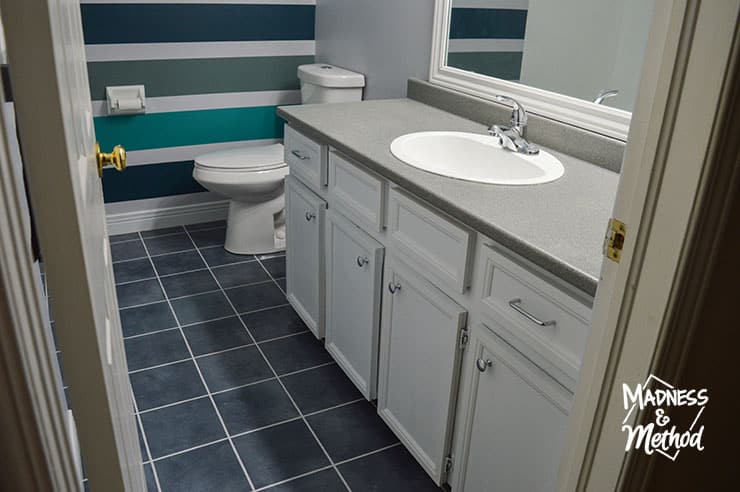 Again, most of this room was completed in only a week, but I went back for one more weekend to do the last-minute touches.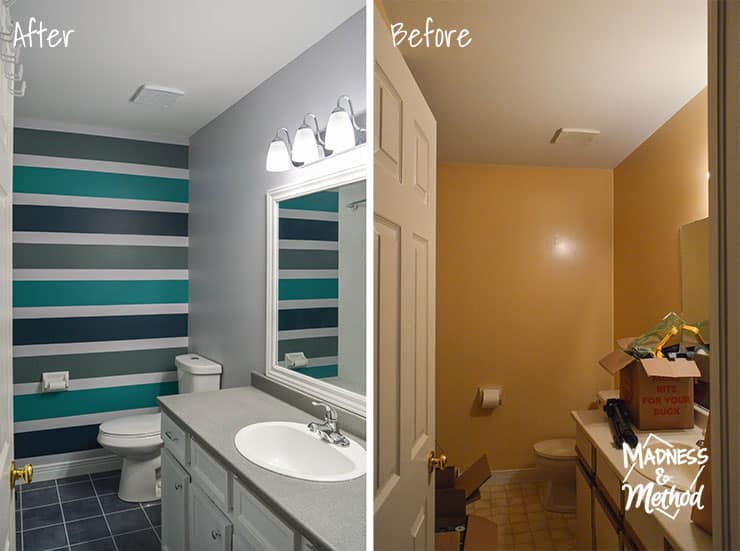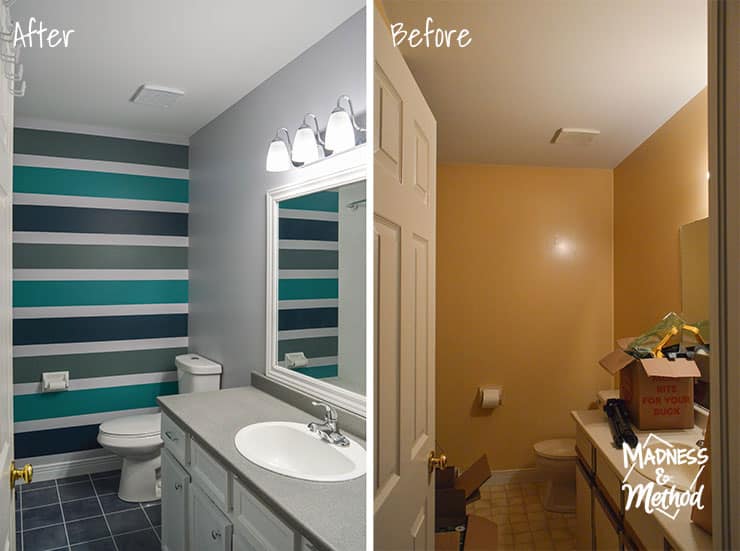 The only "new" things in this bathroom are the light fixture, toilet, faucet and some vanity trim and hardware.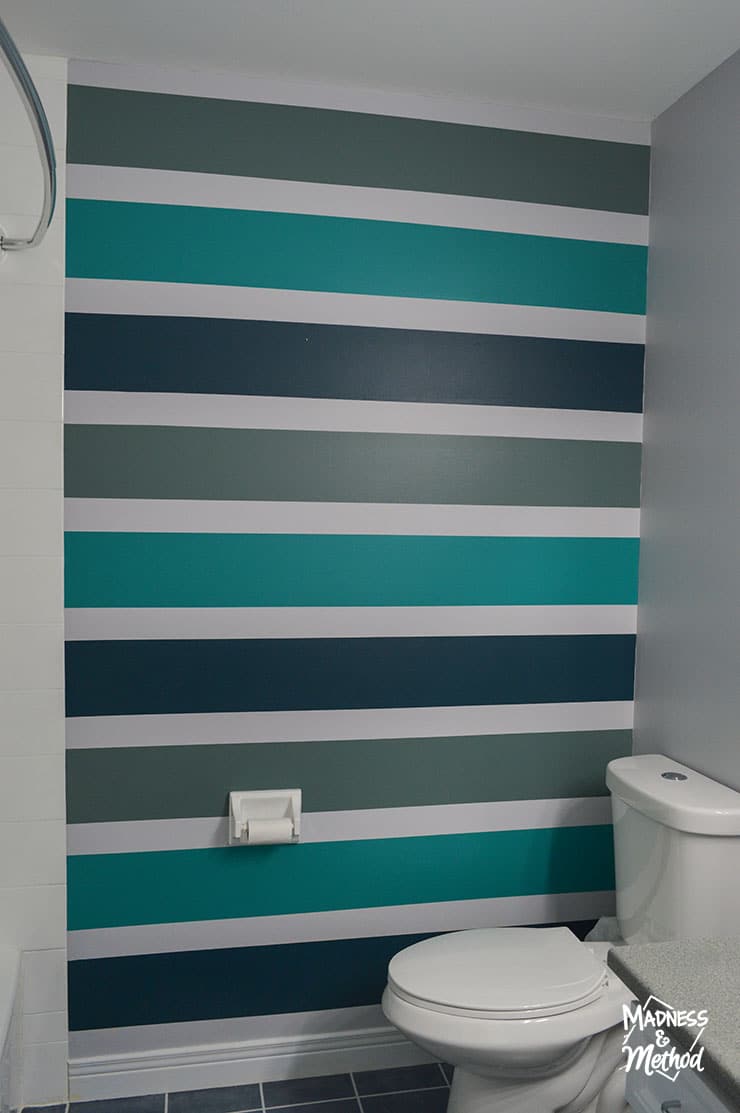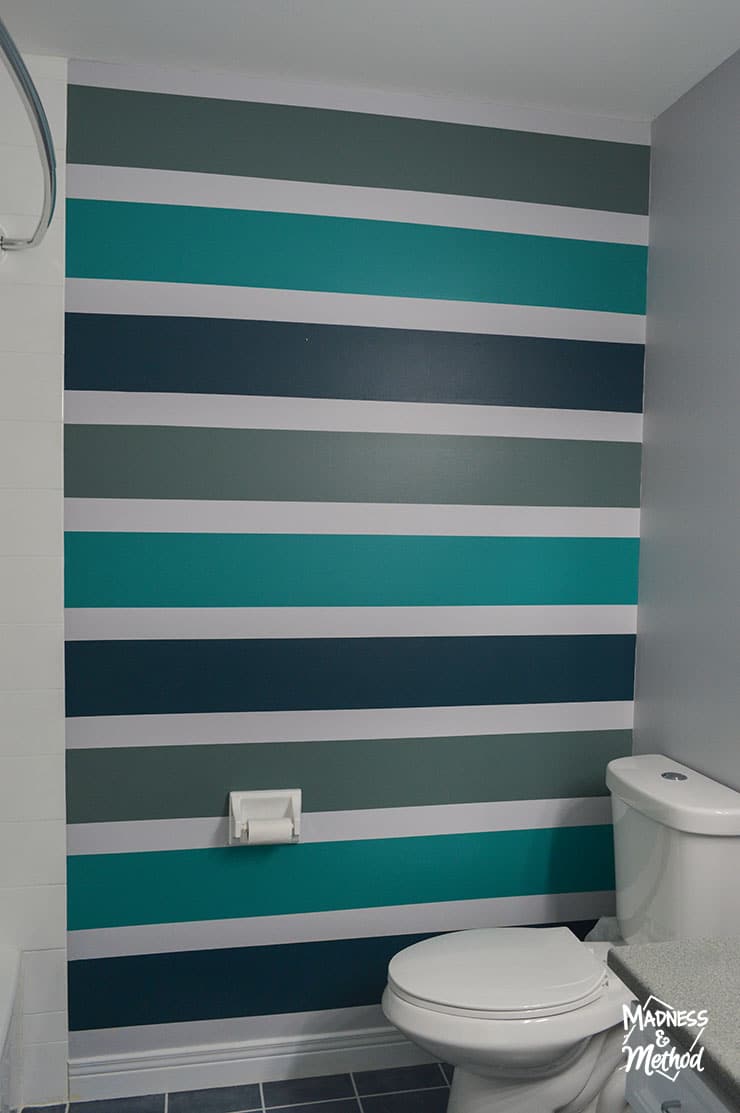 We used the exact same paint colours as his diamond accent wall, but these stripes were a bit easier to do.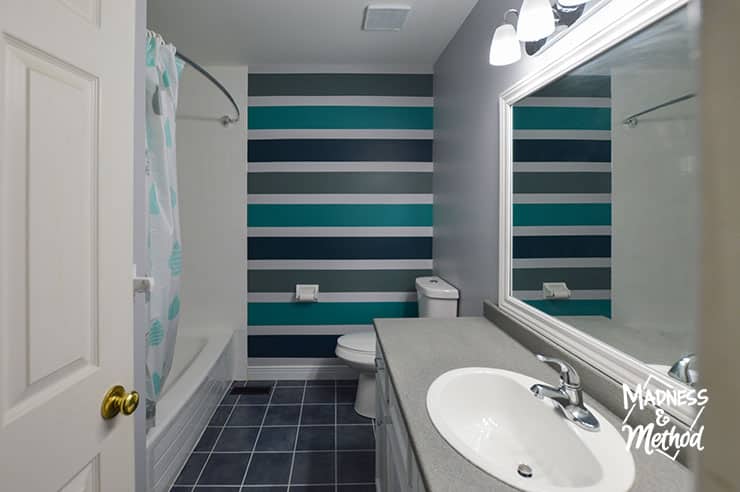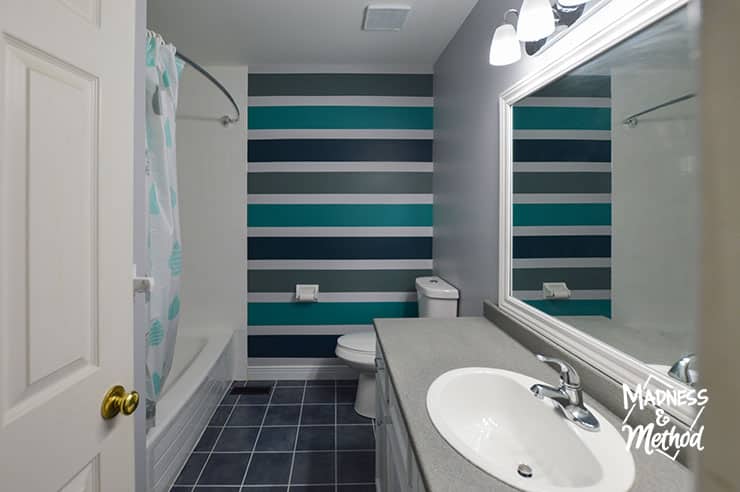 Even so, it still creates a bold accent wall in the space!  I filmed a video for that and shared it last week, so check that out if you want some details.
There were some weird things that happened, so make sure to watch the video to see what I mean :)
Like this post so far!?  Follow me on Instagram for more behind-the-scenes, and subscribe on YouTube to see all the project videos!
Other Painted Bathroom Reveal Details
Similar to our bathroom, I painted the tub and tile surround in here as well.  I did add one more coat with the fisheye remover additive, and it did help to cover up the spots (but could technically use another coat to be perfect).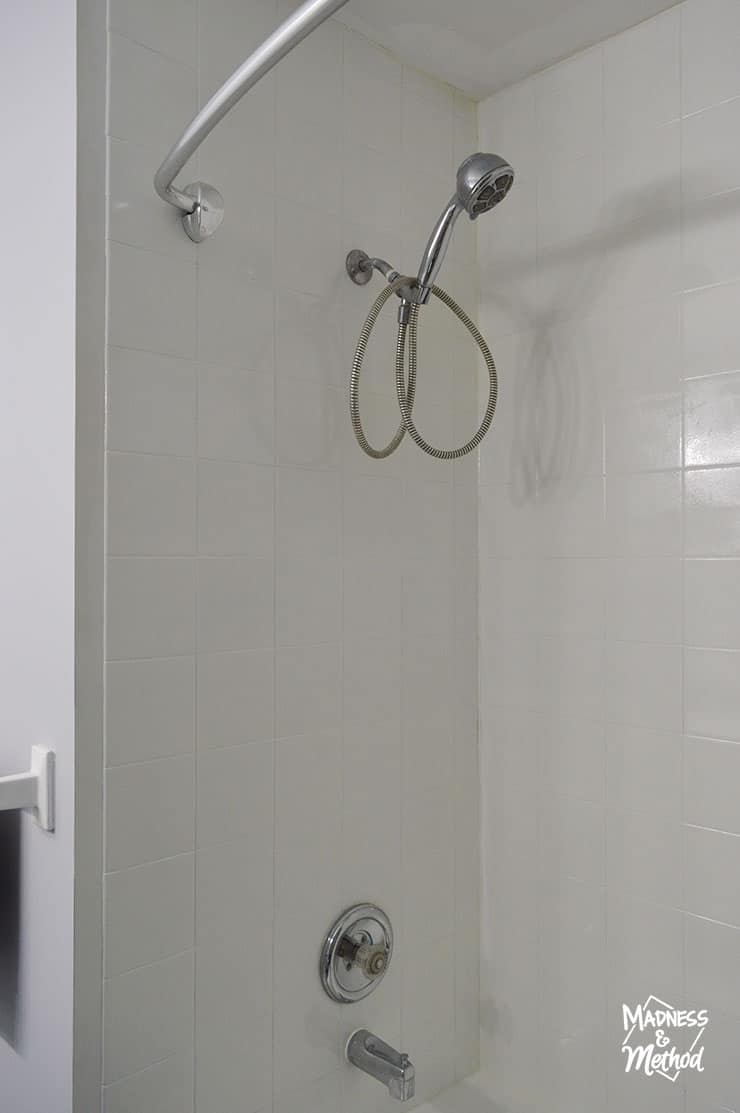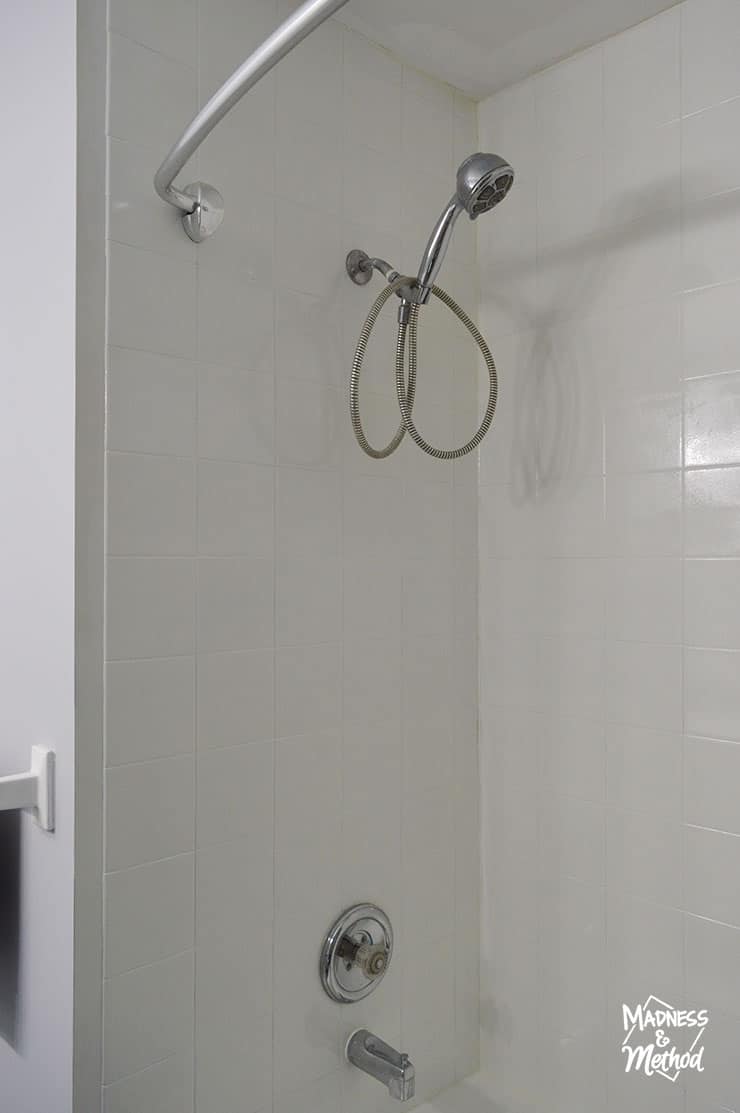 My brother still wants to change the shower head since he says there isn't enough pressure.  And the temperature control too since it is upside down apparently.  Those projects are way out of my scope though, so TBD if they will get done.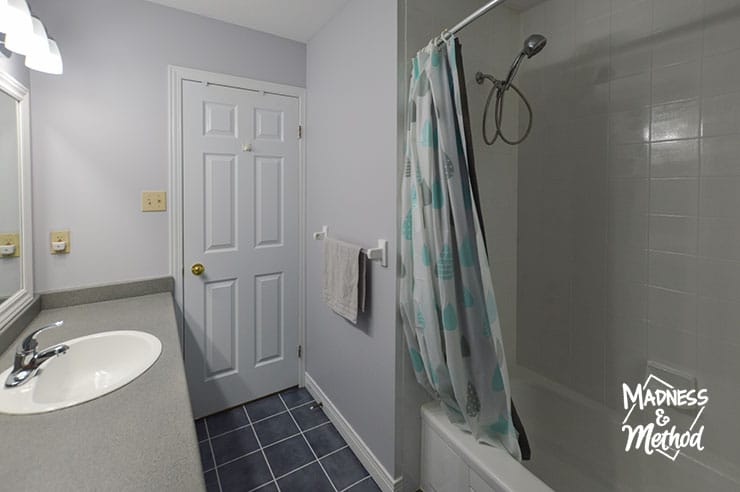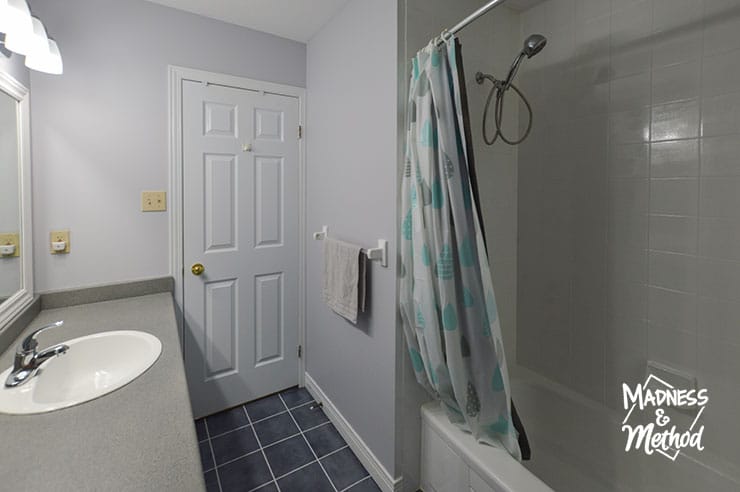 They needed a new shower curtain liner, so I bought one in a cute pattern that matched the bathroom a bit.  Unfortunately, I installed it on the wrong side and was too lazy to change it, ha.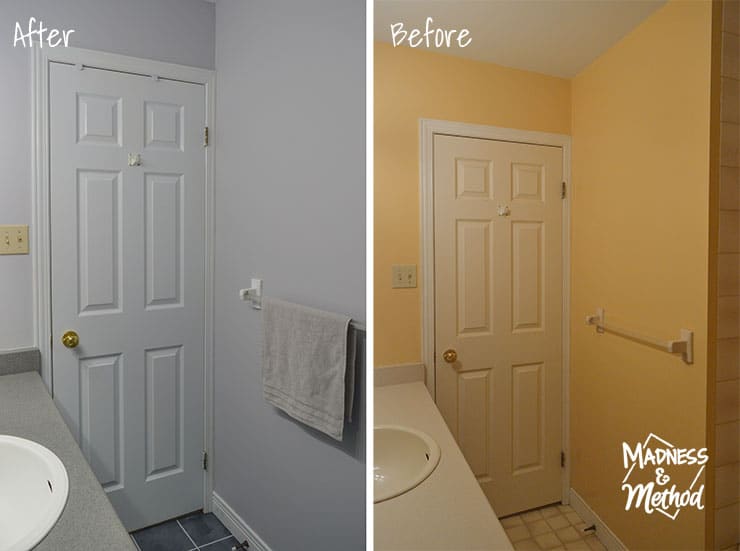 After painting the walls gray, I noticed that the door used to be beige too!  I painted it to match the new white vanity.
The only beige left in this room are the outlet and light switches.  My brother wants to swap around other ones in his house, so he'll get an electrician to do that in the future.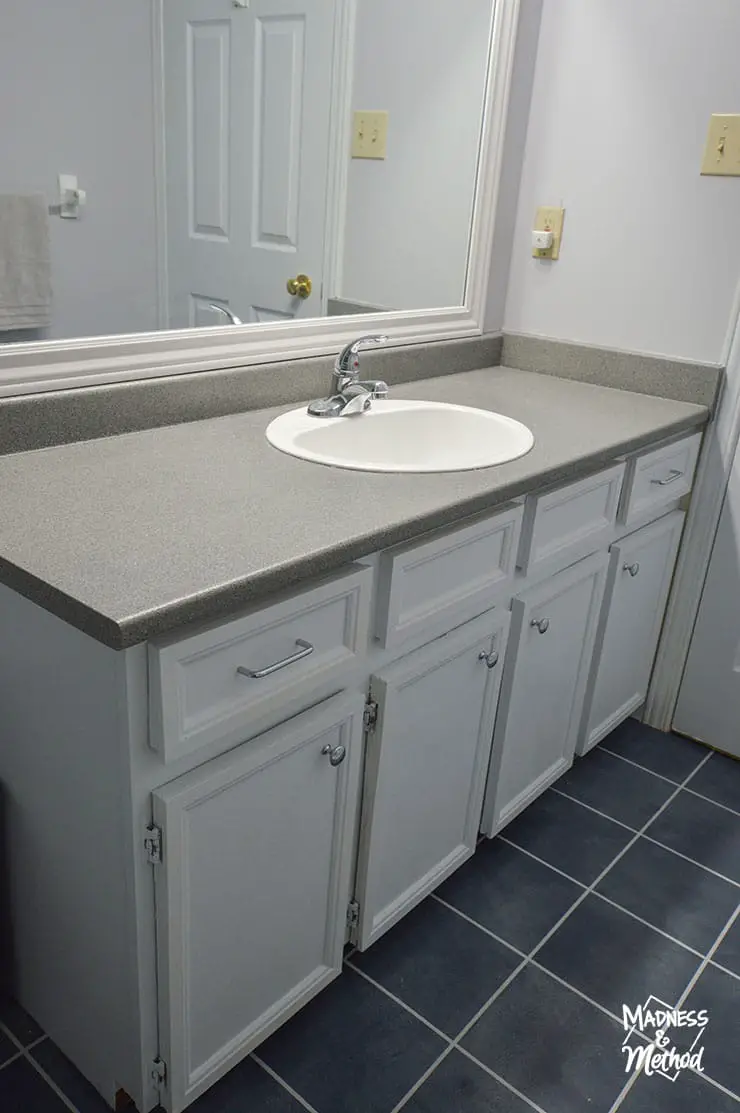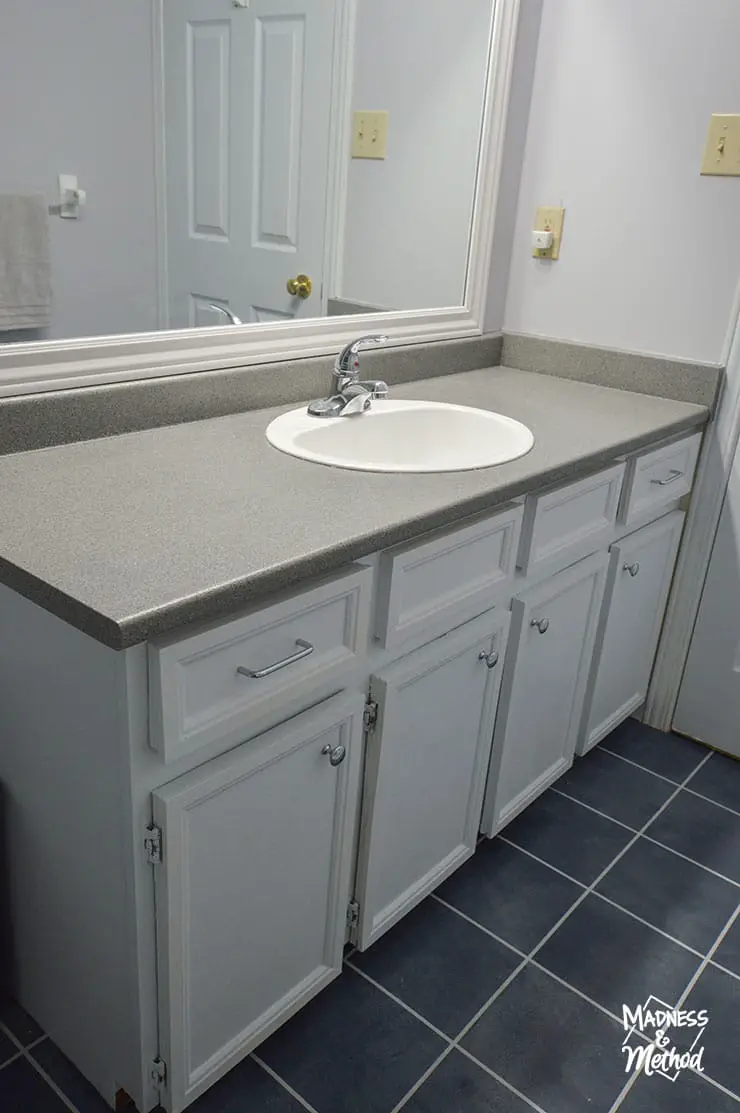 Here's another view of the updated vanity – goes so much better with the updated room :)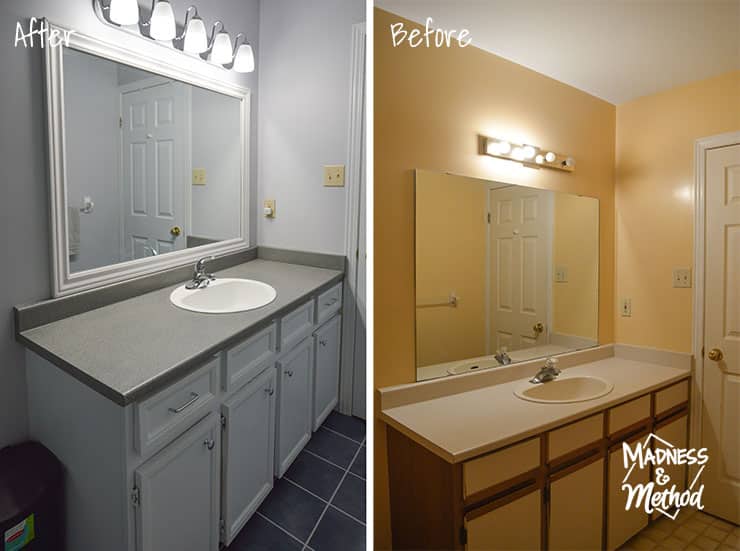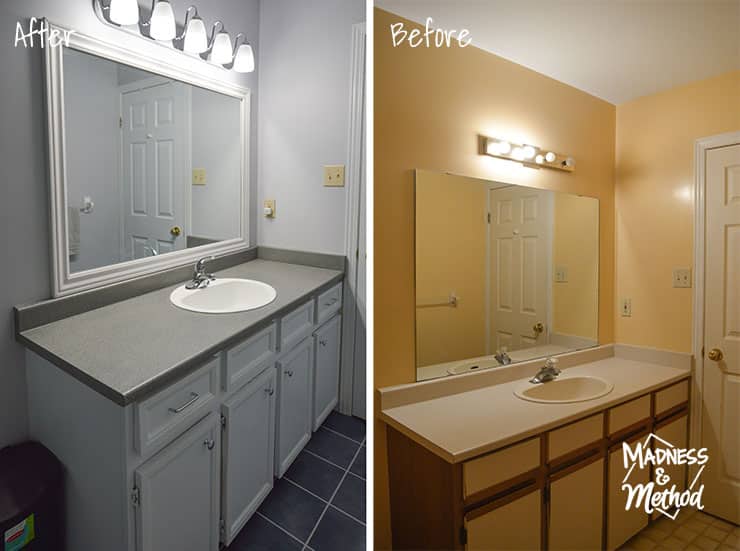 And a little before and after of the same angle, in case you didn't know what we were working with before.  Again, everything was painted.
Well, minus the added mirror frame, new faucet, light fixture and trim/hardware on the vanity.
And a closer view of the faux-tile painted floors!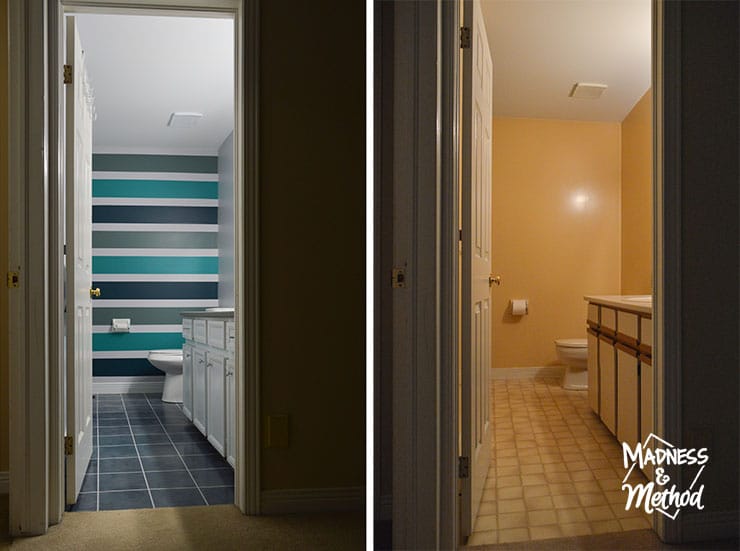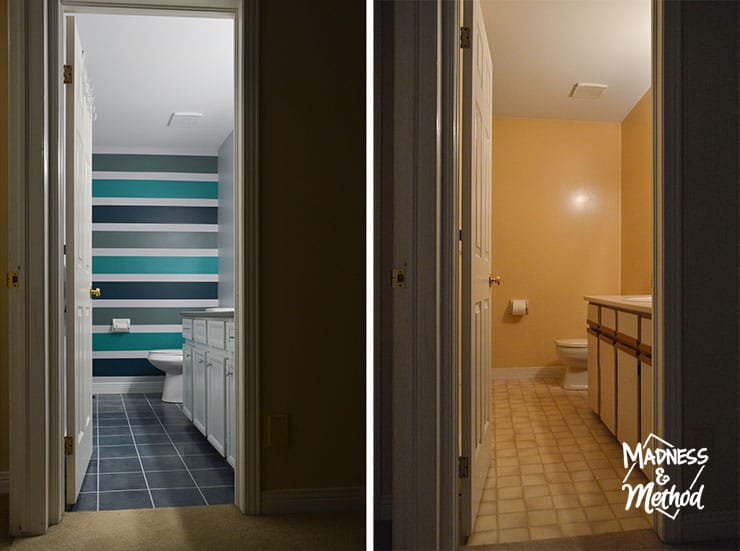 Finally, here's the view of the bathroom from the top of the staircase as you come up.  My brother's plan is to get rid of all the beige in his house slowly, but he still has a long ways to go (spot the beige carpet, ha).
About the One Room Challenge
Check out all the Spring 2023 One Room Challenge reveal this week!  If you didn't know, the One Room Challenge is a bi-annual event wherein people makeover a room in 6-8 weeks.  Everyone shares the progress on the ORC blog and on social media, and there are SO many great projects to see and follow!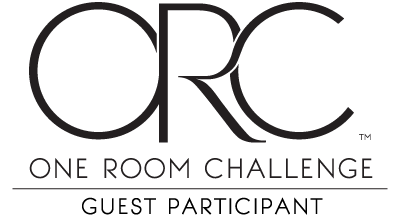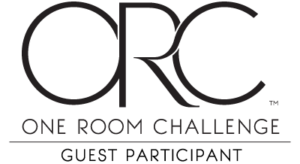 Follow this bathroom renovation:
Beige Bathroom Before (+ Plans)
Faux Tile Painted Floors
How to Install a Toilet
Tub & Tile Paint Project
Build a Mirror Frame
Bathroom Vanity Makeover DIY
Bold Accent Wall
AND check out my past One Room Challenges: 
Hopefully you've enjoyed looking at these painted bathroom reveal photos!  And, that you've followed throughout (or will click and check out all the project details).
This completes all the bathroom renovations at my brother's house.  First it was his powder room, then I designed his primary bath (that he hired out) and now this one.  Oh, and I also renovated his kitchen too.  Did I mention that he lives about 7 hours away?  Best big sister ever, right!?
Come back next week because I have a BIG cottage update.  Aka the project we've been working on for the last few months years.