I'm always so excited to plan ahead for the next year!  Coming off fresh from my 2022 project review post, I have some items that are repeated, and some brand new ideas.  While mainly focusing on home projects, I also have a few life/family goals too.  Let me know what you think of my plans for 2023 :)
Similar to last year's post, I'll try and group the different items together.  Let's start with our biggest project to-date… the cottage!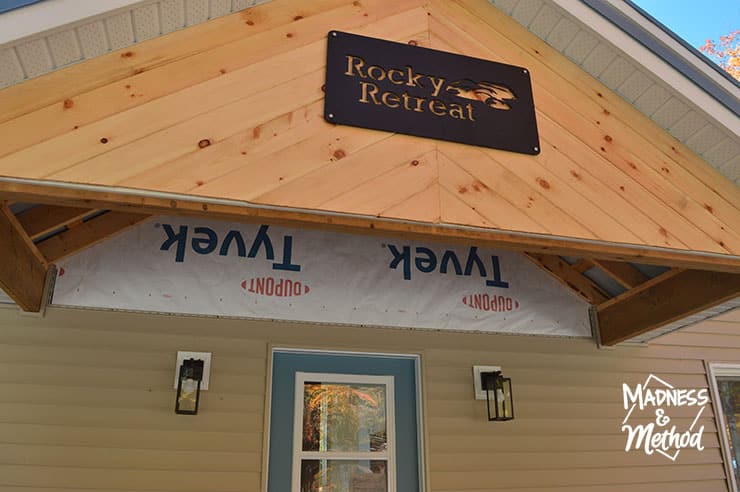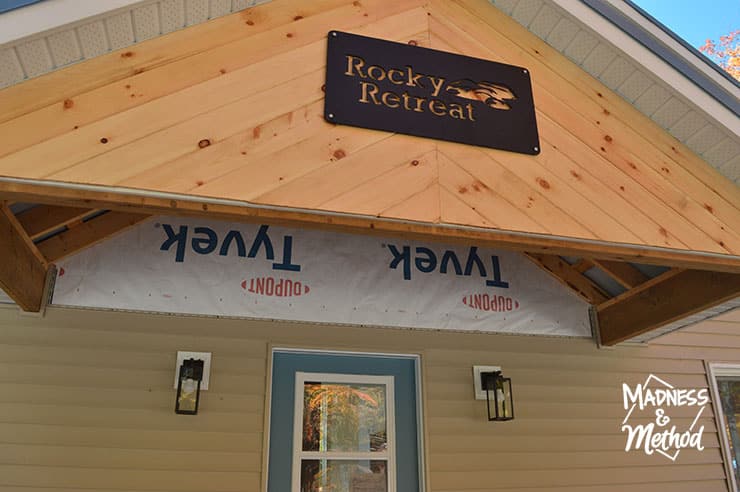 Cottage Plans for 2023
What the heck needs to be finished at the cottage?  (No seriously, I don't have the list on me, ha).  Don't worry, I have everything written down on a piece of paper at the cottage.  From what I remember, here are some of the main points:
Get the rest of lights/switches/electrical finished
Final plumbing (includes toilet installation in basement bath)
Finish trimming out the tall windows (need to get the scaffolding setup)
Staircase railing/finishing stairs
Paint touch-ups (including a second coat on all the trim/doors)
Install the closet doors in the laundry/bedroom
Seal tiles and add bathroom accessories
Finish porch/exterior siding under the roof
Finalize bedrooms (aka beds/nightstands/murals)
Planked ceiling trim done
Kitchen details finished
Mudroom space (hooks/bench)
Laundry room (needs appliances/storage)
Trim out/finish the fireplace upstairs (and get living room furniture)
Give everything a deep clean!
Hang art/mirrors/miscellaneous
Get everything photographed and listed on Airbnb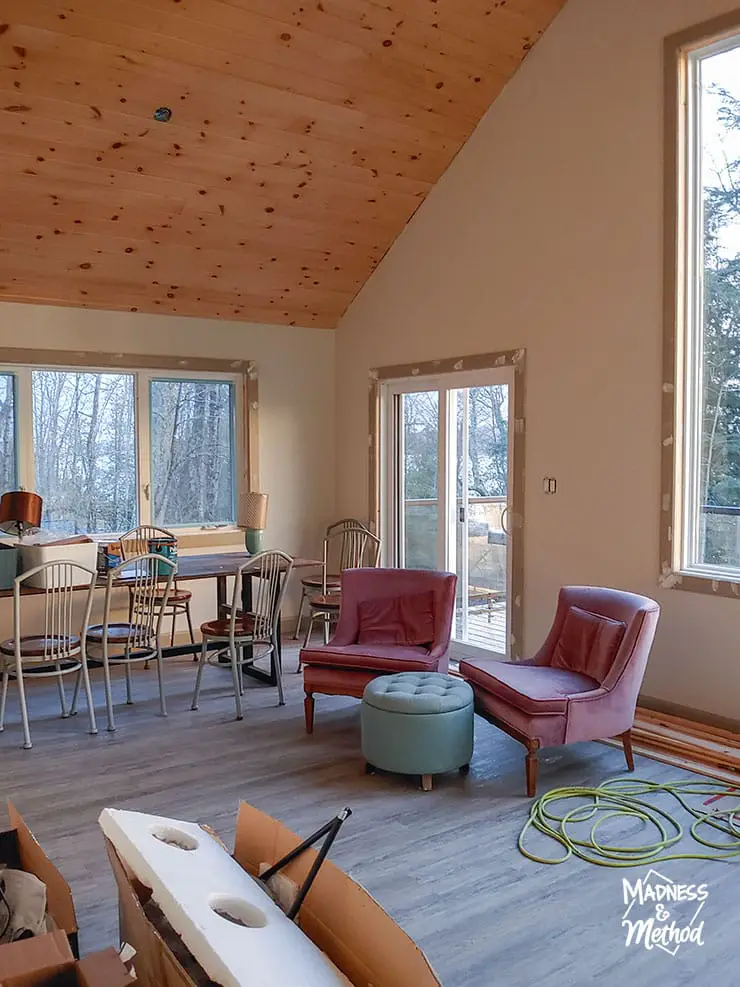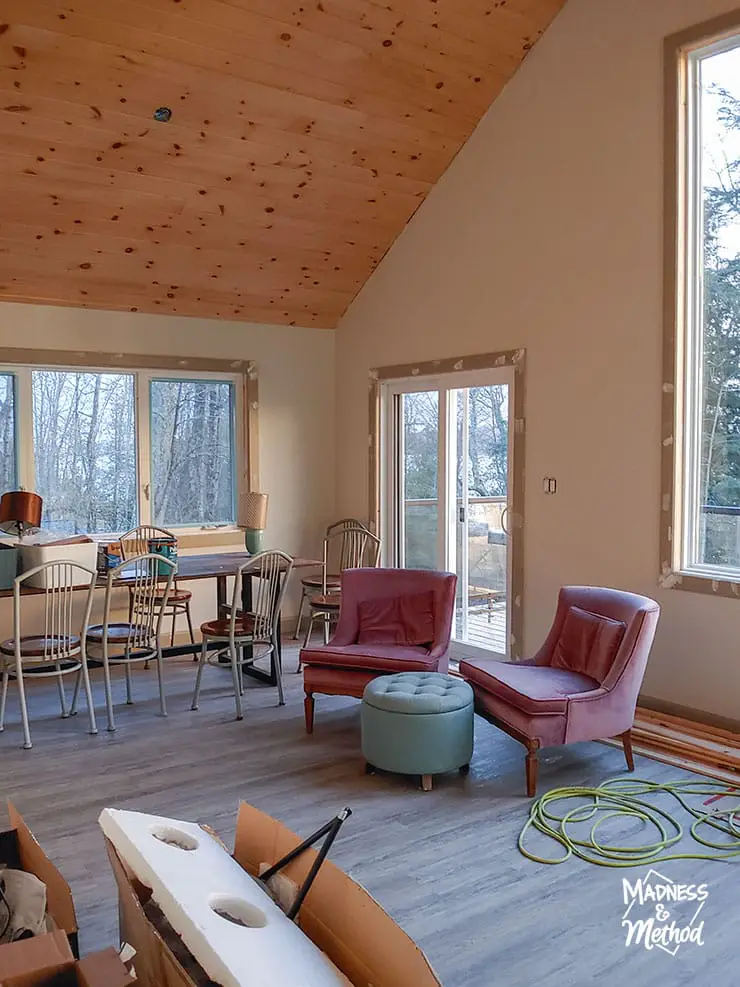 We were rocking and rolling for a while at the cottage, dedicating all weekends/free time there.  I did a huge blitz while working on the basement bathroom and then took a break.  Unfortunately/fortunately, the Husband got crazy busy at work and has been working 7 days a week.  We'll pick back up in January, and I'm hoping a few good weekends dedicated to the cottage are all we need.  (Fingers crossed!).
Home Plans for 2023
I want to get our dang driveway asphalted!  We've been on the waiting list since 2020, and apparently, there's a new company in town – so maybe this is the year.
Another thing I want to slowly pick away at is the basement.  I did a big cleanup/makeover down there at the end of 2021, then it became a storage zone for the cottage.  With all our cottage stuff out of the way, the wheels have been turning.  Honestly, I want to replace our exterior door (currently a french 2-door style) with a 1.5 door (aka full door with sidelight).  It swings in weirdly, and the kids can't open it themselves.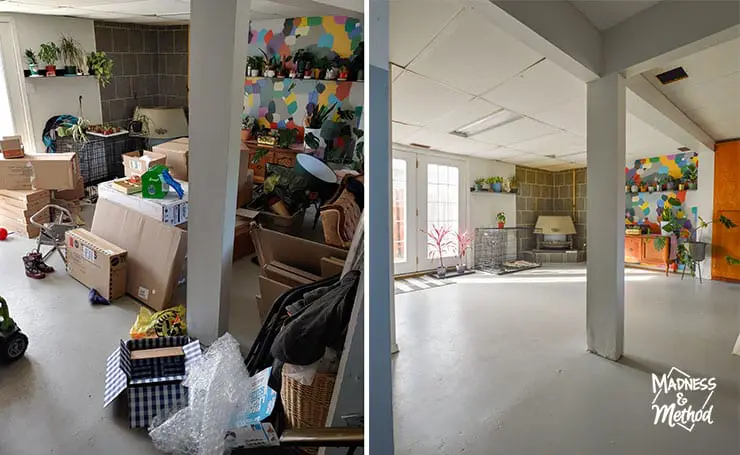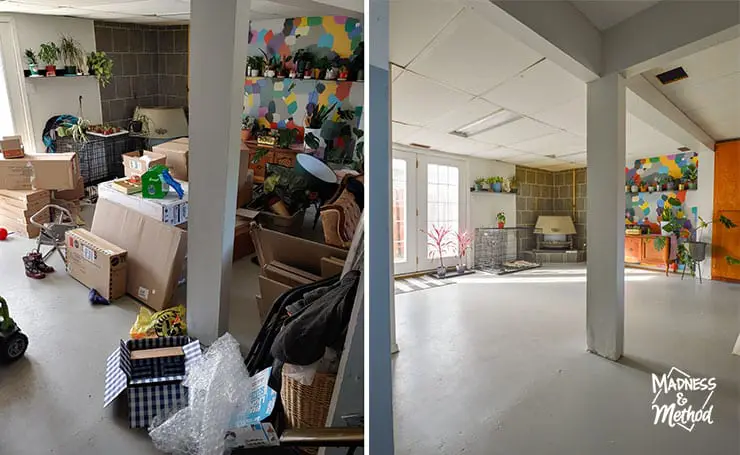 If I had my way, I'd also move the bathroom wall over a foot into the living room (with a smaller exterior door of course).  The Husband isn't on board with that idea and would prefer to just remodel the bathroom in its current footprint.
Other "nice to change" things would be moving the hot water tank (why is it in the middle and not the corner!?).  Then, move the laundry sink and washing machine over a bit.  And of course, updating the gas fireplace with something more modern.  And, maybe drywalling that section of the ceiling instead of keeping the drop ceiling we have now.  Now, I don't think these will happen all in 2023 (or at all if the Husband was in charge, ha), but things to think about!  Plus add outlets/update the electrical.
Oh, and if we're updating the basement door and getting the asphalt… might as well tackle the backyard area too :)
(See how things can snowball!?)
Upstairs, some minor updates (a light fixture for the entryway is on my Christmas list).  We will eventually do a big makeover to Félix's room to match the others – but we may also swap the kids around for that.  Oh, and maybe replace the living room baseboards?  (PS: that's been on the list for a while, ha).
OH!  I forgot a bigger change.  We have some humidity issues with our house/windows.  Think, water collecting in the tracks, getting mouldy, and leaking over.  I'm going to look into a whole home humidifier/HRV system.  We may also replace our big living room window, but I'll try to regulate the humidity and see how it improves.  (I also considered drilling little holes into the tracks to let the water drain out, but again, let's address the problem first).
Other Plans for 2023
More travelling and family fun of course :)  The Husband and I are going on a kid-free vacation in February (I can hardly wait!).  We'll probably be doing a few small family adventures too, but nothing is planned so far.
I need to finish the upstairs bathroom at the rental apartment.  I'll get to that soon I hope :)  And, yes, I need to replace the damaged baseboards in the basement too.  (If you missed it, I mentioned last week that we had a lot of water issues this year).
Oh, and I think I may be able to work on my brother's main bathroom this year.  It was on my list last year, but I didn't have the time/capacity.  It's really just a lot of painting, but some things have long dry times (I'll be painting his tub like I did with ours, and painting the floors again), so it makes things a bit tricky.
Personally, I'm also trying to publish a book in 2023.  Have I written a book?  No… not really.  But I have several ideas and I want to focus on figuring out the next steps.  Like, which idea is more realistic, then working on that.  In my docket, I have a fictional young-adult novel, a fantasy, a collection of fictional short stories, a non-fiction book, and a couple of children's book ideas.  Wish me luck on this one!  OR send me tips/resources if you have them :)
Phew, that seems like a lot of projects!  Although, I'm pretty sure they are mostly just finishing things that we started.  Sure, I have a lot of plans and ideas for the basement at our house, but we'll see what the budget allows, ha.
Oh, and I had to include the first photo of the kids…  It was me taking our Christmas photo next to our big doors in the basement.  I cropped our random sleeping bag background out of the final version :)