Even though we're still finishing up the last few things in the nursery, I wanted to share a couple of projects that I incorporated into the space.  This post is all about the DIY baby change table top that I built; and while it was done to my size specifications, it can totally be adapted for almost any dresser!  It's not 100% done, but I'm hoping these plans and instructions make sense if you want to build your own.
– This post contains affiliate links.  Click here for more information on affiliates. Follow along here:
Week 1: Colour Journey | Week 2: Design Plans | Week 3: Upgrading Flat Doors | Week 4: DIY Baby Change Table Top –
I borrowed/stole a dresser from my parents' house to use in the room and I wanted it to do double-duty as both storage and diaper change area.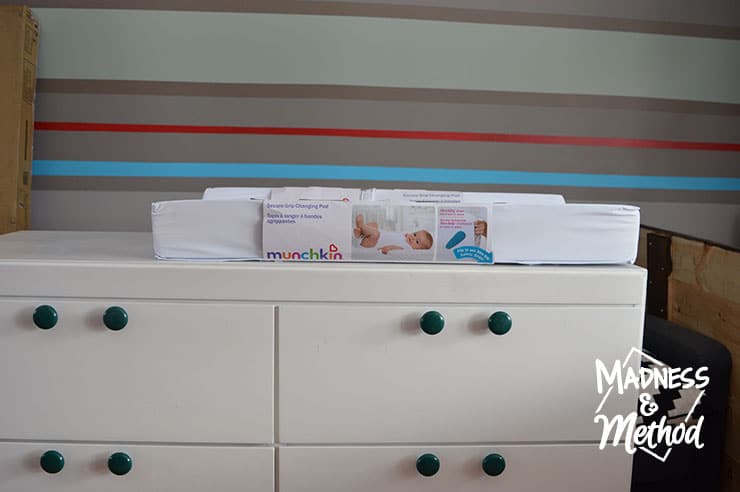 The dresser had a top surface area of about 47″x17″ and I needed to get a change pad that would fit.  I purchased this baby change table pad from Amazon, because it was in the u-shape I was looking for and was on the smaller size (but still standard).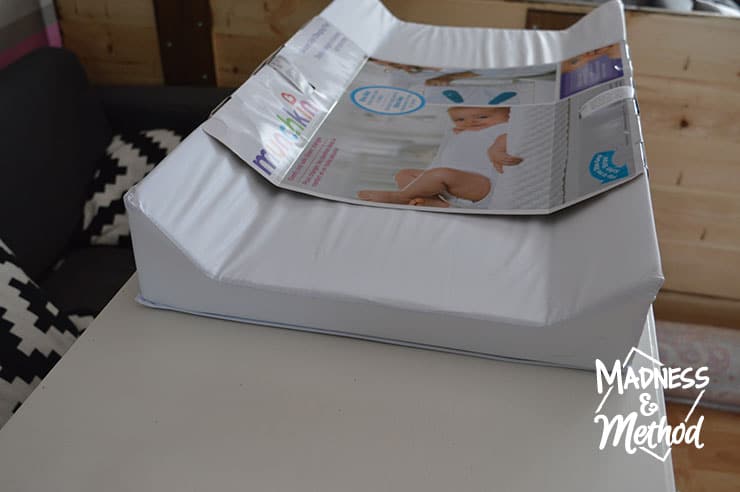 You can totally use the attachment screws and have the change pad sit on top of your dresser securely, but I wanted something that would also hold wipes or creams.  I didn't have enough surface area on the dresser to have them sitting there (once I factored in the lamp and décor box I would have up there as well).
And guess what?!  The store-bought baby change table tops cost close to 100$!!!!  Using just a few pieces of wood (most of which I had on hand), I was able to build my own DIY baby change table top for less than 20$.

For those who are familiar with our house, yes we already have another nursery for our toddler Zachary.  The change table top came with the dresser (also inherited from my parents) and had two storage areas on either side of the main pad.  Only problem was that the storage areas were just a smidge too small to actually hold a box of wipes nicely; and now that we're in larger size diapers, there's a bit more squeezing that has to be done to get them to sit in there nicely (never mind that the little mister usually throws the diapers around and they're usually on the floor…).
OH and because the new baby will need to be changed at all hours of the night (and day), I figured it would be more convenient to not disturb our sleeping beauty.
So once I decided that I would be setting up a second change area, I came up with a wish-list of sorts to get something that would be easier to use:
Baby Change Table Needs
Ha, if you remember from the images I shared of our first nursery, we just had the plain change pad (uncovered) setup.  It was a vinyl material, and I didn't think I needed any extra pads to cover it (it's super wipe-able, I thought!).  Problem is that baby would pee (or poo) and the liquid would literally slide down the easily wipe-able vinyl…
After removing the pad and cleaning underneath it, and around the change table cover one too many times, I bought the covers and have never looked back!
So now my fool-proof setup is a fitted fabric/cotton-y type cover (that absorbs liquids that go where you don't want them), and an extra wipe-able cover on top of that (for messes that stay put and can be wiped easily).  I still give them a proper clean in the washing machine every now and then, but at least our entire change area isn't decommissioned when I'm trying to get wood to dry.
I just happened to have a leftover piece of 3-1/2″ poplar board (from when we did the board and batten on our staircase and built the DIY baby gates).  It was the perfect length I needed for the side, so I kind of built everything else to suit.
Building the Baby Change Table
It may be hard to tell from the photo above, but only a few of the sides are 3-1/2″ wide, and the rest are 2-1/2″.  I wanted the back to be longer to create a type of "grab" area, with the front and side to be sitting on the dresser.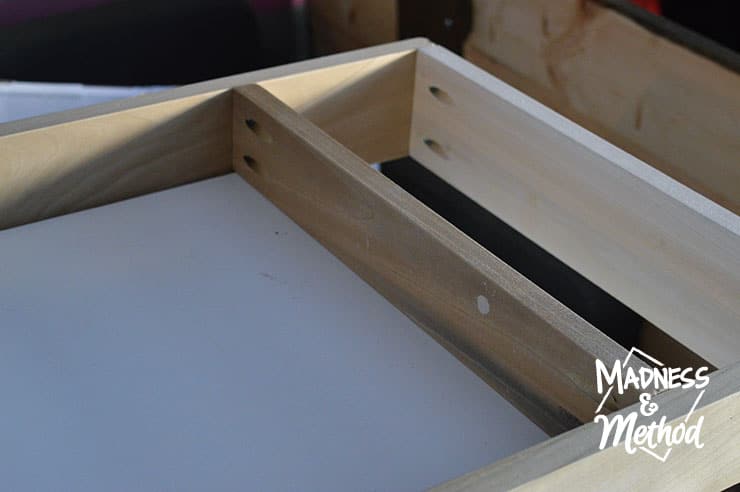 Actually, truth be told, at one point I did have both cross pieces (for the storage area) made from the bigger pieces, however, the weight of the wood would knock the whole thing down.  I swapped it out for a 2-1/2″ piece and it worked much better!

In the photo above (the one on the right), you can see the "grab" area I wanted to create with the longer wood.  (I also cut a little notch out of the corner so it wouldn't be obvious that it was longer.  Essentially, if you're making your own DIY baby change table top, you can figure out if you want the storage area to overhang or not.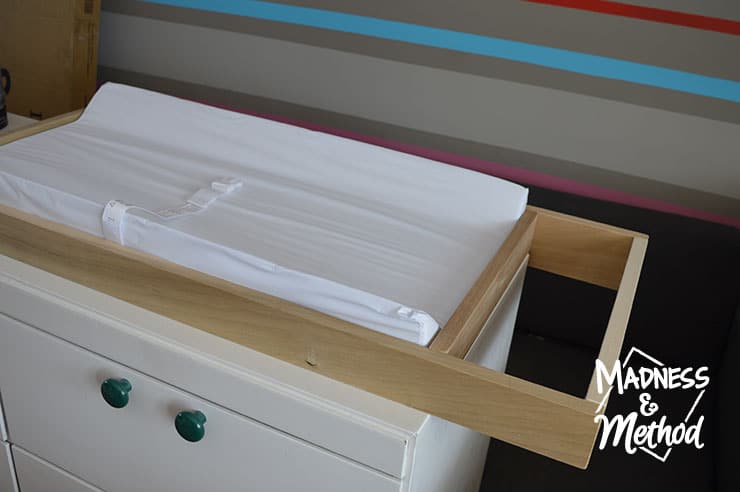 Again, I chose to go with an overhang so that I would have those extra inches available on the left side for my storage basket and lamp.
You'll notice that the box of wipes now fits in perfectly in the storage area!  (We had a few different brands that I tested too, they were pretty much all 5″ wide if I remember correctly).
And maybe you've also noticed that there's a big gigantic hole in our storage area (as in, it can't actually hold other things since they'll just slip through).  I'm still debating whether I'll add a thin piece of wood to the bottom, or try and find a perfectly sized container or something.
UPDATE: I just installed some L-Brackets to the bottom to hold the baskets.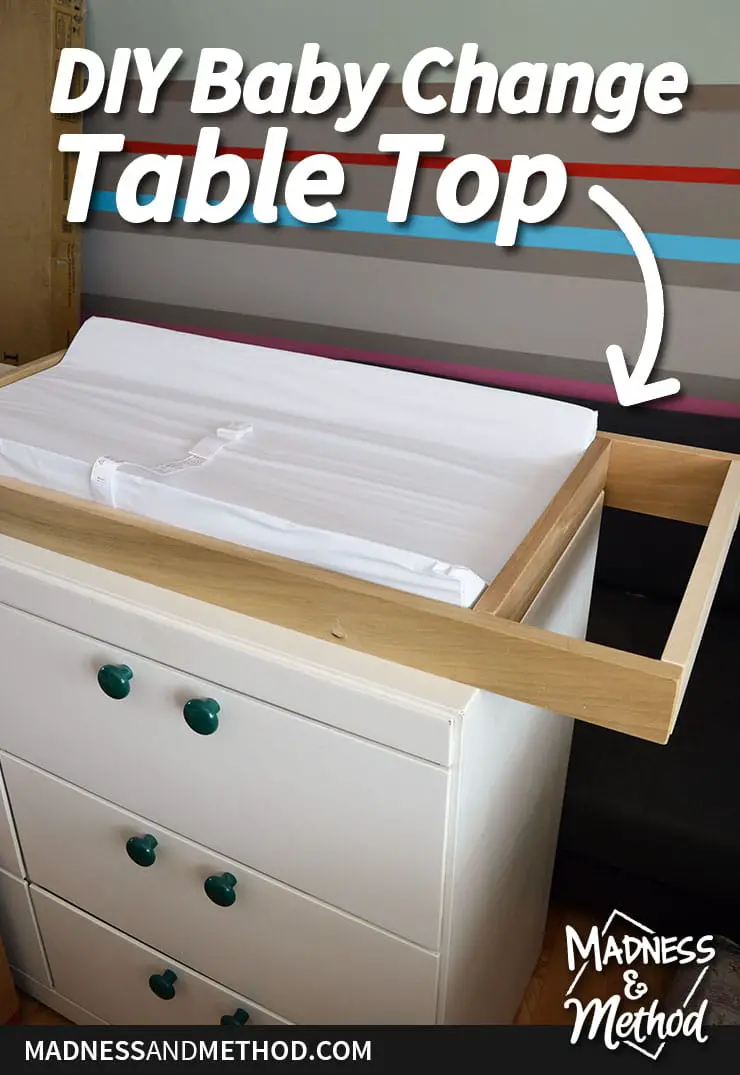 In the meantime, I've since given the DIY baby change table top a coat of prime and I'm thinking of painting it grey to match our wainscoting.  Next week I'll share the dresser makeover with you (I just did that yesterday, but I'm waiting to move it into the room to get some better pictures) and I'll hopefully have a solution for the hole by then!
Here's what we accomplished since last week:
Patch and caulk all trim
Paint all trim
Paint closet
Build change table pad holder
Fix fan blades and install new lightbulb
Added: Paint touch-ups
Clean everything, bring in rug pad + rug
Assemble crib
Organize all the baby clothes + stuff
I told the Husband I need him for the last little bit (since it involves moving the furniture and such) but I also need to give the room a good scrubbing before that happens.  Oh, and the paint touch-ups should probably happen before then (since I have a lot of paint to clean from the floors…), so hopefully, we can get everything done this weekend!
(Oh and the closet, it's finally all white after 6.5 coats of paint!)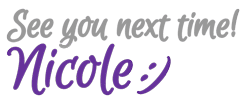 Thanks to all my nursery project sponsors:
Follow the Nursery Series:
Week 4: DIY Baby Change Table Top