You know when you're watching a renovation show and it seems like everything is going wrong and they won't make the reveal on time?  But miracle of TV miracles, everything comes together in the end, and the results are great!?  Well, this is reality and that's not what happened at all!  Just wanted to touch base and let you know about our basement kitchen renovation timeline, aka when we started, what the delays were and where we're headed…
This is my fourth One Room Challenge makeover, and it was undoubtedly the hardest one yet.  Actually, our first project was pretty substantial in that we built a basement half-bath from scratch; then I took it to my brother's house with a budget bathroom makeover, and last year we barely squeaked by to get our garage finished on time.
Months ago, when I was initially planning this project, we would not have thought that we wouldn't be finished on time.  Heck, the Husband thought started the kitchen in October was super late, and we would have been moved into the basement by now.
(A bit of a backstory, we bought a second house in May so that we could have a place closer to where the Husband works, about 2 hours away from our main home.  We are planning on creating two separate apartment units and renting the main floor while we stay in the basement part-time).
Basement Renovation Timeline
August 7: Demolition on the entire basement begins
August 27: Interior weeping tile work to address multiple foundation cracks
September 4: Subfloor install and framing started
September 10: Plumber supposed to come in but cancels last minute
September 17: Complete electrical work for basement
September 27: Electrical inspection, still no word on plumbing
October 3: Start of the One Room Challenge
October 10: Second plumbing company starting work
October 18: Plumbing/venting inspection
November 7: Now/End of the One Room Challenge – and not close to being done!
Obviously, we've come pretty far from where we started, and we did get a lot of behind-the-scenes work done during the weeks of the One Room Challenge.
But our biggest hold-up was definitely in regards to scheduling/timing with the big 3 contractors.  As of right now, we are still waiting for the HVAC, then it will be all hands on deck to get the drywall up.  Once the drywall is done, it's pretty much the home stretch and the basement will all come together quickly afterwards.
But we still have a ways to go!
Where We Are Now
I'm still continuing to paint my Ikea cabinet doors and will hopefully be done within the next week or so (why rush when I still have to wait for everything else?!).  I started priming them during Week 4 of the Challenge, and I'm really liking how they're turning out so far!  Yes, I will have an update in a few months detailing how they've held up and all the techniques I used to paint them!

It's hard to capture the colour in photos (they look darker on the left) but it's a super dark brown/dark taupe-y colour.
And in case you wanted an updated photo of the basement kitchen, here's one I took this morning:
Yep, pretty much the same as last time :(
Where We Are Headed
Once we have some actual work on the kitchen going on, I'll be linking to the progress here!
So bookmark this page, follow on Facebook, Pinterest and/or Instagram, or subscribe to the blog RSS if you want to stay up-to-date :)
Oh, and if you want to see some (completed) transformations, check out the rest of the One Room Challenge designers' and bloggers' posts here.
One more before/during/still-during comparison photo if you weren't convinced we did anything at all: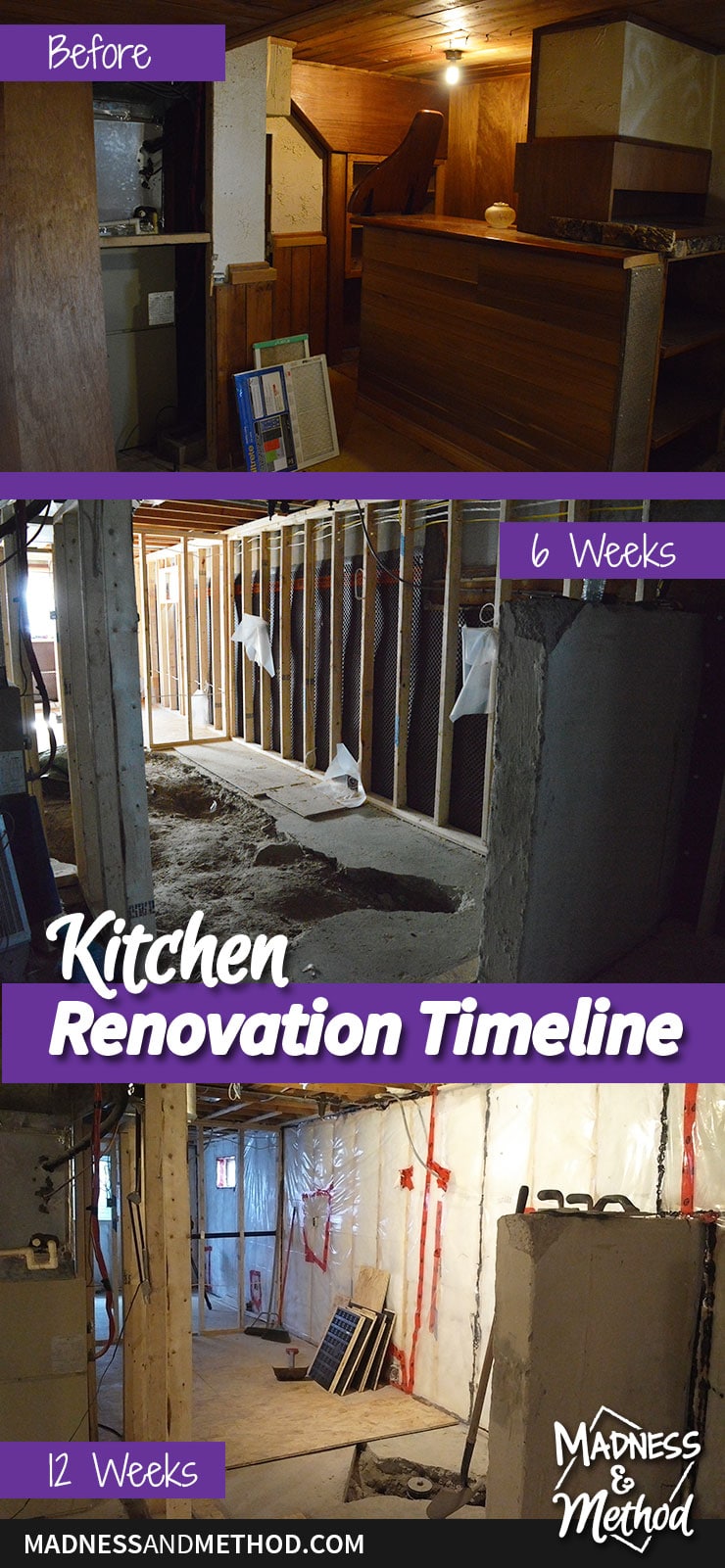 I hope I've been completely transparent in regards to our basement kitchen renovation timeline and what we were able to accomplish during this challenge.  Next time, I'm definitely going to be doing a much simpler room (or at least, not one that's part of an entire basement renovation!).  Once this kitchen is done, we'll be able to move into the space and I'll share all the other rooms/progress then as well :)