Our black and white Christmas tree decor looks so good this year!  A big part of the fun is the purple tree – but I understand that it might not be for everyone.  Don't worry though, black and white is such a classic colour combination, it will look good no matter what type of tree you have!  Check out more photos of our black and white tree, along with all the details to recreate this look. 
I love changing my Christmas tree colour scheme, and this has got to be one of my favourites!  Black, white and purple are SO me – it matches my blog and everything, ha.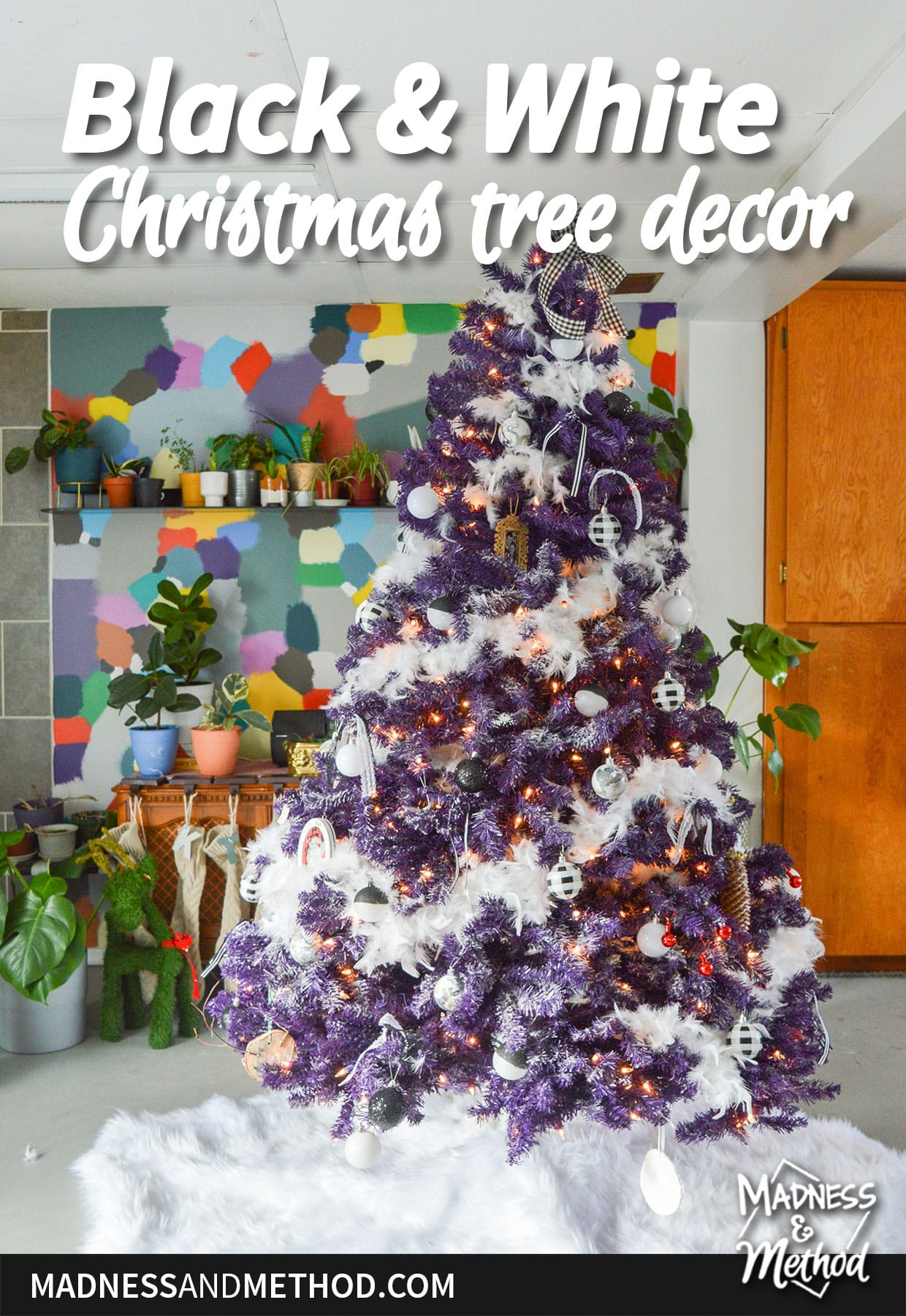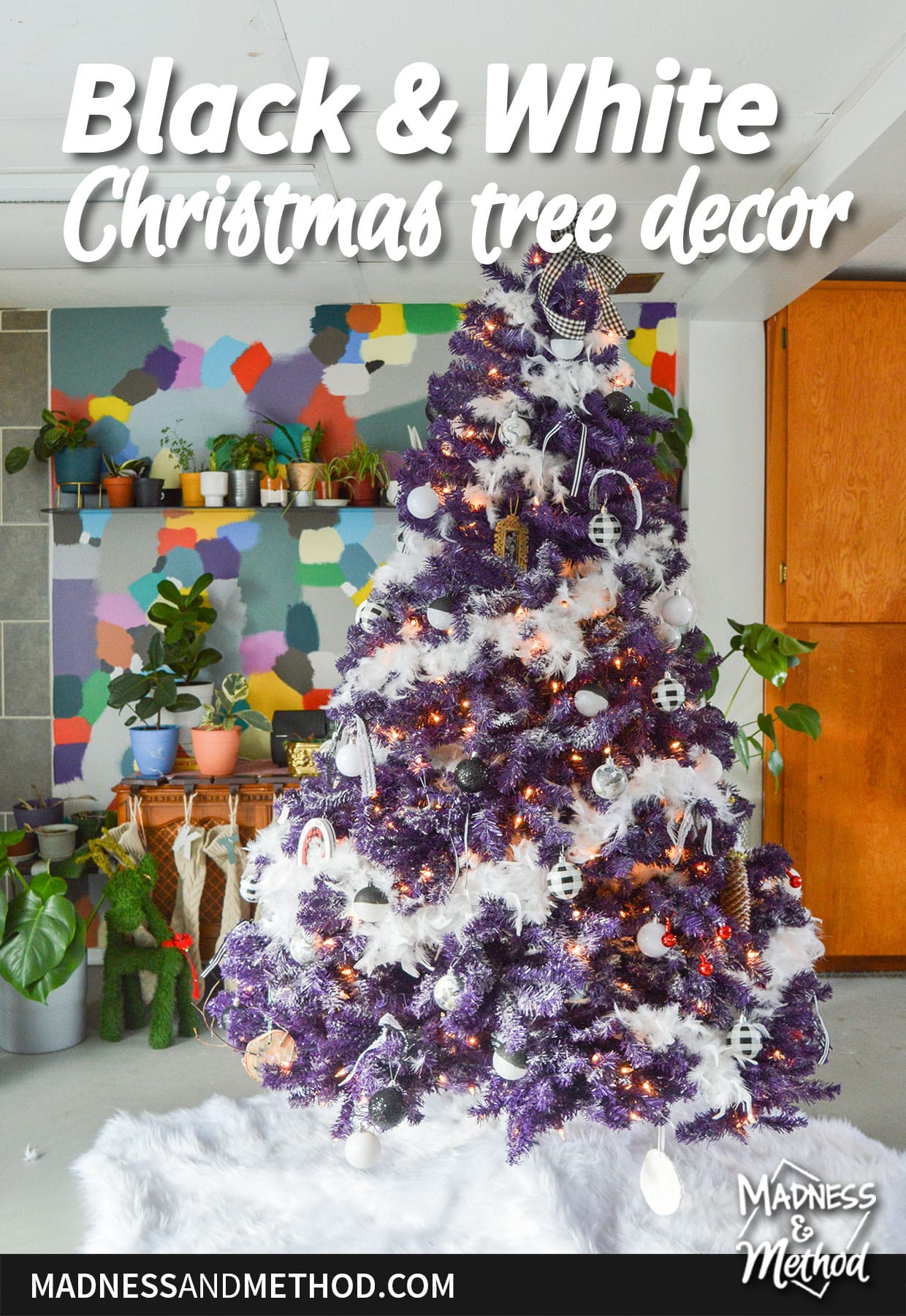 And, with a rainbow background courtesy of the painted mural in the basement, this definitely feels non-traditional, ha. 
This year's black and white Christmas tree decor is something that I have been planning for months.  Well, technically I try to think of my colour scheme as early as possible – and this was no exception.  I shared a fun Christmas-in-July series and DIY'd my marble ornaments and glitter ornaments back then.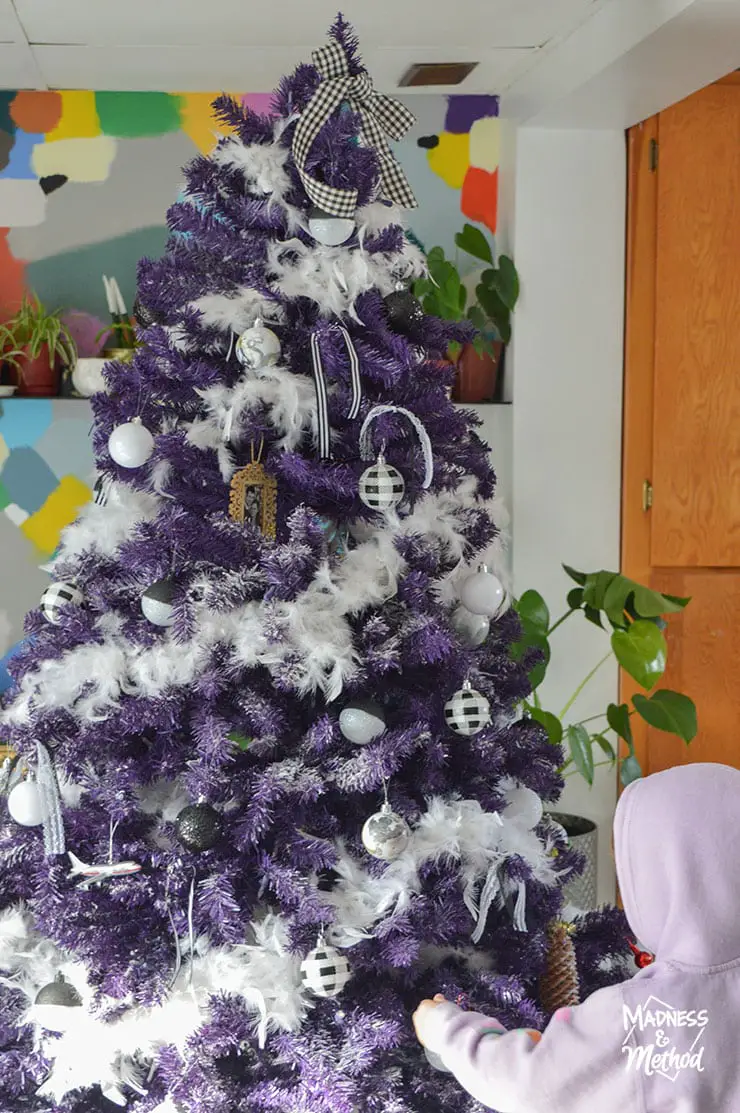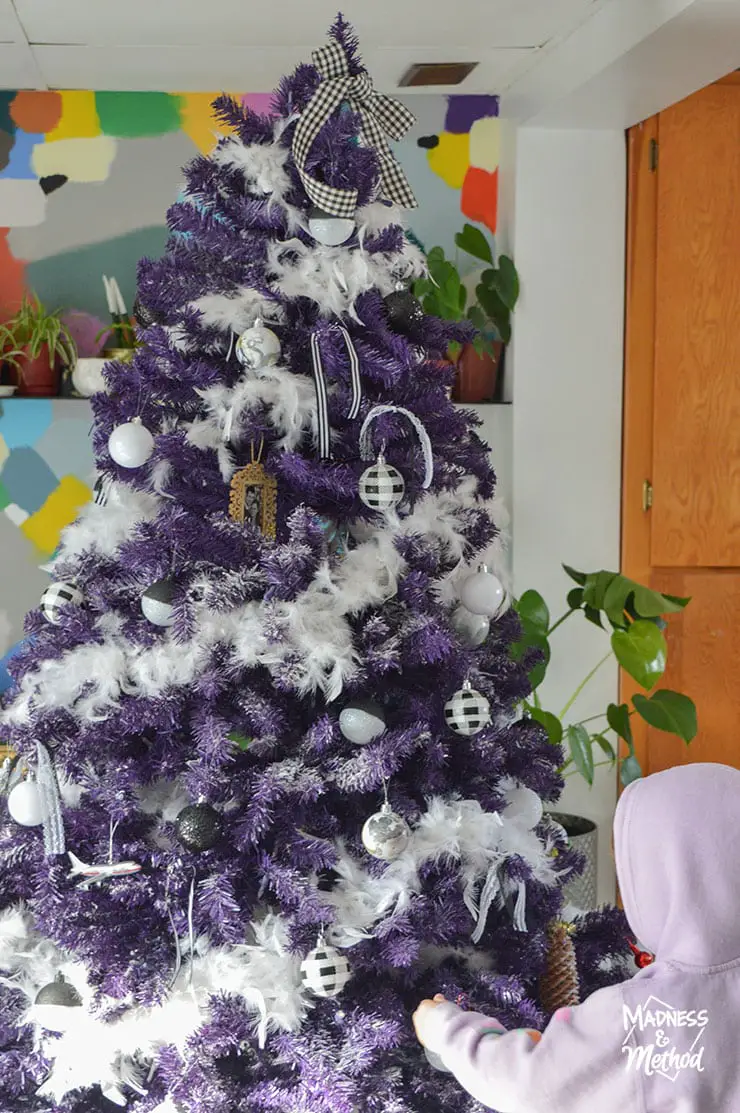 Having my ornaments ready ahead of time helped the process of putting up the tree.  The kids were VERY excited and kept trying to skip a bunch of steps.  (PS: I wrote about how to decorate a tree here).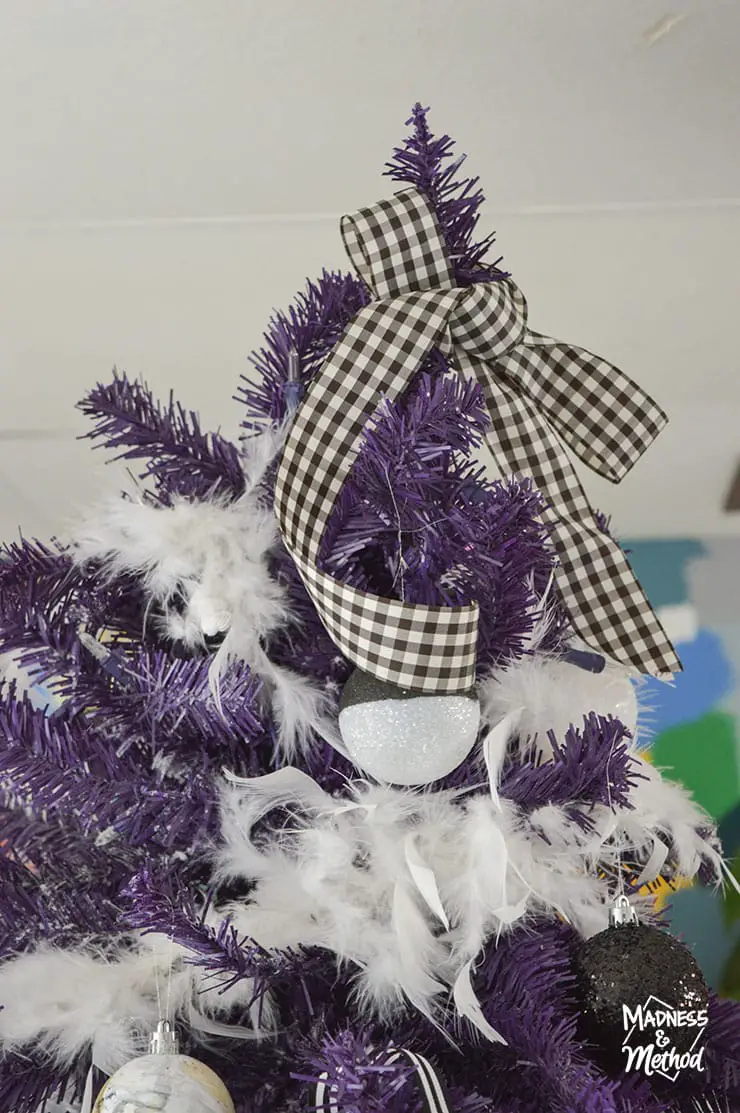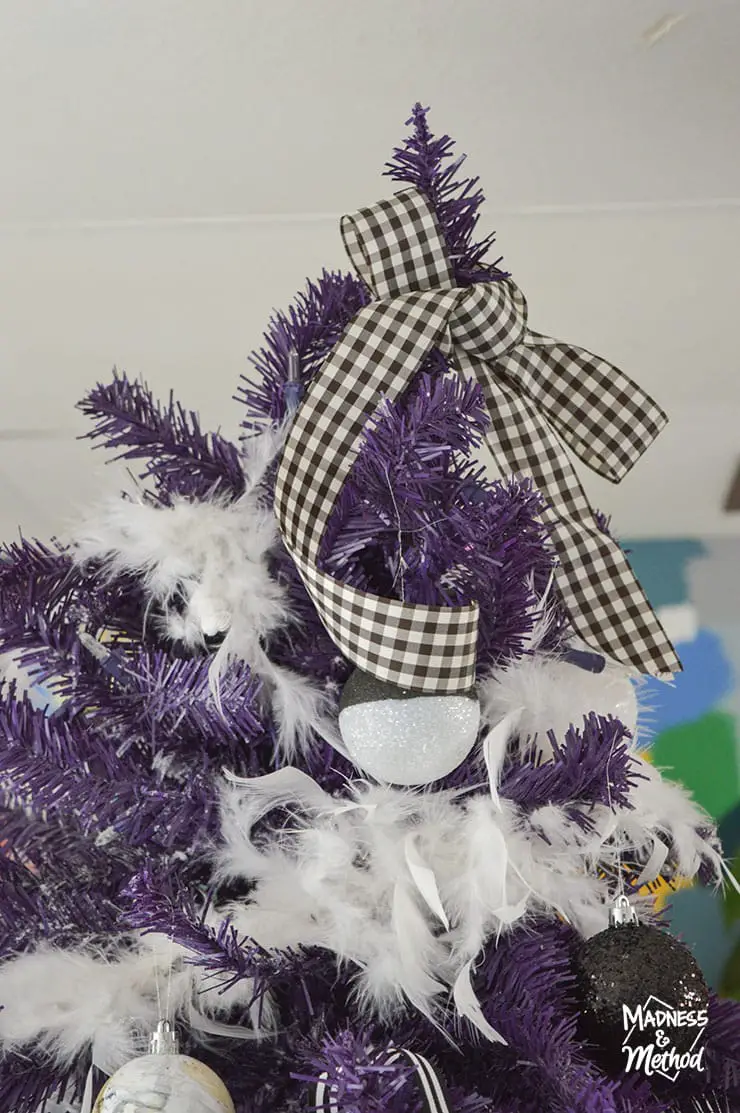 In fact, I didn't get a chance to properly fluff the branches or place my feather boa garland.  And I mean, the whole top is sort of askew to one side too.  Next year, I think I'm going to set up the tree part, and then have them come help with the ornaments when it's all ready.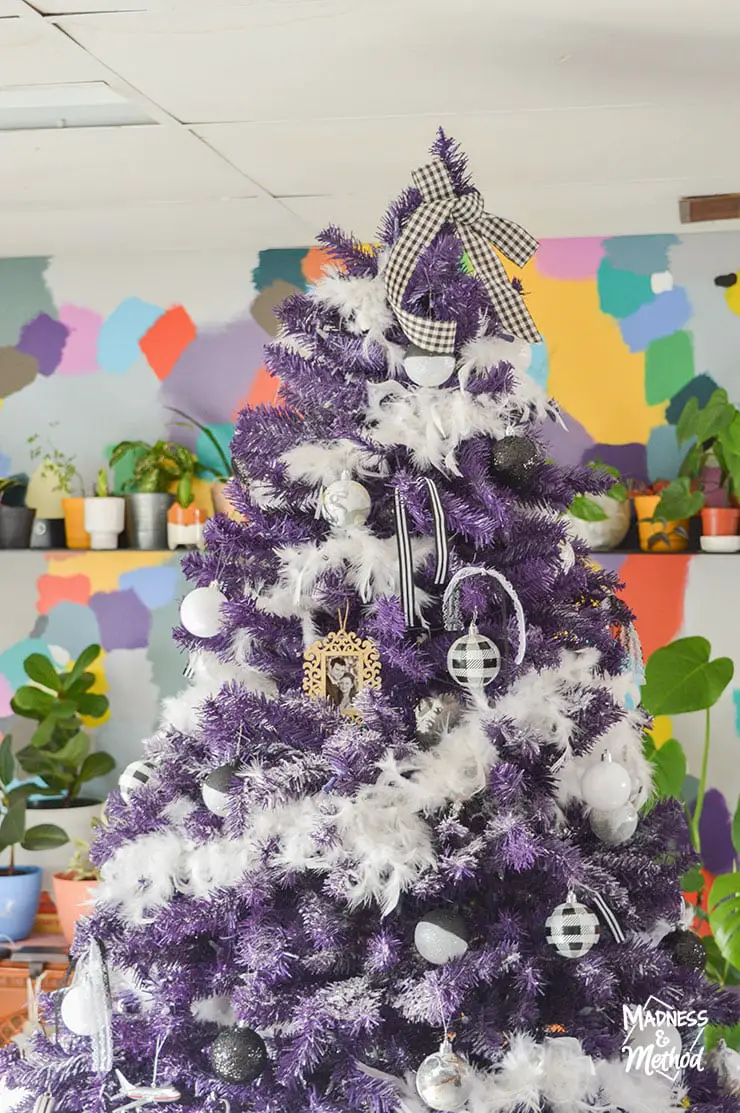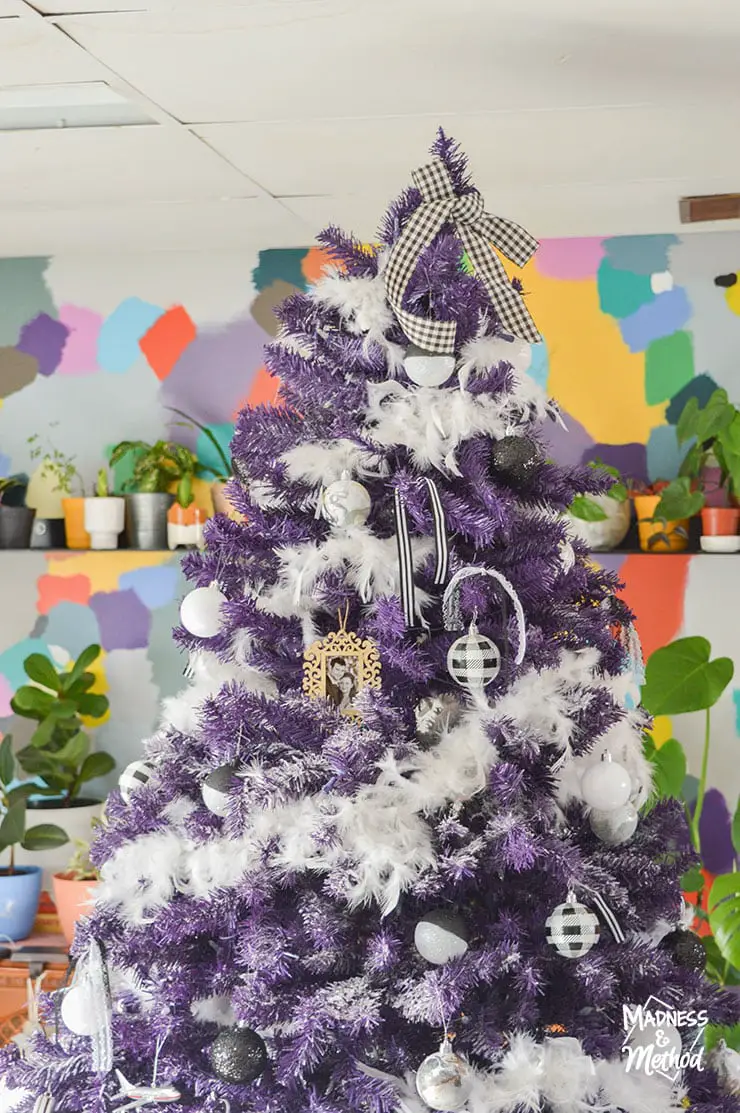 Either way, we had a fun morning!  Me and Zachary (the 6-year-old) came back down in the afternoon and moved all the ornaments throughout the tree (rather than just on the bottom 2 branches).  When I took these photos the next day, Élise (4-year-old) snuck on some other random ornaments (aka small red balls).  See if you can find them :) 
Black & White Christmas Tree Details
Ready to see more photos!?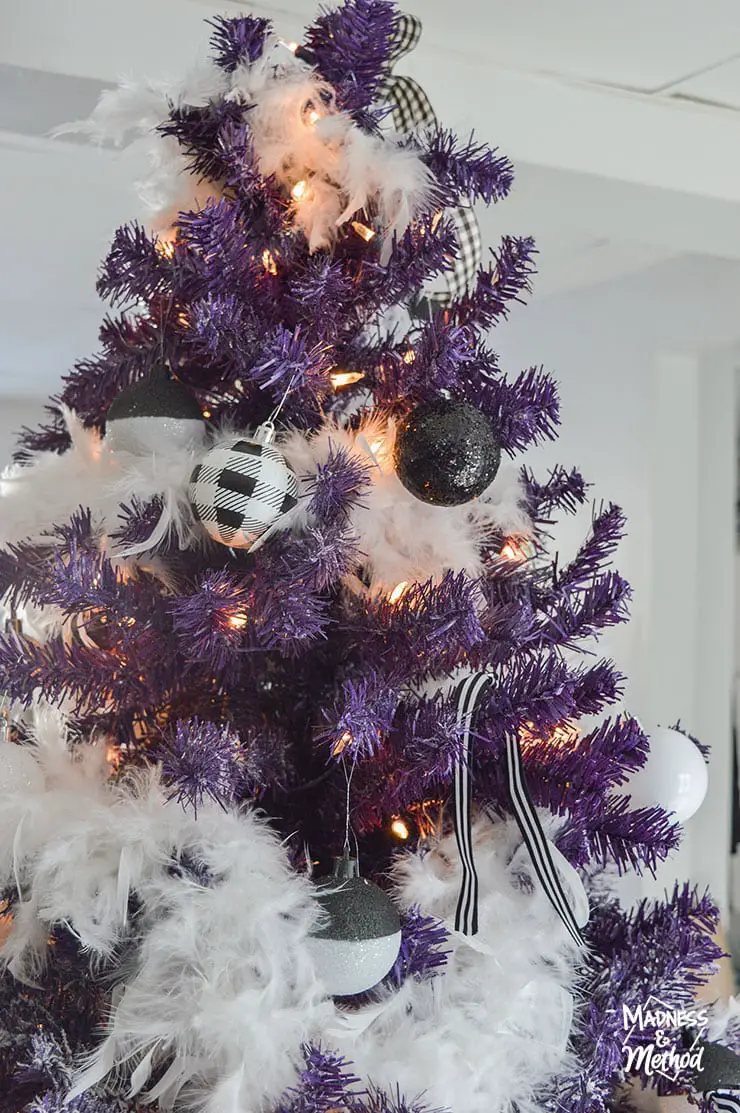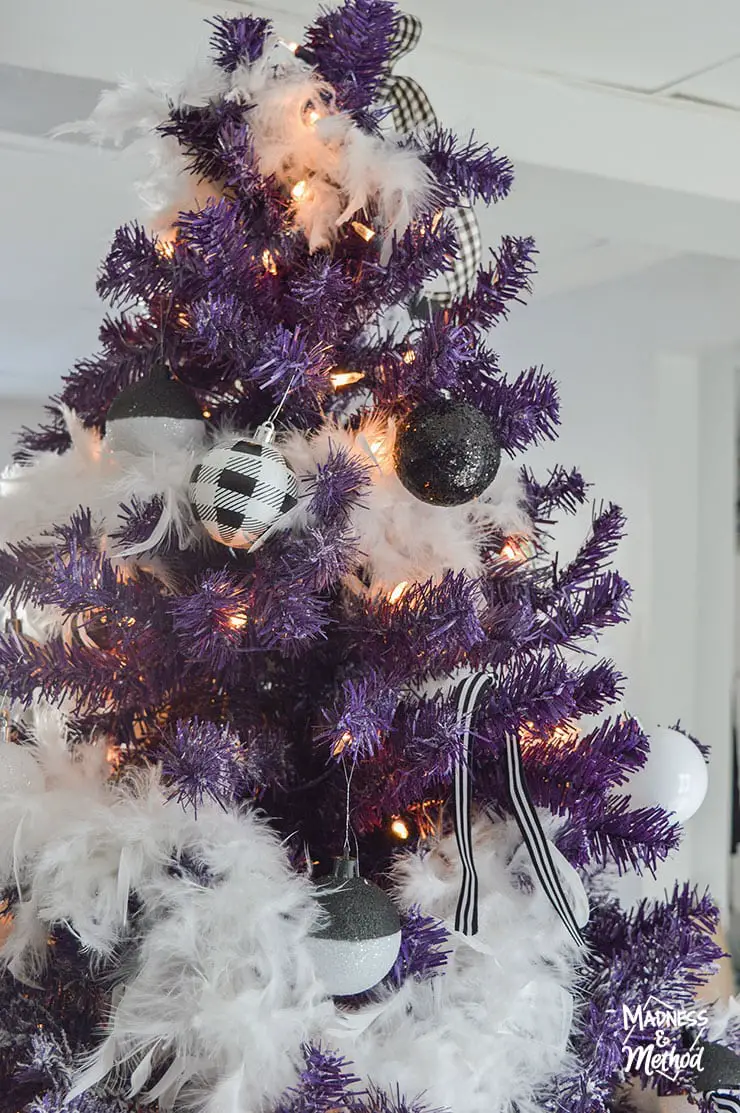 Don't the black and white ornaments look amazing together!  I bought the plaid balls at the dollar store last year (kicking off the idea for a black and white tree).
I've coveted the CB2 marble balls for years, so DIY'd my own in the summer. 
There are plain white and white glitter balls from a big package I bought on sale last year.  And then some DIY glitter black (and half-and-half ones) too.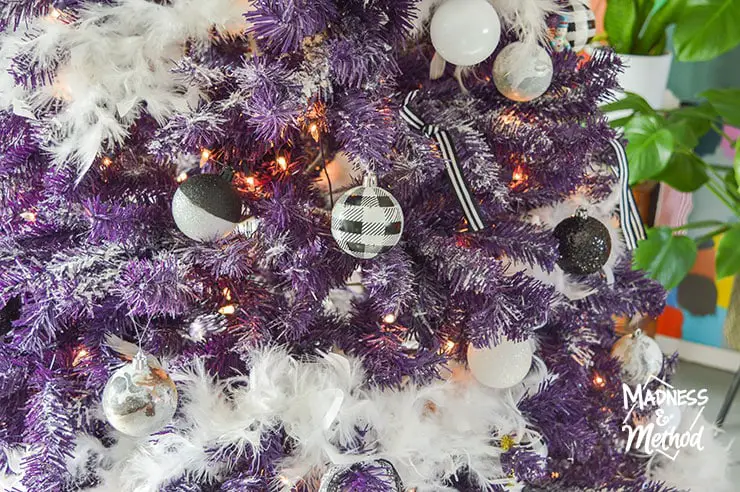 I think I may have a little too many ball ornaments in my collection now…
For the second year in a row, I decided to add some hanging ribbons.  I had the black and white stripe ribbon in my gift-wrapping stash (I did cry a little inside when I cut it up).
Then, I tied a black and white lacy ribbon together – and that one is definitely more subtle throughout the tree.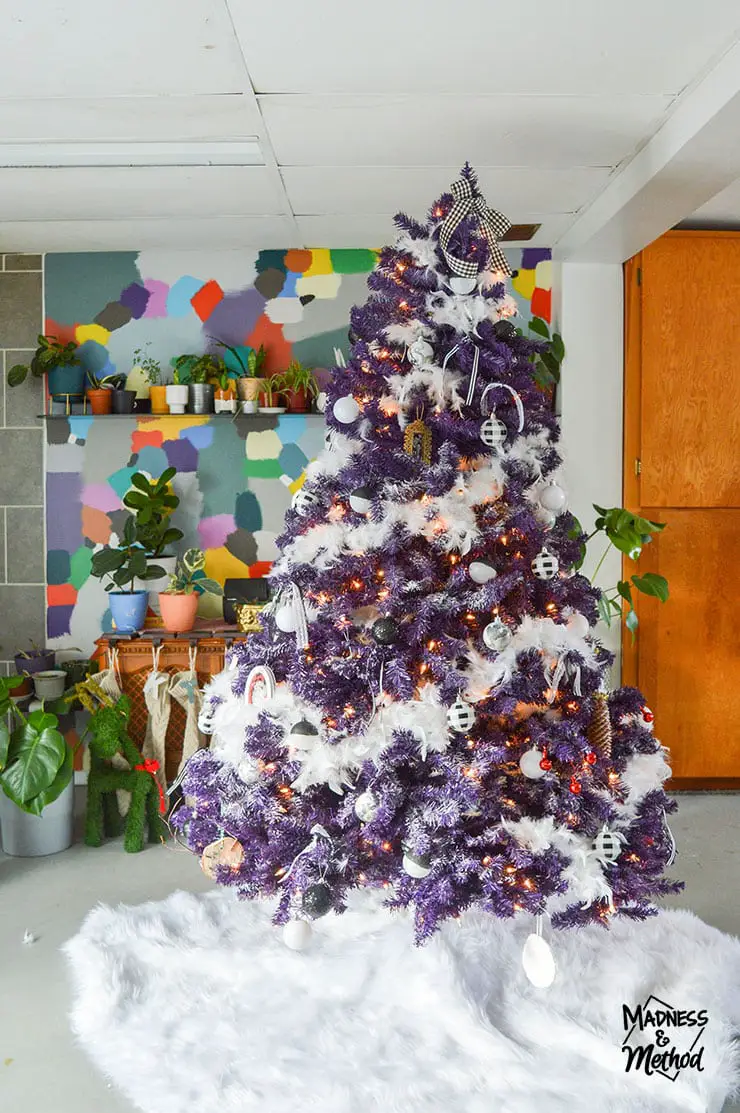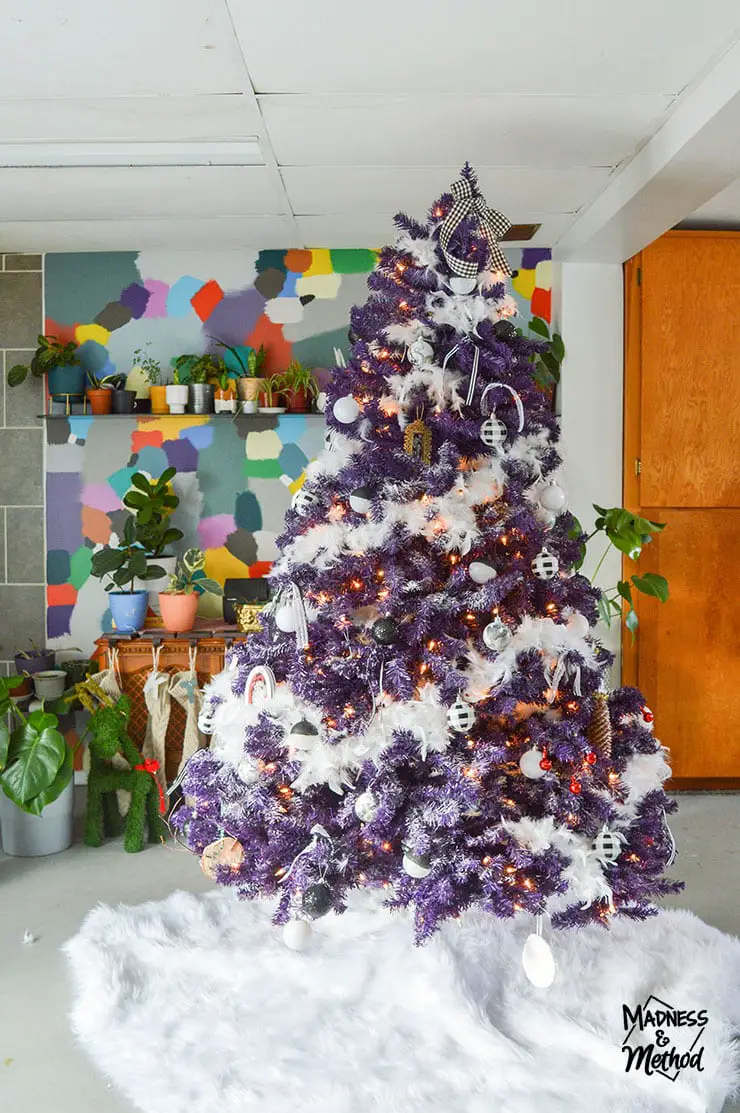 I definitely prefer the number of ribbons I had in the tree last year, so that will be my priority next year (more ribbons!). 
Just beyond our tree, we have our stockings and letters set up.  (PS: look how bright the tree was in this photo – this is our basement and we do get a LOT of light down here from the patio doors).
I had to wait a few times for clouds to come out and filter some of the bright sunlight.  Not a bad problem on a normal day, ha.
For the top of the tree, I made a simple gingham ribbon bow as our star/angel.  This tree is pretty close to the ceiling AND I haven't gotten a new star to replace the old/broken one. 
It totally works though :) 
(But also thought that the ribbon would be used in the tree, and didn't have enough, ha).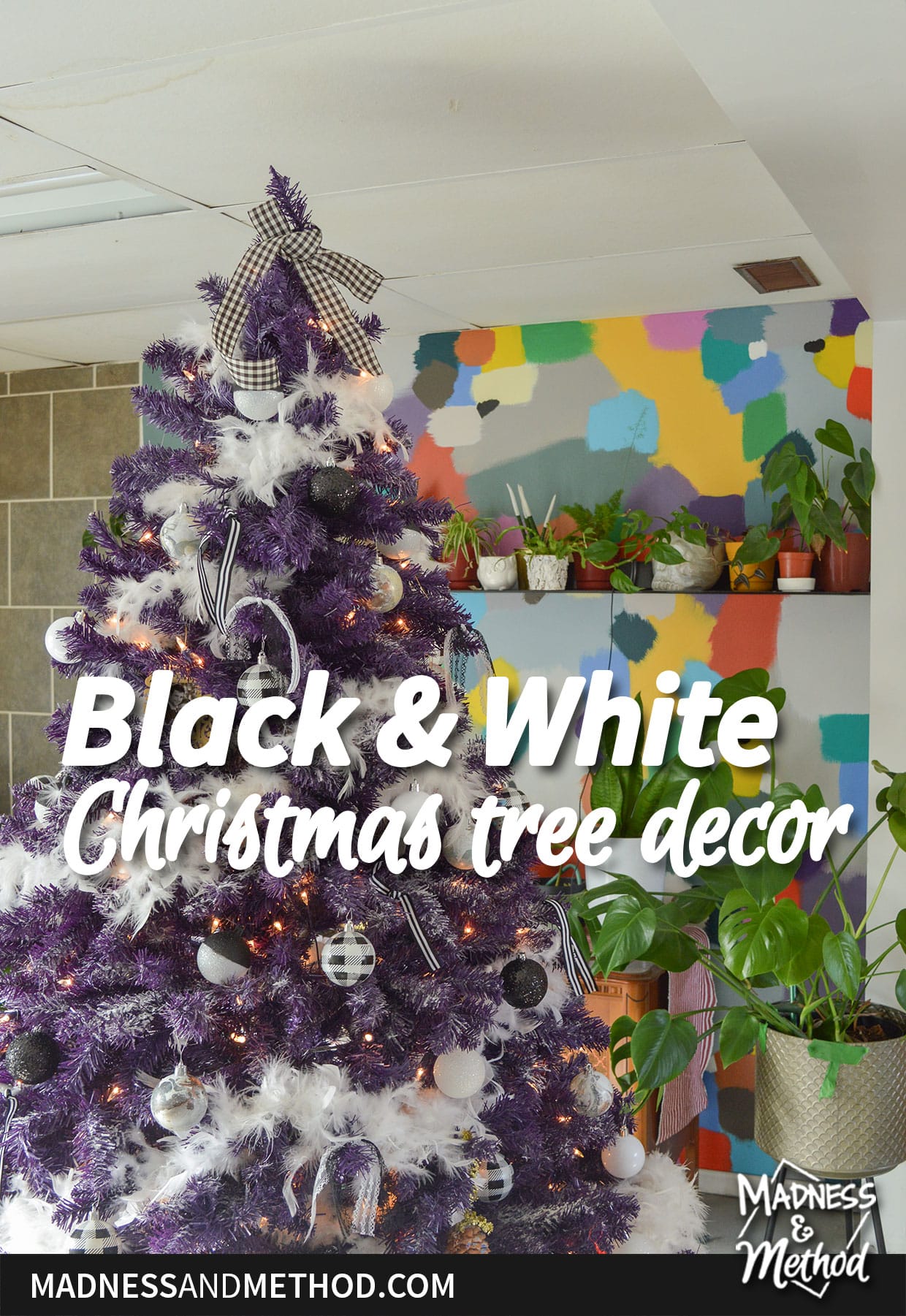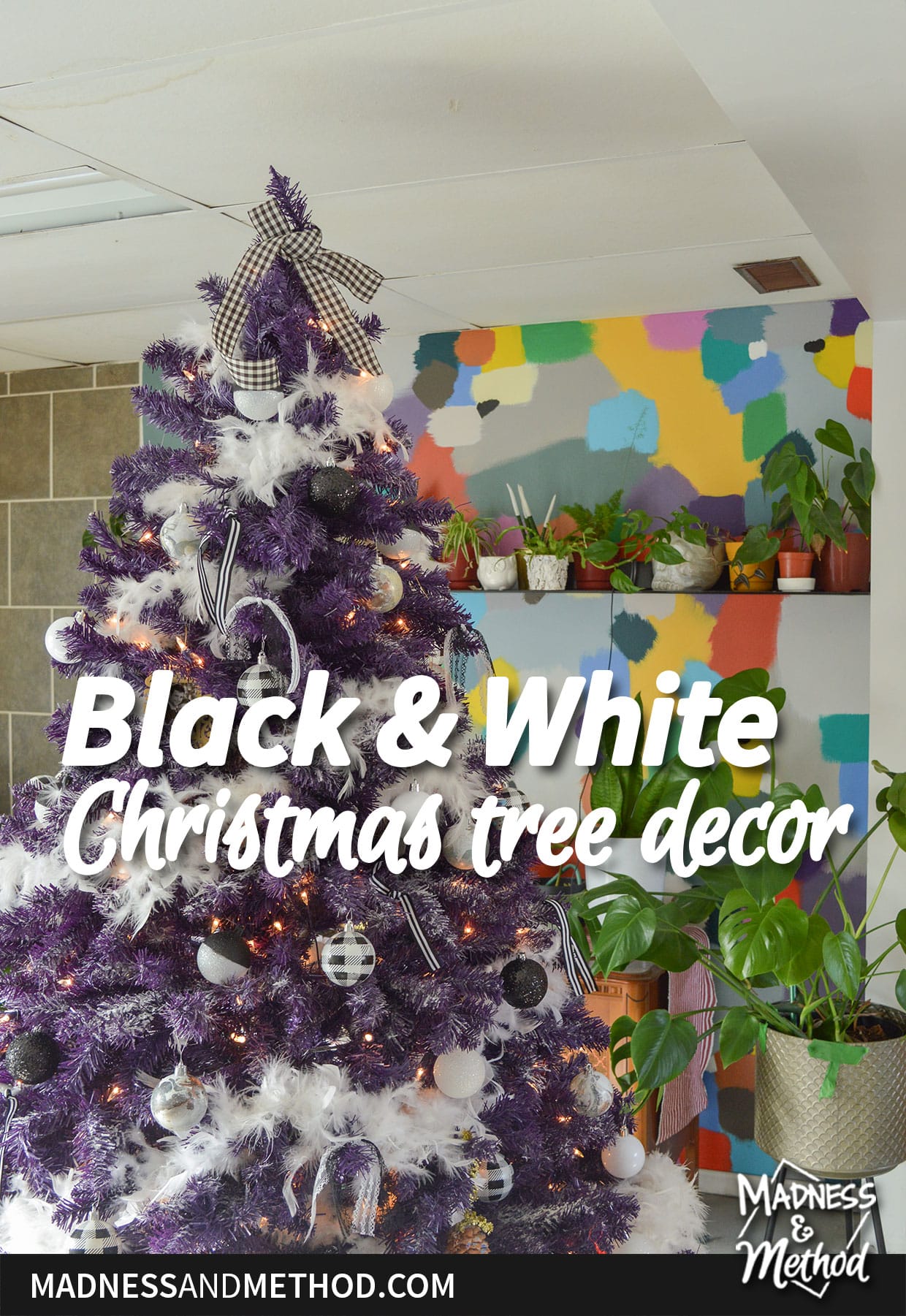 Other Christmas Decor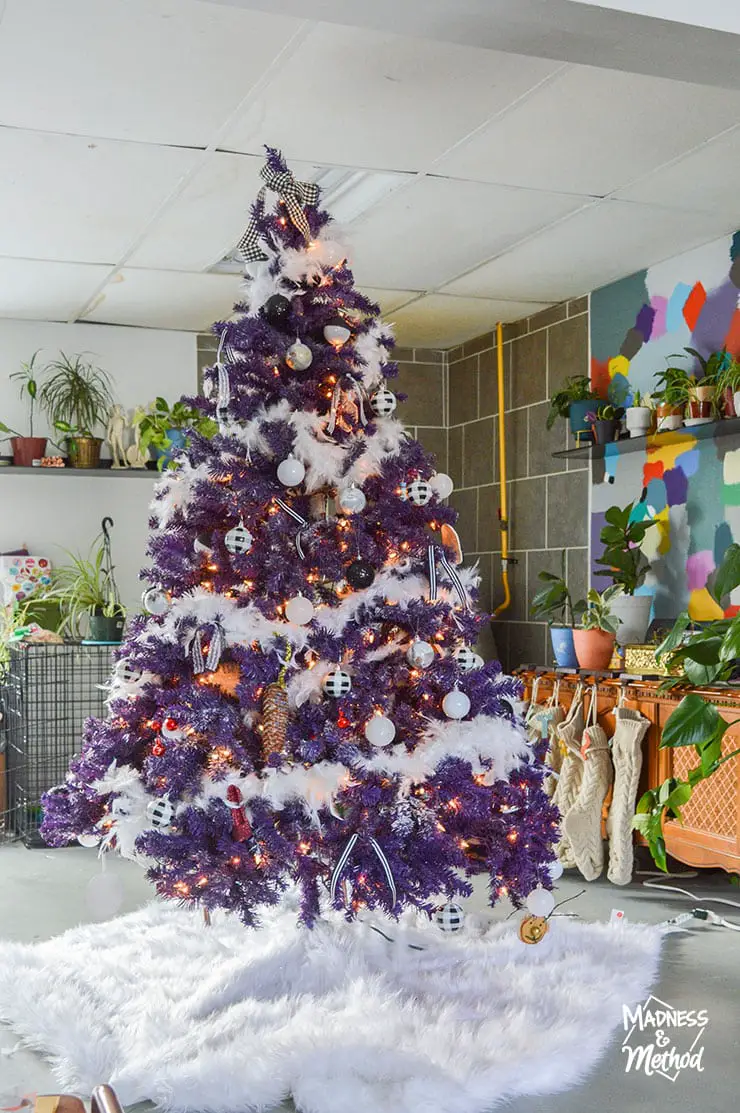 As you can see, we also have a lot of sentimental ornaments on our tree.  The kids made some reindeer/tree slice ornaments a week or so ago, and I like to add a special one too (still need to get it for this year).  
My favourite sentimental ones are their handprint ornaments – and we may need to rethink hanging all the ornaments.  Or maybe we should have a second/mini tree for that?  
Luckily I don't decorate the rest of the house too much for Christmas.  I did set up my new-ish reindeer collection on the ledge downstairs too. 
I was able to find a few random reindeer throughout the year!  Most were from auctions/secondhand – and I love that they are unique :) 
And finally, a lovely photo of our tree at night!  Honestly, since we're not downstairs that much – it is something I have to think about turning on.  It's only been a few days, but I'm sure the kids will want to turn on (and check) the tree the closer we get to Christmas. 
(PS: my fur tree skirt is a square so I usually just fluff the corners out to soften the shape). 
So tell me, could you see yourself with black and white Christmas tree decor?  Honestly, it would look great against a green tree too!  Plus, you could always use black and white as a base and add other colours too.  Like red for something more traditional :) 
As of now, I have no idea what colour Christmas tree theme we'll do next year!  Maybe I'll wait until the last minute, but as I said before, I really enjoyed doing random Christmas projects and crafts in the summer, ha.  Definitely less pressure than waiting until the end of the year. 
Related Posts