Copper is such a striking, warm metal!  Similar to rose gold, copper is a bold,  orange-brown metallic colour that has been used for centuries.  It is literally the best metal for conducting heat (aka why it's used in plumbing and wiring) and has graced kitchens as a pot/pan material for years.  Somewhere along the way, people have started using copper solely for aesthetics… and that's why I'm sharing this roundup of copper home accessories today!
– Note: This post contains affiliate links. See more information about affiliates here. –
This was originally part of my bold stripes and black room decor ideas post.  Way back in 2015 I dreamt up three different rooms with black and white striped walls.  For the copper theme, I was thinking of copper accents in the bathroom.  Since then, I've done a black, white and brass-themed bathroom moodboard (here's what it looks like in real life) and we've done copper accents in our kitchen.
So, rather than just share copper bathroom accessories, I figured I could do a general post about copper-coloured decor and other copper home accents!  You can certainly bring some of these items into a bathroom, bedroom, kitchen… whatever!  Most of these products are copper-plated (or just copper-coloured), so it's a cost-effective way to bring this fun metal into your home.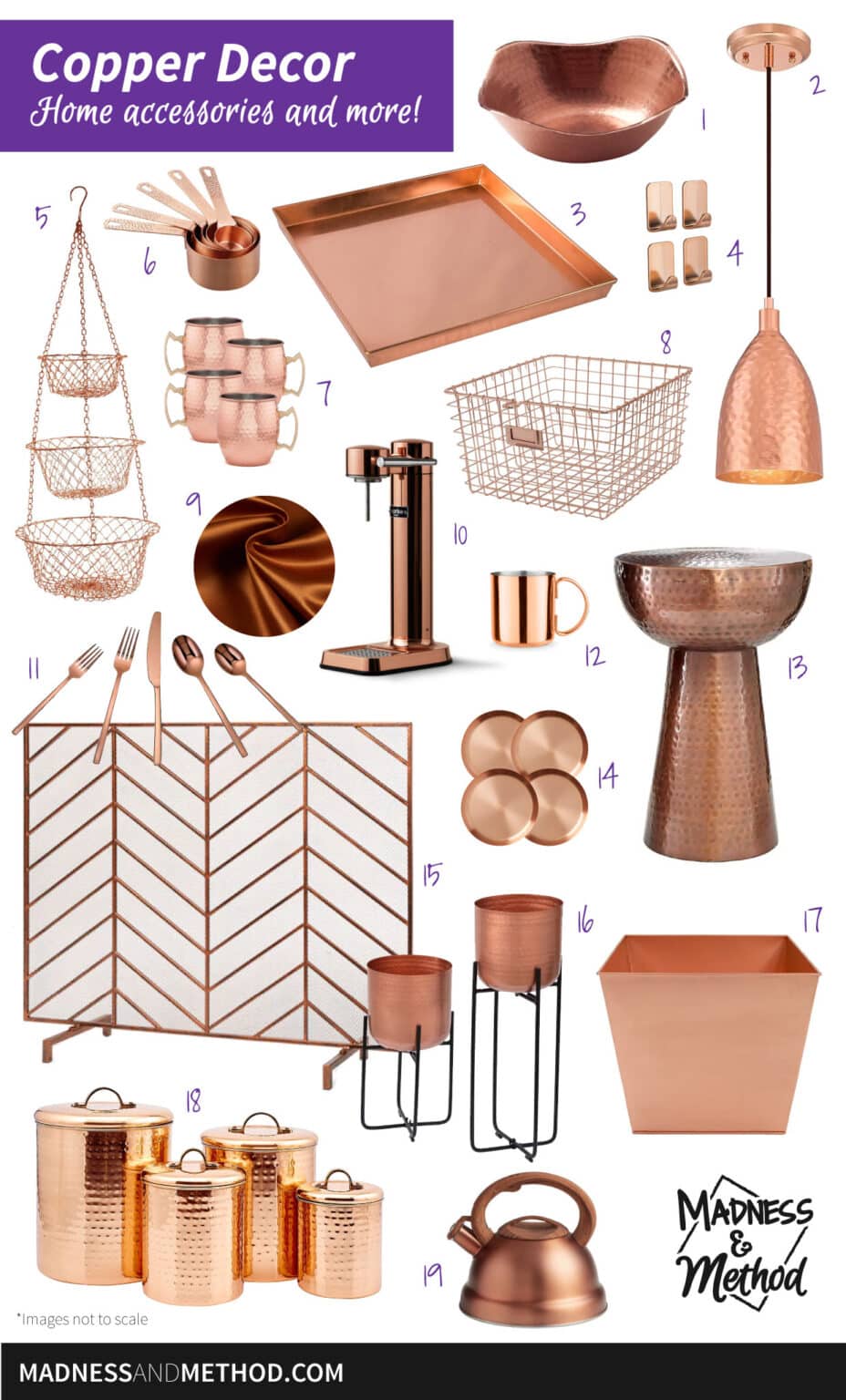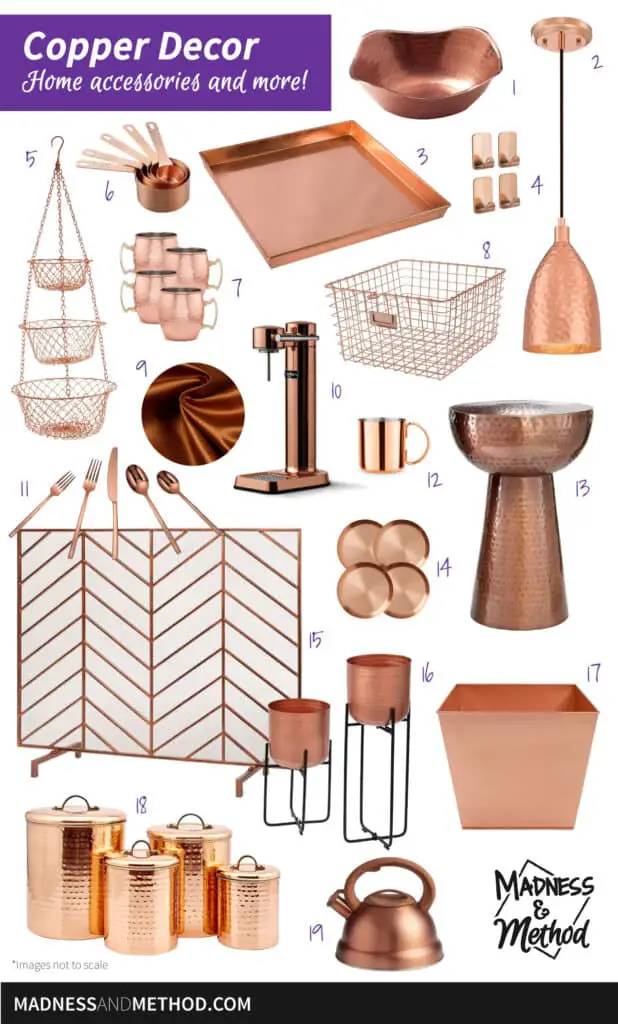 Shop These Copper Home Accessories
1. Hammered Bowl | 2. Hanging Pendant | 3. Square Tray | 4. Command Hooks | 5. Hanging Baskets | 6. Measuring Cups | 7. Hammered Moscow Mule Mugs | 8. Wire Basket | 9. Satin Fabric | 10. Carbonator | 11. Utensil Set | 12. Polished Mug | 13. Accent Table | 14. Coaster Set | 15. Fireplace Screen | 16. Planters with Stands | 17. Square Planter | 18. Canister Set | 19. Kettle
Since doing a copper-themed kitchen, I've certainly added more copper decor to my home.  I received the measuring cups for Christmas and you know I have the pendant light!  (We have more copper kitchen things linked here too).  Any one of the other items would totally fit in our space :)
How do you feel about copper decor?  Or, do you have another metal you prefer?  What about the shiny vs. the more muted finishes!?
I'm definitely "team copper" in my decor, and I'm instantly drawn to anything with the distinctive copper hue (maybe it's because my hair matches, ha).  I do prefer other metals for my faucets (most likely because of availability/cost).
Let me know your thoughts!
Similar Posts