Even though I shared our freshly updated leather chair last week, we've had our living room updated for a couple of months now (well, with the peeling chair of course).  We had our original living room configuration for a long time, but I've slowly been tweaking the space in the last little while, and I felt like it deserved another tour!
Comparing this current setup with our original living/dining combo, you'll obviously notice that all the big pieces are the same.  But I've definitely taken out a lot of small things and changed up the accessories a bit (not to mention moving the TV) so it feels a lot more minimalist and clean.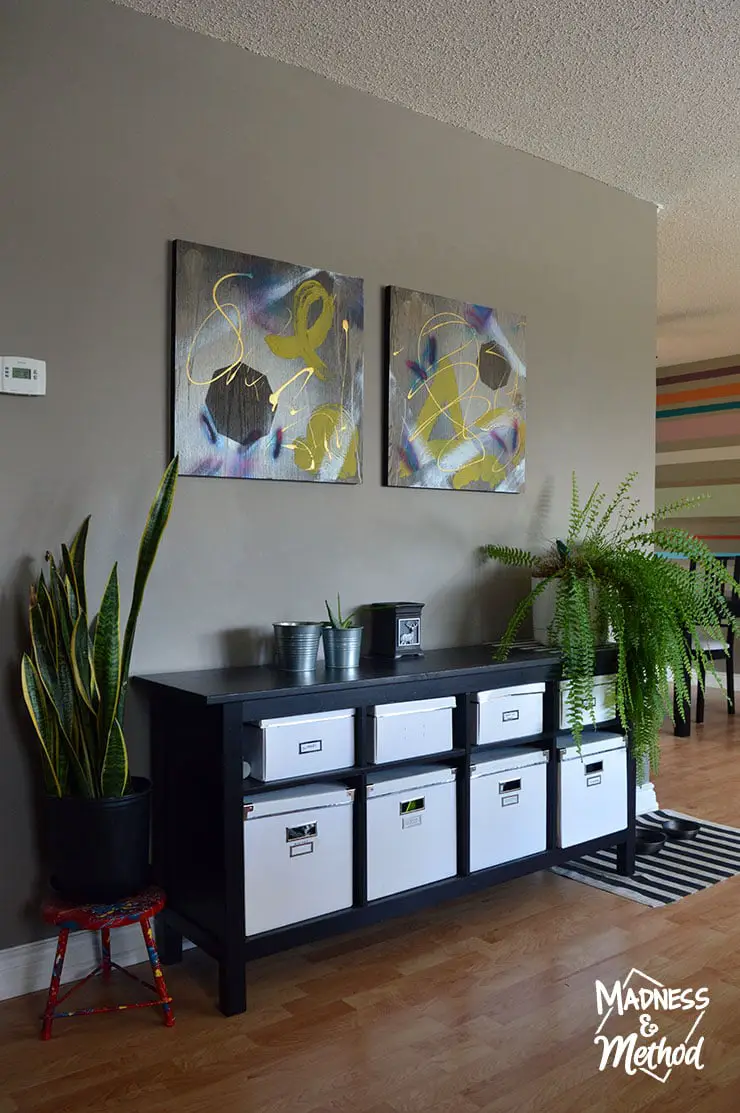 The first wall you see when you come out of the entryway is looking a bit more grown up with plants, large-scale artwork and a (cleaner) surface.  It's funny, I just read this post on console tables by Studio McGee (literally right before writing this post), and I totally agree that it's a great addition.
Oh, and can I rave about how much I love the updated storage boxes (I used to have open boxes on the top shelves, but they were driving me crazy!)?  Now everything is labelled and has a proper location, plus we even have an empty box for the future!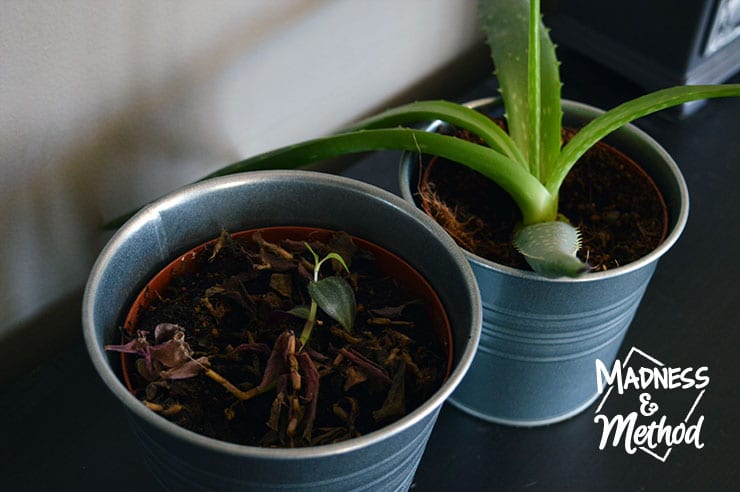 Normally I like to keep the surface as clear as possible (as opposed to when it was the display zone for the Husband's medals) – but right now I'm trying to revive some plants that were in the bathroom.  I moved the pretty-much-dead fern here, and it's miraculously come back to life.
Probably the biggest change to the space was that we added a rug!  This rug used to be in the guest bedroom before we turned it into the nursery, and it was actually supposed to go in our bedroom.  The Husband did not want to help me move it in there (it involved cleaning the stuff under the bed, lifting the bed, etc.) so I brought it in here as a last resort and it actually works great!
Speaking of rugs, I also moved Tootsie's little food rug to where her crate used to be (it's in the left corner outside the image above, where the TV used to be), and this layout gives us more room to walk into the dining room.
Anyways, the "new" big rug just happened to be the exact size to line up where all the furniture was (the outside legs of each couch reach the corners), so it's like it was meant to be.
The dining room didn't change too much (does it ever really?) except that now we have a highchair, new panel curtains and we moved the previous game shelf up here to corral some of our stuff.
I like having the two ends of the table open (without a chair there), so we move the highchair in during meals (and the chair that was on the other side no longer gets snagged on the entry rug).
I used to sit at the end of the table and feed Zachary on the corner, but now it feels like he's part of the family and we don't have to do a chair dance whenever someone else eats with us.
Other big changes to this space have to do with the added colours to our striped accent wall.  I even shared a tutorial about adding stripes, and it's changed since then!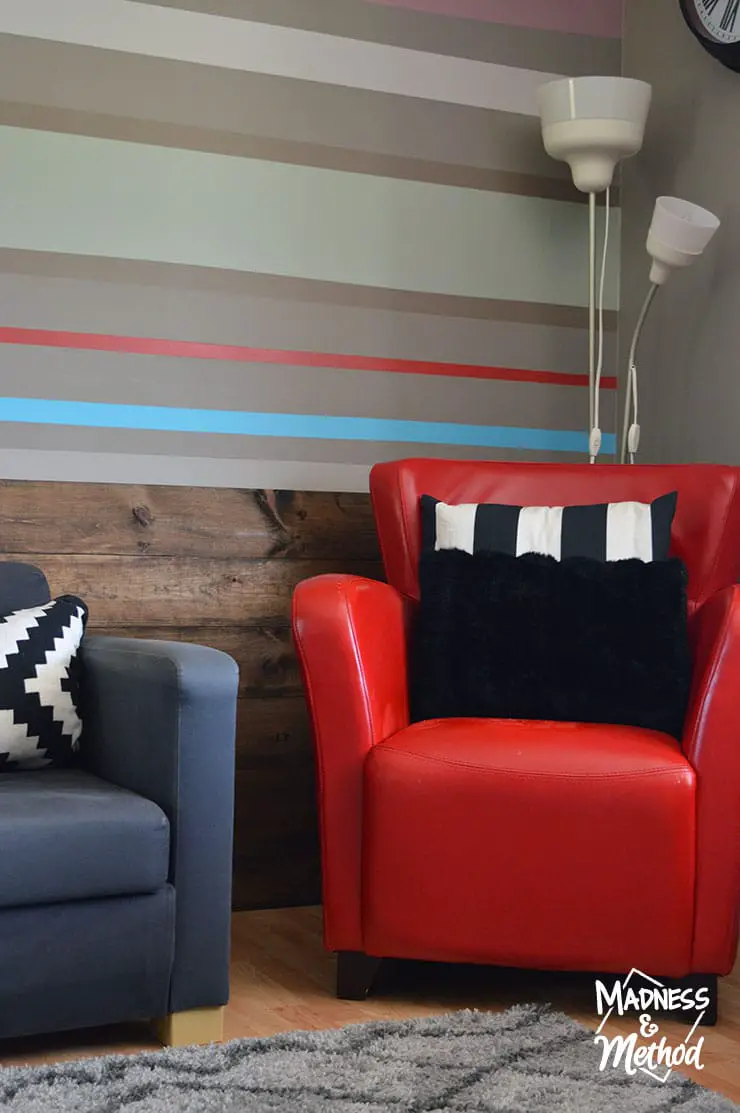 We changed up the pillow covers so they go with my black and white theme better, but they are usually moving around on the daily depending on who is sitting where.  Oh, that wooden thing behind the couch and chair?  Totally the table top that we built for our tradeshow.  We have the frame in the crawlspace, I just wasn't comfortable putting the wood down there since it would warp for sure.
Plus, I was thinking of using that table up here at one point and selling our other one; but then we bought a second house so I just might have a place for a second table!
Also changed from the original living room setup: we got rid of our side tables and are solely using my DIY striped stool as a table.  The TV has been moved to the garage, the shelf under the TV is in our bedroom and Tootsie's crate is now in that corner.
Definitely couldn't move the crate and stroller just to get nicer pictures, because this is how we live!  I do like that the crate isn't visible when you first walk in, but sometimes it does get crowded when we have both strollers out (yes, this is our new double one and sometimes I have the single in here but try to put it away quickly).
Even with removing various items, sometimes I think that we could do with a little bit less in this room.  Now that we have the second house, I've contemplated moving the smaller couch there (it opens up into a sofa bed), then moving the red chair out of the corner (and near the dining room).  I would then move Tootsie's crate to where the red chair is, and keep the first area free for our stroller…
But we'll enjoy these living room updates for now, as we are getting a bit more usage of this space now that Élise is here.  (As opposed to when it was pretty much just Tootsie's room).  Heck, even right after I had Zachary I pretty much lived in this room, so I can't commit to getting rid of all the furniture just yet!
It's so strange how much this space has stayed the same, but completely changed in just a couple of years!  I've really been focusing on making sure the rooms in our house (and the things in them) all serve a purpose and am feeling closer to achieving that goal everyday (I just purged a few things in one of the storage boxes and it feels so liberating!).
Do you have a secondary living room space that you don't use as often and could use an update?  You definitely don't have to tackle everything right away, but maybe get rid of a few things, or add something decorative and see how you feel.  For us, even the simple/free change of moving Tootsie's feeding station and crate has literally (and figuratively) opened up the room!
Don't forget to have fun :)