The wait is over – I'm finally announcing the next room we're updating!  For the next six weeks, I'll be updating and writing about our main bathroom.  There's a video linked below too if you prefer to watch/see that way.  And, in case you didn't read the title – today's post will introduce you to the space and my white and rainbow bathroom plans :)
– Note: This post contains affiliate links. See more information about affiliates here. –
Alright, before I go over the before photos of the space, I'll let you know that I'm participating in another One Room Challenge.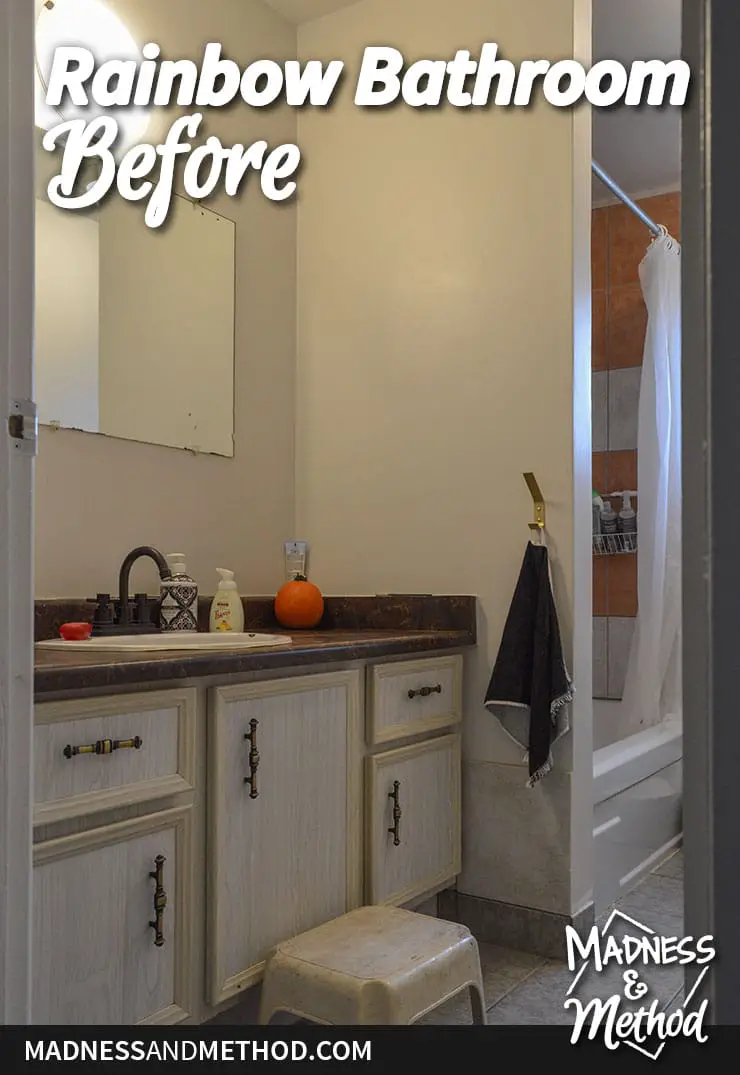 If you've never heard of this before, the One Room Challenge is a twice-yearly event where 20 featured designers (and a bunch of linking participants) makeover a space in six weeks.  Design/DIY bloggers can participate as well, and I've done it 7 times!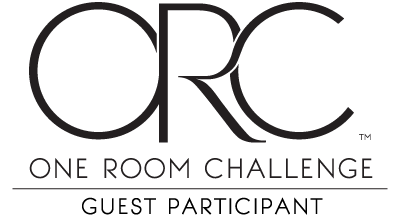 I've only not completed my room one time – so I'm confident that I can get this bathroom done.  I already have everything I need (ish), and we started a couple of tasks already.  BUT before I go into the details of what needs to get done, and when, let's review what we have so far!
Main Bathroom Before
Starting with these photos from a few months ago: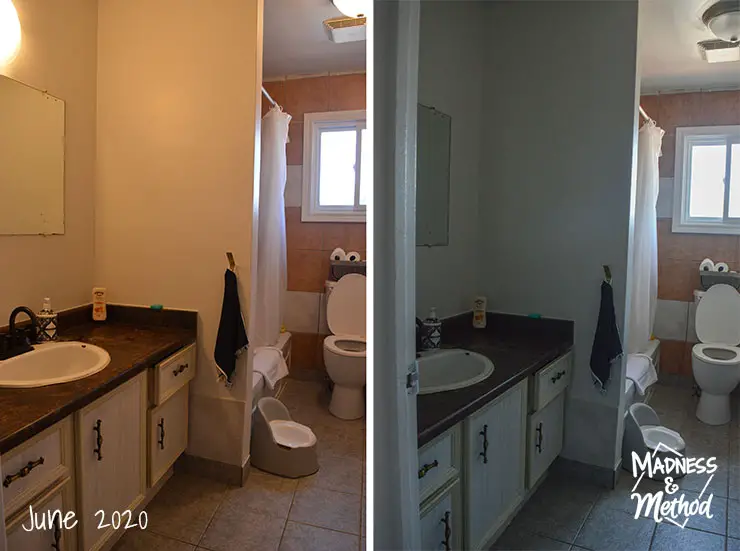 And, if you saw the first photo in the post, you'll notice that nothing changed!  (Minus the sunscreen bottle getting replaced with a pumpkin – aka seasonal "decor").  We pretty much didn't touch this bathroom at all since moving in – other than replacing the faucet and adding a hook for our hand towels.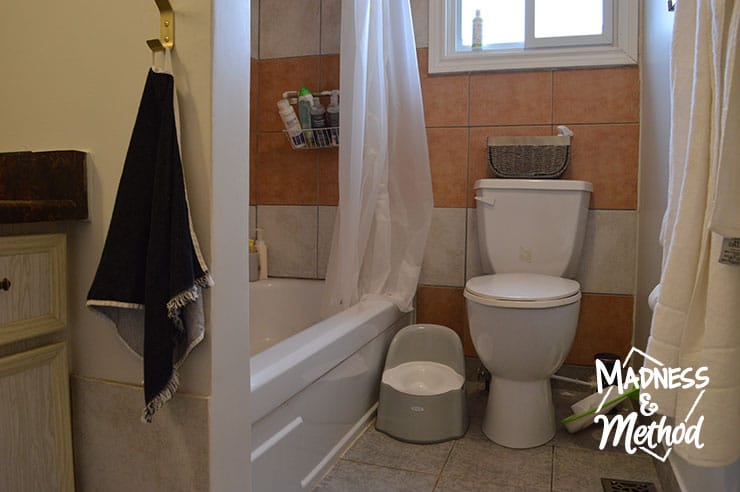 This approx 5×10′ bathroom is a typical vanity/shower wall combo, with the toilet on the opposite wall.  Not going to lie, it's not my favourite layout (I much prefer the vanity, toilet, flipped tub – like this bathroom).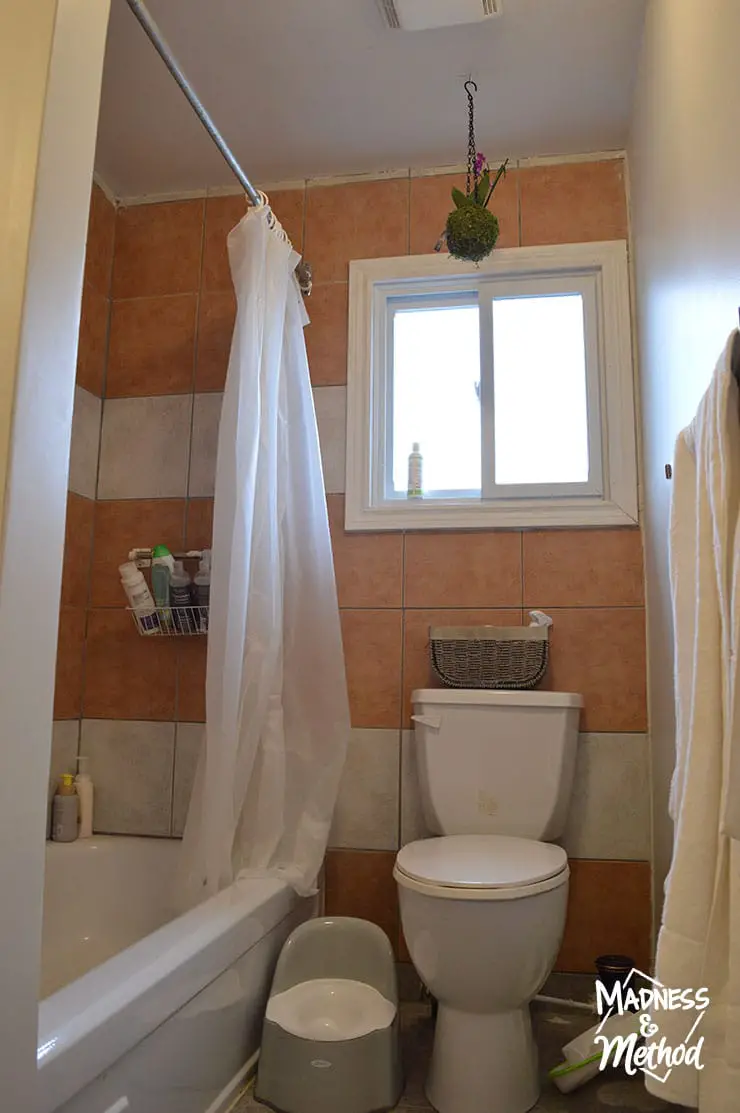 But a full gut and move around aren't in the plans this time.  And by, not-in-the-plans, I mean I don't think the Husband would even consider all that work/expense for not that great of a return (other than better function).
We're not even doing a half-gut (ie: removing all the existing fixtures and replacing with new, but keeping the same location).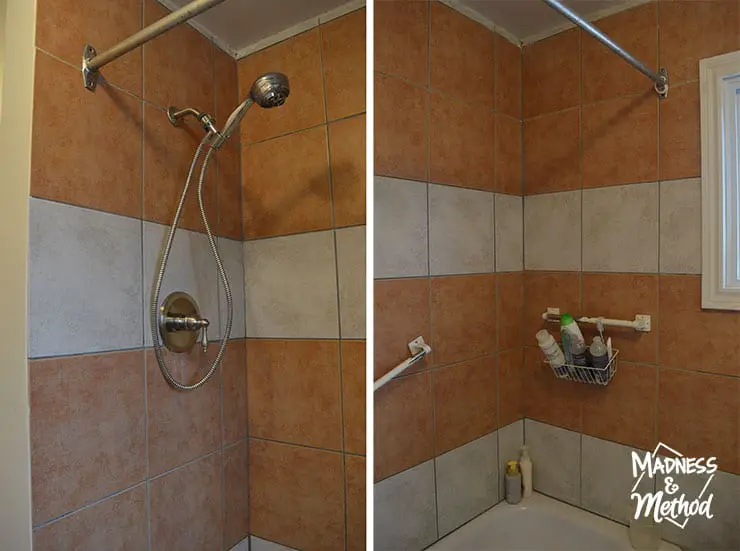 Yes, we're keeping all the wall tiles, the tub, the shower fixtures, the vanity, the counters…
BUT we are ripping out the floor tiles and replacing our toilet.  Because guess what, it hasn't really worked since we moved in and has progressively gotten worse.
Not to mention that Zachary hated how tall it was and refused to use it (notice all our additional potty stuff!).
We're also removing the towel bars on the wall (that we always bang into) but leaving the inset toilet paper holder.  This wall is going to get a fun (and easy!) trim treatment, and I'm excited to see how it turns out.
The plan is to move one of the towel bars (the non-dented one) onto the back of the door – a tip I heard from Young House Love.  It will hold our floor towel while we don't use it, and the Husband will just have to get used to using the overdoor hooks for his towel.
Main Bathroom Video Tour
Check out the video above to see how the bathroom flows together, and hear some of my pain points.  If the preview isn't working, you can always watch it on YouTube here.
Our house was missing a bunch of finished flooring when we moved in, so we had vinyl planks installed throughout the main floor.  The plan was always to rip out the tiles in here (and the kitchen) and replace with that. so that's what we'll do.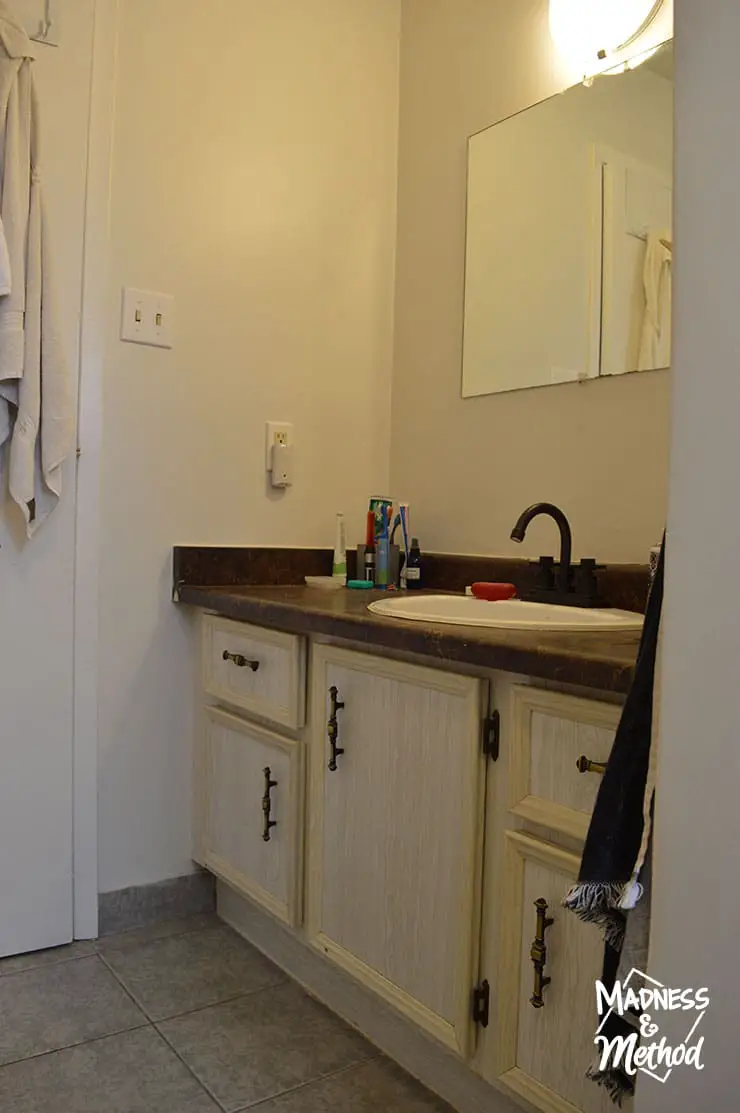 Our vanity is shorter than the standard nowadays, but it's pretty convenient for the kids.  And, since I don't want to shell out hundreds of dollars for a new one, we're keeping this.
I'll be painting EVERYTHING, including the countertops, similar to how I did it here.  The counters I painted at my brothers didn't hold up perfectly, but I'm attempting a similar method (basically more prep, more sealing).  I'll be recording a video for that, so hopefully, it works!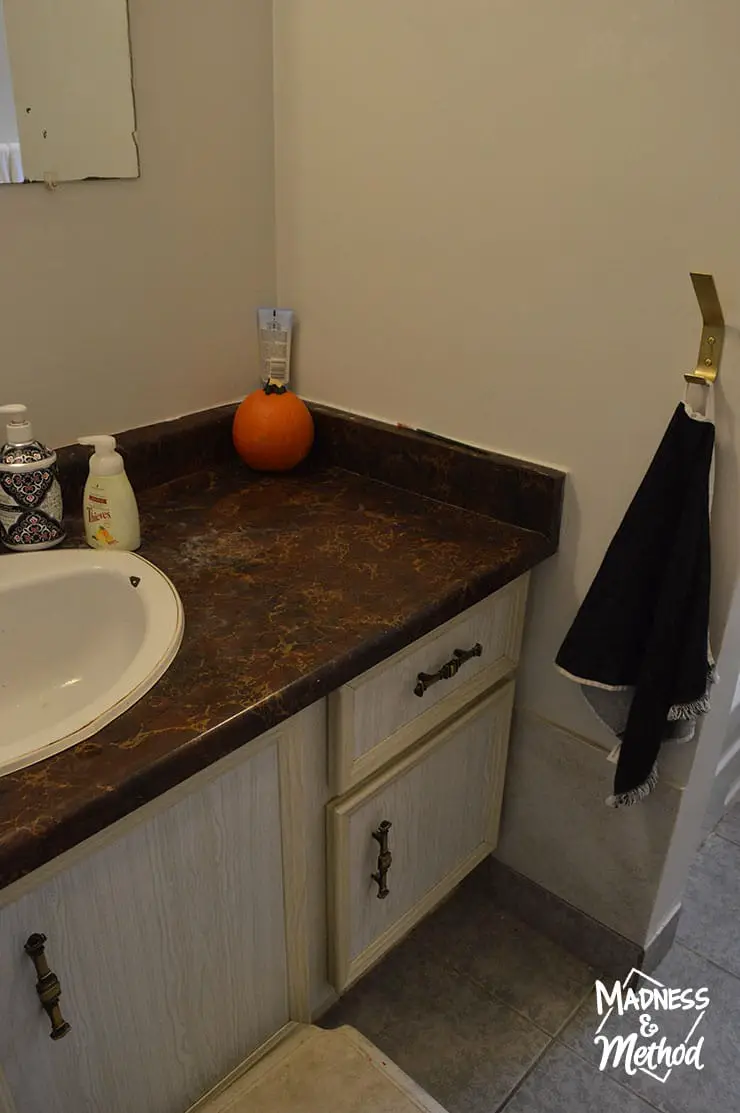 A couple of months ago, I installed a gold hook for our hand towel, and I'll be swapping it with a black one.  (And adding another one by the shower for a towel).
And finally, we'll be updating the lighting in here and swapping with a new mirror (that's the only thing I'm waiting on).
BUT!!! Take a look at the photo above and please help me decide on a direction for wall mural I want to do :)
Basically, the walls will all be painted super light, and I'm going to bring in rainbow colours with the trim and this accent wall.  But I'm not 100% convinced on the direction I want to go.
Ready to see the moodboard!?
White and Rainbow Bathroom Plans
– Reminder: Affiliate Links Used – Thanks for Shopping! – 
Okay, colour-wise I came up with a 5 colour rainbow (rainbows are traditionally 6-7 colours).  It's 7 if you count ultra-violet, but 6 otherwise.  So essentially, I wanted the full rainbow spectrum, so I tweaked the colours a little bit.
The first thing I decided for the room was adding accent trim (they'll be a graphic below that shows what I mean).  It was 100% influenced by this plain box moulding.  But I could only get 5 nice boxes in my space after playing around with the scale of my room.
I'll be painting all the tiles white, painting the vanity a super dark colour, painting the countertops like this, and installing our dark vinyl floors (shown here).  I'm going to mix the wall colour with a bunch of leftover paint we have, but I'm thinking white with maybe a slight grey tint.
Accessories coming in will be new handles for the vanity, these black hooks for our towels (here are similar ones), a new curved shower rod, new toilet and toilet brush, gold flush mount and gold vanity lights.  I also ordered a mirror, so fingers crossed it works (here's a similar one).
We'll be keeping our shower fixtures and bars, one towel rod, and our new-ish faucet.
Rainbow Accent Wall Ideas
Okay, this is where I'm not 100% set with a plan.  I know I'll be painting a rainbow accent wall at the vanity behind the mirror.  This isn't my first rodeo with painted accent walls (see the diamond wall here and my striped wall here), but I do want to do something a little bit different.
Here is a little mockup of the space and some initial ideas:
(Oh, and the box moulding mocked up too).
I was really drawn to this geometric wall mural, but I liked the ombré fade and I can't really achieve that with the colours I chose.
The top right is a similar idea, but more in line to how my wall would look.  I would just need to tape off random section and paint.
Or, do I go completely handpainted and do something like these lines, but in my colours?
Embrace the theme and paint a rainbow?
Do a sunburst handpainted/taped combo?
Or something more fun and whimsical like these graffiti faces?
I made a little Google Form that you can fill out:
Essentially, I'll be doing the mural last so I can pretty much accept feedback for the next little while.  I'll also share the results of the survey later too, so you can see where you fared compared to others :)
OKAY, so now let me chat about our to-do list, and let you know what we finished already.
Rainbow Bathroom To-Do List
Remove baseboards, old towel bars
Demo tiles and subfloor layers
Install new vinyl plank floors
Install new toilet
Remove and paint the shower bars (then reinstall later)
Prep and paint the shower tiles
Install new shower rod and curtain
Install new lights (ceiling and vanity)
Swap light switches/outlet
Prep and paint vanity (install new hardware)
Patch, sand, prime and paint the walls
Cut, paint and install accent trim and baseboards
Prep, prime, paint and seal bathroom counters
Paint wall mural
Install new mirror and wall hooks
We have the first 4 tasks completed.  Thankfully my parents were here last weekend to watch the kids while we demoed the floors.  It's a messy/muscly process and I'm glad that's over.  The Husband also installed the ceiling light when he was bored one day, and he's been giving me grief ever since.
"Isn't this supposed to be your One Room Challenge?  I have almost all my tasks done".
I've also started patching the walls, but it's going to be a slow and steady race for that.  The plan is to paint the tiles this weekend while the kids are off to the (other) grandparents.  Apparently, it's real stinky/toxic, so I'm going to take advantage of our upcoming Canadian Thanksgiving to get that done.
And possibly spray paint the counters while I'm at it?  But that would mean I'd need to prime/prep them before… will let you know!
OH, and there is SUCH a story involved with the toilet.  But since I've already chatted a lot this week, I'll let you go with that little tidbit and you'll just have to come back next week to hear it :)
I also have some videos/photos I took during the floor demo.  I'll upload them to my Instagram highlight tomorrow, so follow me there to see.  And, make sure to check out the other linking participants and the design bloggers.  This round is a bit different, in that they are featuring the first-ever fully digital designs.  So that will be interesting to see!