Well, it's official – this is the last time I'll be posting here in 2020 :)  I'm going on my annual holiday break!  And I'll be back in the New Year with a list of all the greatest stuff.  But, before I go, I wanted to say Happy Holidays and share a little bit of a recap of our 2020.  Oh, and there's a super quick reader survey too!
Here's a link to the reader survey – but I'll also have it embedded below.  Feel free to reach out if you have any questions, or wanted to chat about something I didn't cover.
I know 2020 was a messy year for a LOT of people, so I won't go into too many details about COVID.  I'm sure you've probably read way too much about that anyway!
Plus, I figured that you're here reading my blog, so you might want a little bit of extra info about me :) 
2020 Recap by Month
In January, I shared a few simple projects to get back into the swing of things (and catch up on some holiday projects).
In February, we had put an offer on a new house (that I hadn't shared about yet), and I was really into talking about laundry.
By March, we had started finally wrapping up all the small projects at our basement apartment (aka the bottom half of our Rental Renovation).
COVID hit our area in mid-March, but we had just taken possession of our new house, so we had to keep moving forward.  At this point, we still owned 3 houses, but we were planning on selling our main one – and getting it ready.
The One Room Challenge was pushed back, so we began our first project: the master bedroom at the start of May.
By the end of June, we had a completely updated master bedroom, and the rest of our new house was taking shape too. We had sold our first/main home in mid-June, and officially out of the "big city".
In July, I shared the last look at our first house, and we started work on our garage.
By the end of August, we still weren't done the garage, and the rest of the yard wasn't looking super perfect either.
I shared the up-to-date progress in September, along with our 6-month home tour, "new" staircase, and Halloween photos.
If there was a lull of motivation by the end of the summer, I was back working on updating the main bathroom in October.
It turned out pretty nice (if I do say so myself)!
Finally, I rounded out the rest of the year with some holiday wrapping paper ideas, a recap of Félix's first year, and a look at our first Christmas setup in this house.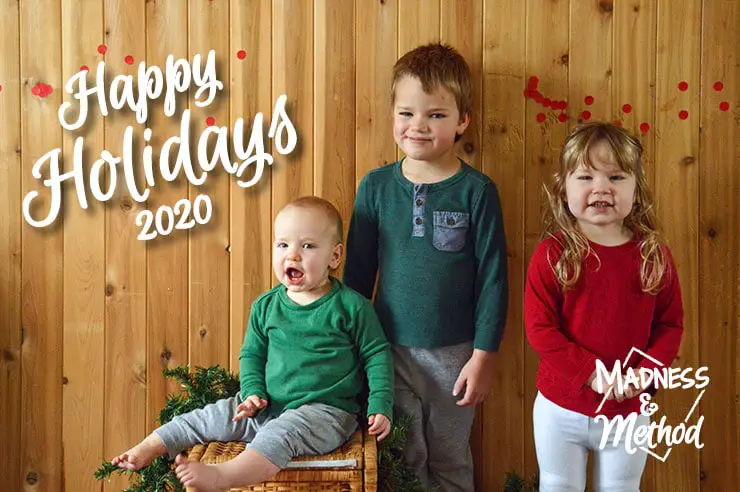 Plans for 2021
I don't think I've done this before – but I think I'm going to share a bit of what I/we want to accomplish this upcoming year.  (Pending any crazy world events – right?!).
In no particular order…
REDO THE KITCHEN!  This is a big one, and we're actively planning to get this going soon-ish.
I also want to add some fun trim to the basement downstairs.  (Spending extra time down there with the tree had my wheels spinning!).
We'll also probably upgrade Élise to a big bed sometime this year.  She's still not potty trained, so that has to happen too…  I just thought of a whole house colour scheme and I know how everything will work together :)
This past summer, we spent a lot of time/money getting our garage in.  (Yes, I still have to share the reveal/after photos).  Now the rest of our yard needs to be addressed (like dirt, grass, finishing the gardens).
BUT I also want to maybe do a big makeover to our backyard?  I have some ideas.  Remember when I said we'd put in a pergola this year.  Well, spoiler, we ran out of time.  But I think this zone will be the focus of the upcoming summer.
And I mean, we still have the basement bathroom to tackle too.  I have that room mostly designed in my head, and the Husband did suggest doing that this winter.  But then I convinced him I'd rather do the kitchen ASAP.  So, who knows!
Actually, the kitchen will probably spur a lot of off-shoot smaller projects as well.  Possibly the upstairs hallway, definitely finishing the dining room, and more than likely helping to clean up some of the clutter downstairs.
Are you looking forward to any of these projects?  Planning anything at your house too?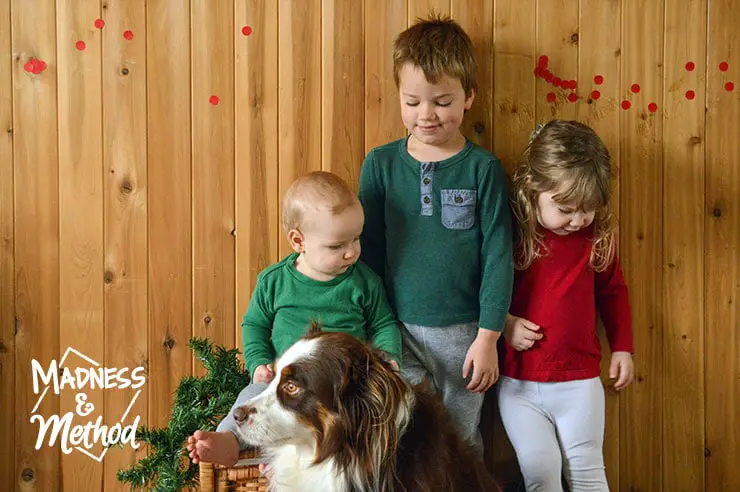 Reader Survey
Oh, and I'm also going to do a separate video series about our kitchen renovation on my YouTube channel.  But, maybe you don't follow me there?  I'd love to know – so fill out the reader survey embedded below:
If for some reason the survey isn't showing up above, you can access it directly here. There are less than 5 questions, so I hope you take the time :)
And, in case I haven't told you already… thank you!  Thanks for taking the time to read my blog posts. Thanks for liking/following on social media.  And thanks for telling all your friends about the Madness and Method blog :)
I love spending my time creating content and sharing my projects with you.  I'd love to continue doing this for as long as I can, so please tell me where I can improve (or you know, how great I am, ha!).
(Oh, and I hope you enjoyed these images of the kids from our Christmas card photoshoot). I chose a different one, so if you know me in real life, none of these are spoilers :)
Happy Holidays!