I'm back in Canada after spending some time in Atlanta for the Haven Conference!  It's a DIY home and blogging conference, and I went two years ago as well; (but last year we had a baby…so I stayed home!).  This time was a vastly different experience than before, so let me do a super quick Haven Conference Recap, and then I'll get to some other fun blog stuff too!
To all my regular blog readers (Mom…) don't forget to fill out the survey at the bottom.  To all my new Haven homies, welcome, and feel free to follow on Facebook, Pinterest or Instagram.
Haven Conference Recap
I live way up in Northern Ontario, so I drove about 7-8 hours down to my parents' house last week and dropped off the mister and Tootsie.  Then it was a quick-ish drive across the border to the Detroit airport, and a two hour flight to Atlanta.
The first year I visited Haven, I literally did not know one single person.  I brought the Husband (he just did some sight-seeing around Atlanta) and slowly started meeting other bloggers.  Thankfully, they thought I was super cool (or maybe felt bad for me?) and I got invited into a blogging Facebook group.  This year, a bunch of us were attending Haven – so I knew I would know a lot of people, and I even had two roommates!
I had been reading Amanda's blog Old House to New Home for a while now, and I literally had to make a new Pinterest food board just so I could pin all the yummy recipes she shares.  Kati from Houseful of Handmade is such a good builder & designer AND she was one of the winner's from the Home Depot pitch competition.  (Aka, my roommates were way cooler than me).
Because I knew bloggers that were going this year, I had people to talk to and eat dinner with each day (thank goodness!).  I also met a bunch more people, and I can't wait to go through all the business cards and start following my new friends (we're friends now, btw!).
I mostly attended classes about working on my blog (yes I know, my social medias may need to be revamped too) but I'll be focusing on this site for the next little while.  This time, we even had a few scheduled sessions with our "mentors" and mine was Anita from Cedar Hill Farmhouse (who is super sweet!).
Once again, I learned SO much from the different presentations and from all the people I met too.  I'm super excited to start working on and implementing a bunch of changes around here, and I have a big list of to-dos already.
Before I go too crazy, I figured it might be a good idea to get some reader feedback to see what kind of things you guys like to read and learn about too!  It wouldn't make sense to update my website and risk focusing on the things that people don't actually care about haha :)
If you're visiting Madness and Method for the first time (perhaps reading this post from the Haven Linkup Page) feel free to go back and check out the other blogs.  You can totally visit again, or leave a comment, just don't feel obligated to fill out the survey if you don't want to.
(For the regular readers:) If you could please take the time to fill out the next 5 questions, I would be forever grateful!
Blog Feedback Survey CLOSED
In the meantime, you may see a couple of teeny tiny things changing, but it will hopefully be small updates until I get all your blog feedback.  Then, I'll try to organize things better (and make it easier to find online!).
That's the goal at least :)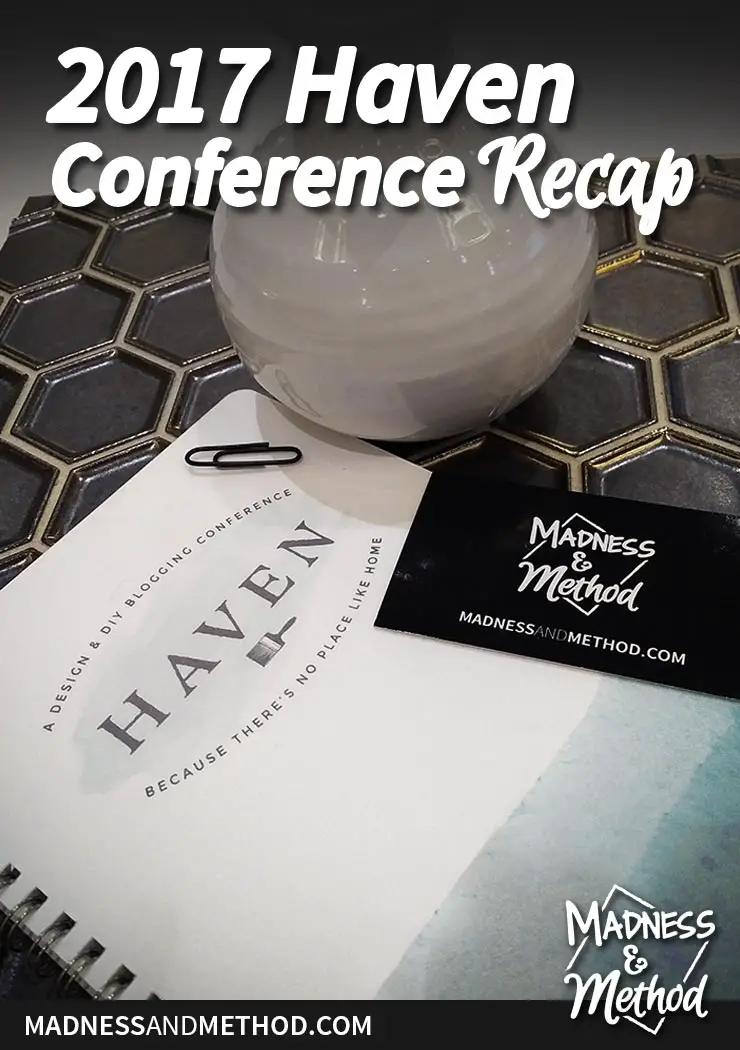 Thanks for visiting the Madness and Method blog and reading about my sophomore experience at Haven.  If you have your own Haven Conference recap, I'm excited to read all about it, and I hope your experience was as good as mine!
I look forward to expanding this blog and making it the best it can be!