Happy Canada Day to all my northern friends!  (And, for those stopping in from the States, happy upcoming Fourth of July!).  I don't know about you guys, but where I live, we've probably had the rainiest June ever… and it looks like it's going to rain today too… I'm hoping the month of July will be dryer… because I'd actually like to enjoy our short summer :)
– Note: This post contains affiliate links. See more information about affiliates here. –
June Recap
We had a lot of celebrations in June, from the Mister's first birthday (with sugar-free cakes) to our wedding anniversary (and Father's Day).  I did manage to get some tree surrounds enlarged, and we planted some new plants in the front yard.  Unfortunately… my Mom thought they my Dusty Millers were dead when she was visiting, and tore them all out!  I made her put them back, but only a couple have taken…
I've been dreaming about an awesome back deck, but still haven't finished the staining!  I'm still thinking the table should be moved to the lower level (even though it looks good when it's setup for a party)… but again… rain!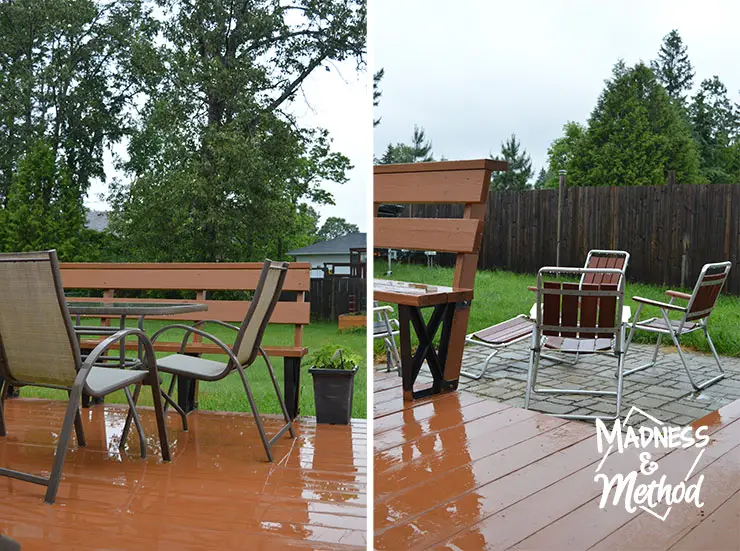 Actually, I did manage to take out our other (antique) patio chairs from the shed – and I want to refinish them soon.  In the meantime, they look good down there, so maybe I'll keep this layout? We'll see!
Book(s) Read:
I finally finished Emotional Intelligence by Daniel Goleman, and I also read Freakonomics by Steven D. Levitt and Stephen J. Dubner (which was pretty interesting!).   I just started Getting More by Stuart Diamond, and there are plenty of helpful tips so far.
Minimalist Goals
Items Added
Items Removed
Rug
Table linen (as seen here)
Chromecast
Pillows
Bathing Suits
Sheets
Toys
T-Shirts
Magazines
Side Table
Misc. Baby Stuff
Satellite TV boxes
I can now say we are officially a "traditional cable" sort-of free household.  I signed up for a cheaper/limited TV plan, but you can only access it online – so I got a Chromecast to watch it on our big TV.  We have the Netflix hooked up through the Xbox (but you can use the Chromecast too) and we should be saving around 50$ a month!
Plans for the Month of July
I think our front porch construction will be getting started soon, so I have to take out all the plants in front (I know, I just put some there…).  And hopefully I can get that area setup nicely once it's done.  On the bright side, the area is pretty much covered from rain, so at least I can do that no matter what happens this summer :)
On the downside, it literally just started raining so our Canada Day will probably be spent indoors…
Sort of bright side? I haven't had to re-water the garden yet this summer… but I'm going to hope that the plants don't drown and that the month of July is nicer! We really have to cut our grass too (as evidenced by the photos above) but the only time we've been home seems to be on the days when it rains…
Ha!  At least we have a new TV setup to watch :)