Hello All – since it is now the beginning of June, and avid readers may know that we are expecting a baby on June 10th, let me say that we are officially on baby watch!  SO that means that things may be a little different around here, but I'll try my best to keep everything on schedule (read the "baby updates" paragraph below for more details).  Once we've got all that settled, let's look back at what happened in May and then dive right in to the plans for June!
– Note: This post contains affiliate links. See more information about affiliates here –
Alrighty, like I mentioned – please read the following section for baby news.  I figured it was easiest to put it first since I know many family members and friends are most likely going to be reading this post just for these updates!
Baby Updates
Baby is not here yet, and I will be doing an official "meet the baby" blog post when that time comes.  (And by that, I mean when I can get myself together to take photos and explain things – aka not the second the baby comes out!).  NOW, listen carefully (mothers, this especially means you!) I will be pre-scheduling a bunch of my social media posts AND blog posts for the next few weeks.
Which could mean that you see a post come out while I am in labour.  No I am not a super human blogging machine that can write things and give birth at the same time (although, maybe I can… I haven't actually done the whole birth thing but I assume that it's not a pleasant experience).  Anyways, I'll try and keep everything organized, but that may mean that I skip a day of posting or may not respond to comments or social media posts right away.  (I also sleep a lot, so there's that too haha!).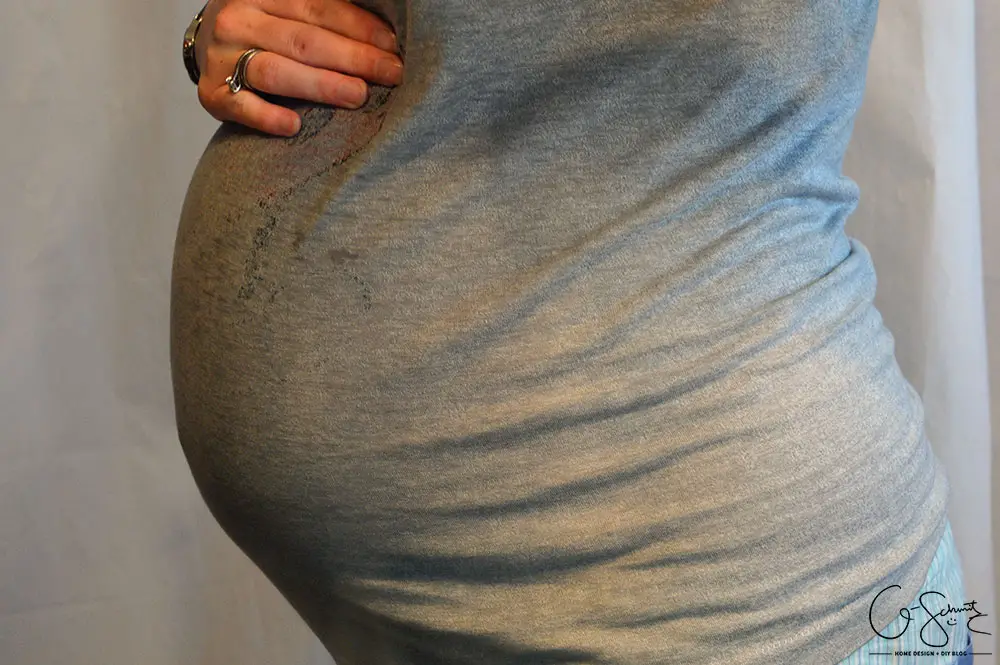 Here's a current photo of my belly, and for some reason the Husband thinks I am much larger in real life than in this photo ("oh hey, it's you when you were less pregnant" – I was like, umm dear I literally just took this picture… see the same clothes I am wearing?).  Anyways, baby is still in there!
What Happened in May?
Well May was a busy month!  Not only because we finished our basement bathroom addition for the One Room Challenge, but because I have been working behind-the-scenes to finish up all the other rooms around here in anticipation for baby.
On Instagram I shared a sneak peek image of our finished crib… and if I had left the crib the way the Husband set it up, baby would have been in trouble!
Me: Do you want me to read the instructions for how to install the mesh crib liner?
Husband: No I can figure it out
Me: Umm…
Husband: Whatever, this thing is ridiculous
Yes, I fixed it :)
On the blog in May I shared some One Room Challenge reveals to watch, our custom Ikea vanity hack, custom bathroom accessories and a post on how to level concrete floors. Non-ORC related I made some mini-muffins, cleaned gross carpet stains, shared my paint tricks and wrote a cute post comparing pregnancy to DIY (which I'm thinking people really liked reading?).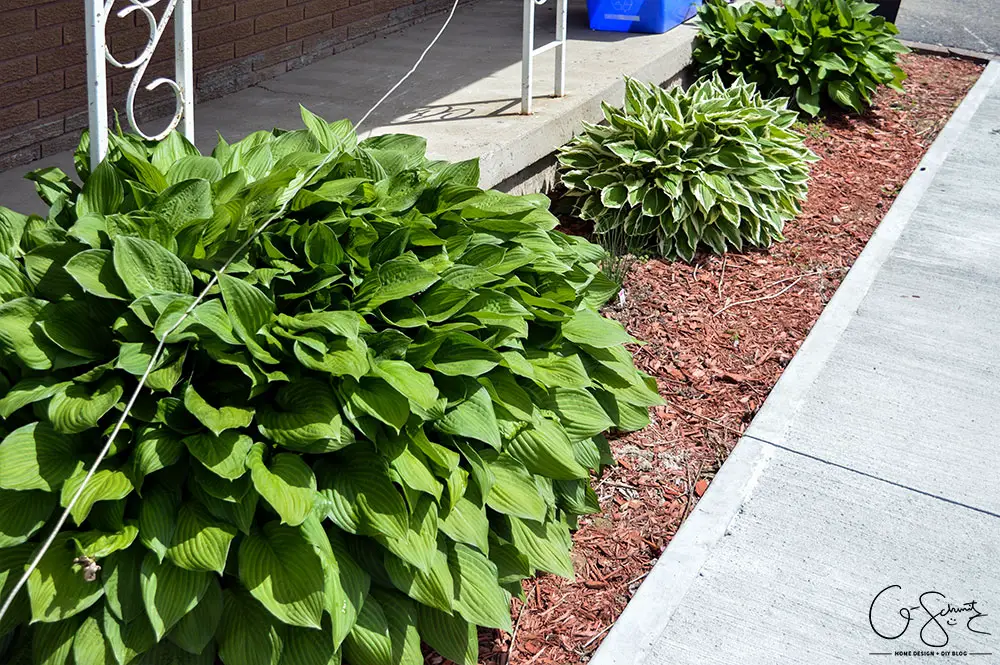 I also tackled some of our outdoor tasks… but mostly all the easy stuff.  My parents did come for a bit to help with some outdoor projects, and I can say that our garden is 90% planted and ready for some fruit and veggie production.  I still have room for a couple more plants, but we'll see if I get to adding anything else.
I'm hoping this grass-like plant doesn't spread too crazy… but I'm working on a solution for that, and if it's successful I will share :)
Book(s) Read in May
Well I finally took out and finished What to Expect When You're Expecting, although there was a chapter or two they said to skip.  I also finished reading Extraordinary Uses for Everyday Things by Reader's Digest and that was a big book!
I'm not going to be picking up any new books at the library just yet… I don't want to take one out and forget to read it and/or return it with the baby craziness that is about to happen here.
Minimalist Goals
Items Added:
Tupperware containers
Steamer Vacuum
Lampshade
Items Removed:
Sheets/Fabric
Brown Couch
Games
I mention that I added Tupperware containers, but it was more like I was replacing some that had gone missing – and a friend has a bunch of the same kind that she doesn't need, so I got a few :)  The under bed bins were for added storage in the nursery (which I will be sharing with you this week!) and I got some command hanging strips to FINALLY setup our wedding pictures in the bedroom.
Oh and the brown couch that was in the Pink Room?  We were originally going to move it to the master bedroom… but the Husband needed a couch at work and we weren't really going to use it in the master (not to mention we would have to bring it in the room through the window).
I found this square lampshade on a local buy and sell Facebook group, and I just had to have it!  I was thinking of replacing the lampshade for our guest bedroom (was the Blue Room, now the Pink Room) but once I put it on the lamp, I'm thinking it might be a bit large.  The original one is on the left, and the new one is on the right.  What do you think?  Is it too large for the lamp, or would it be fine as long as there is nothing else on the nightstand?  (I'll be sharing updated pictures of the guest room soon – so stay tuned for that!).
Plans for June 2016
So, just a reminder in case you skimmed that all important "baby updates" paragraph at the top… I will be trying to plan and pre-schedule all my blog posts for this month.  I will be sharing the nursery reveal this Tuesday, then the guest bedroom, our master bedroom (which got painted too!) and a fun hallway project I've been working on.
The baby announcement will come (although I can't really schedule that) and I have a super fun roundup post with some great DIY wall inspiration ideas.  Because it's actually starting to warm up around here, I will be saving all my July + August posts for summer and outdoor projects (which should give me some time in June to actually do those projects).
Here are some outdoor pictures to convince you of the nice weather we finally have:
(I love that all the plants my Mom planted come back each year… makes it look like I can actually grow things!).  But the left side of our front area is looking a little sparse compared to the right.  (I just realized the pictures are reversed here… but you get the point?).
The backyard garden areas looks good too, and I made the Husband (and helpers) spread some dirt and lawn seed in the low areas of our yard.  We are really good at keeping dandelions alive.  The grass is like a yellow (and then sometimes white and fluffy) carpet around here!
Remember our Costco plant that the Husband made me split and I left out all winter?  Well it's actually still alive… although the one basket barely has new growth…
We fixed the main gate again (third time should be the charm!) but I won't bore you with details… basically we added WAY more hinges to support the weight and replaced the latch.  Then did it again because the doors weren't level and I was having a freak-out and made the Husband take everything down.  Normally I would just fix something myself, (like the crib liner) but being extremely pregnant has its disadvantages (mainly that I can't lift things like I used to and being in the sun and heat was making me extra tired).
So that's pretty much it for the monthly updates this time around.  And other than the huge life-changing event of the soon-to-be-here-baby, things are progressing as normal in these parts.  Just a reminder (third time I'm telling you!) I will post about the baby when baby is here… and I will still be posting as regularly as possible… so don't assume that means I am not in labour :)
(Okay, I am not in labour yet… but that's the last time I will say it because I don't want to accidently miss a day and get 10 phone calls/messages!).
Shop Items