Can you believe that September is already over? I mean, I feel like I say that every month…. like I keep forgetting that time keeps going by and I'm always surprised that another month has passed. But now we're getting into October, and I think it's my favourite month of all :) Let's do a quick recap of September and get into my plans for October 2016!
– Note: This post contains affiliate links. See more information about affiliates here –
September Recap
After filling in the driveway cracks and (starting) to seal the asphalt driveway, we actually just finished the last section at the end last week. Which is good, because we've been getting some cooler temperatures and we were running out of time! (We've had a few frosts here already). Speaking of running out of time, I went back through the list of outdoor projects we wanted to do, and there are some big projects that are getting pushed to next year instead.
I travelled a lot this month, first taking a family trip down south to visit my parents, then to Toronto for a weekend to attend BlogPodium. (I'm actually gone this weekend too and have left the Husband alone with the baby and Tootsie, so Momma is hoping everyone is okay!).
I shared my new favourite project with you this week, and made a list of some great outdoor Halloween décor ideas. Oh man, am I excited for October! But before I share my plans, let's do the obligatory list of items I bring into and remove from my house.
Books Read: A New Earth by Eckhart Tolle (I'm almost done!)
Minimalist Goals
Items Removed
Frames and pictures
Craft Supplies
Dining Chair
Xbox Console + Games
5+ Ikea Returns
Sweater
Blazer
Belt
5 Tank tops
2 PJ Bottoms
2 PJ nightgowns
A bunch of DVDs + blank tapes
An extra/random winter jacket
Items Added
Board Game
Office Supplies
2 Indoor Plants
Craft Supplies
Ikea Stuff
Blog Podium Swag
1 Pair of Pants
I did get a lot of things from Ikea and BlogPodium, but not many of them take up a lot of room – so at least there's that. I also returned some things we hadn't used, and am still working on getting rid of items in my closet.
Plans for October 2016
HALLOWEEN. HALLOWEEN. HALLOWEEN!
That pretty much sums up what will be going on around here for the next month. I mean, everything will be Halloween-related (remember, it's my favourite holiday) so if for some reason you don't like Halloween (GASP!) than things might not be your cup of tea for the next while.
(You can check out the next round of the One Room Challenge starting soon). I didn't participate this time because 1) I don't have a room picked/ready yet, and 2) HALLOWEEEENNNNNNN! Seriously. I'm pretty sure I'll be doing the Spring one again and will be using a room in my brother's house for my project (but shhh, he doesn't know it yet).
Our garden is pretty much done this year, and I'll tell you one thing – I don't think we'll plant carrots next year. I never knew when they were ready so just left them there forever. We had one ginormo carrot mutant thing, so clearly a fail.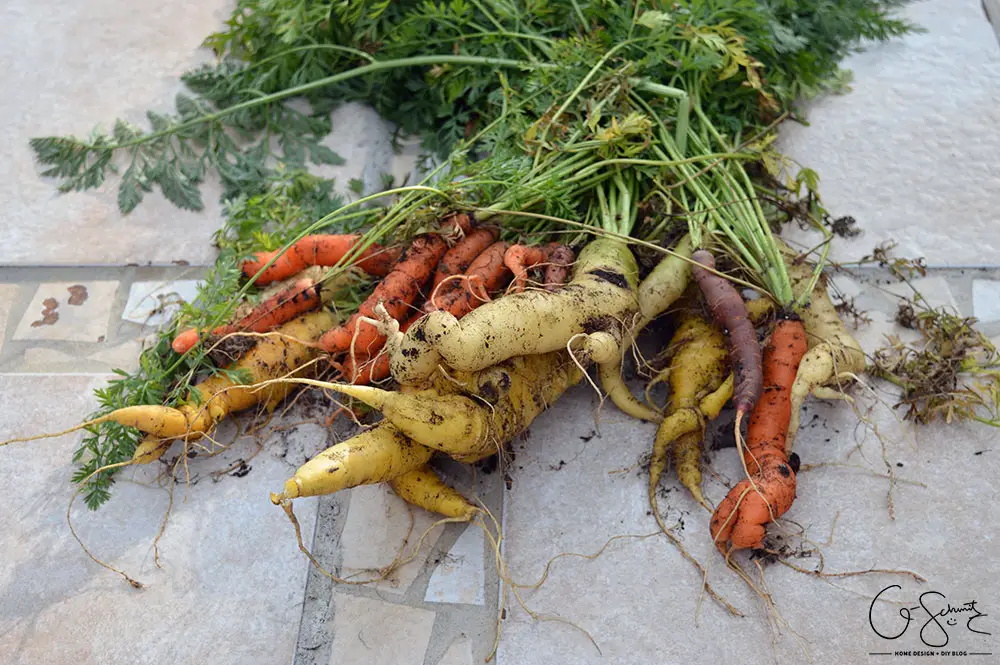 Ohh and remember the plants I mentioned picking up when I was back home? The one we put above the sink that the Husband actually likes? Well it's been dropping leaves (and little pod things) like crazy, so it's been a hassle when I have my clean dishes drying below. Anyways, there have been hordes of caterpillars that are living in it (I've removed at least 7 so far) and I don't know if the leaves are falling because of the caterpillars, because I don't water it enough, or just for normal plant reasons. I did ask someone at a flower shop and they said to mist it everyday, which I've been doing… but let's just say we're on plant watch real closely around here (if it survives, I'm going to add another one to our house).
All in all, I think that's all I have to say about the past month and just saying "Halloween" pretty much sums up my plans for October haha!
Ohh, and I'll try to get the new site up and running as quickly as possible. From here on out (since I changed the database over) – the longer I wait, the more things I have to bring over manually. I'm excited to be starting with the new name soon :)ww.