I have a lot of outdoor pictures for you today, because as they say: April showers bring May flowers.  In our case, it's more like "April's melted snow leaves room to grow".  WHOA I just thought of that just now, and it rhymes, so let's make that a thing okay!?  Yes, the snow in our yard has melted, and it just happened to be a bit earlier than last year.  Does that mean we'll have a longer summer…. and how about the month of May?
– Note: This post contains affiliate links. See more information about affiliates here. –
Before we venture into the outdoors, I do have some indoor plant photos to share.
For Easter this year I told my Mom I wanted some plants, but more specifically, I wanted my plants to stay alive.  Well she trimmed and fertilized the old fern, but got me a new one just in case.  It also has a handy water meter.  (But for the life of me I can't get it out of the red zone!).
Three little succulents are placed near the kitchen window. They were more centered but I kept knocking them down when I would wash dishes.
And I also have a few violets near my computer desk. Hopefully I remember to water these, but they're right in front of my face – so it shouldn't be too hard!
April Recap
I travelled a lot in April, but it was mostly to my brother's house for his renovations. If you need to catch up, we're almost done (see Week 1, Week 2, Week 3, Week 4 and Week 5).  We also finished the kitchen, so stay tuned for some posts in the future!
In other blog news, I talked about our Ireland vacation and our Easter brunch plans and drinks.  More DIY/décor related, I finally finished the stripes in the living room and did some mockups of gold moldings.
We had one gorgeous (super warm) day and I took a lot of photos!  (See individual captions for more info)
Book(s) Read
In the goals column, I read Essentialism: The Disciplined Pursuit of Less by Greg McKeown.  For fun, I read The Cakes of Wrath by Jacklyn Brady – it's part of a serious that I sort-of started WAY back when I first moved here; and I definitely got through this one pretty quickly.  I feel like I go through fiction books much quicker, so I'm thinking I may incorporate some more into my reading plans!
Minimalist Goals
Items Added
Items Removed
Drink pitchers
Easter gift
Salad spinner
Placemats
Frames
A few clothing items
I stopped at Ikea on my way to my brother's house and picked up a couple of things.  I'm planning on getting rid of the placemats we have now, along with some other things around the house.  Hopefully my removal column is bigger next month!
Plans for the Month of May
We're already a week in and I'm hoping I can sneak a little break into my DIY-ing schedule to relax :)  Travelling to my brother's takes a lot out of me (it's more like staying up super late working, then starting back early in the morning when the mister wakes up).  Then driving home and having to deal with all the laundry and mess.
I'm also hoping I can finish the last small tasks in the basement renovation (aka caulking/paint touch-ups) by the end of the month. And maybe start on some outdoor stuff?
As you can see, our table really went caput this winter, and I may actually just build another one.  But I'm thinking of going with a different top, so stay tuned :)
I want to stain the deck early this year too.  We brought the mister out there once and he just tried eating all the peeling stain… not good!
Ha, as I was taking photos around the yard I noticed you can see me (and Tootsie) in the door. Notice my pants and long sleeves? This was the hot day, so I could have easily been wearing shorts!
Unfortunately, later that evening we got a CRAZY rain / wind / hail storm come through, and some of the shingles on our shed got pulled up. The Husband was pretty upset (he installed them…) and wanted to fix them right away. But then I reminded him our nail gun and ladder were at my brothers!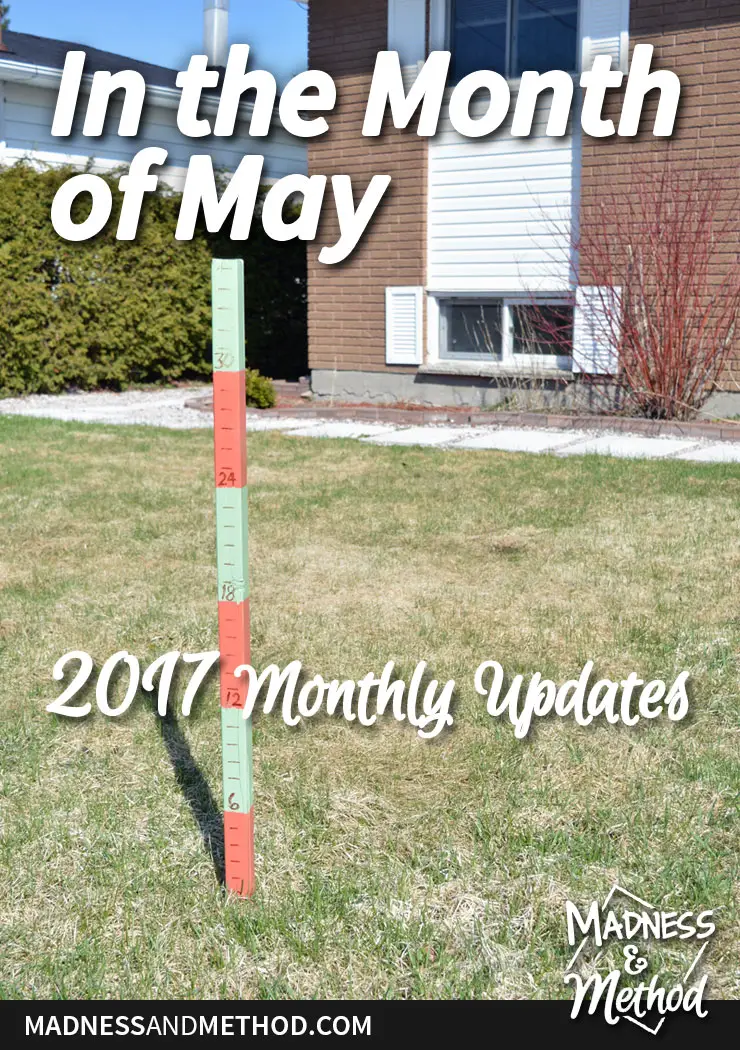 Well, I've got them back now and will have a great bathroom renovation to show off this week. It took a bit longer than I wanted, so that's why this update for the month of May is coming in a day late :)
Oh, and don't even get me started on all the cleaning I want to do now that the snow has cleared. We need to make a big trip out to the dump to clear out the sideyard and garage (aka where we've been storing our old renovation stuff from clearing out the bricks and panelling in the basement).  I can barely walk in the garage anymore!